Nov 18, 2008 — by Eric Brown — from the LinuxDevices Archive — 19 views
Rousset, France-based semiconductor firm Atmel announced that the Linux 2.6.27 mainline kernel release has added support for its AT91SAM9G20 system-on-chip (SoC). Equipped with an ARM926EJ-S core clocked to 400MHz, the AT91SAM9G20 is offered with a Linux v2.6.27 kernel, patches, drivers, demos, and the Angstrom/OpenEmbedded development environment, says the company.
Announced in May, the AT91SAM9G20 is the latest in Atmel's AT91SAM9 family of processors, all of which are supported by the 2.6.27 release that arrived on Oct. 9., according to the company. Selling for as low as $7 in volume, the SoC targets a wide range of "power-constrained applications that also need high performance," says Atmel.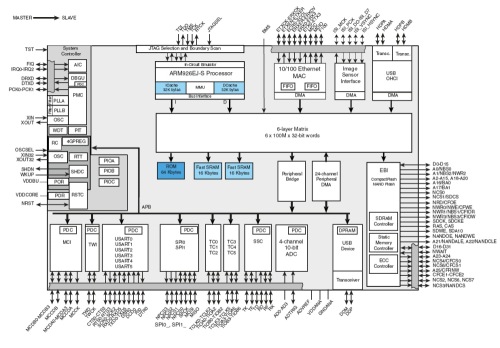 AT91SAM9G20 block diagram
(Click to enlarge)
Clocked to 400MHz and offering 32KB each of data and instruction cache, the AT91SAM9G20 boasts twice the clock speed and four times the cache of its predecessor, the AT91SAM9260. It also doubles internal ROM to 64KB, doubles internal SRAM to 16KB, and consumes half the power of the earlier SoC, for a maximum of 80mW. The AT91SAM9G20 is also said to offer an external bus interface with controllers for SDRAM, NAND flash, and CompactFlash, as well as a numerous on-chip peripheral interfaces.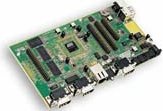 AT91SAM9G20-EK
(Click for details)
Atmel is now offering a Linux distribution that includes the complete Linux 2.6.27 kernel, device drivers, pre-built demonstrations, and the Angstrom/OpenEmbedded building environment, says the company. It is also said to include the Linux patch for the AT91SAM9G20-EK evaluation board (pictured).
In May, Atmel partner Timesys announced a LinuxLink subscription for the SoC that is said to be "pre-complied, integrated and tested" for the EK eval board. In June, Timesys announced the availability of a real-time Linux kernel for the AT91SAM9G20 and other ARM9-based Atmel processors. The 2.6.24.4-rt4 kernel includes Ingo Molnar and Thomas Gleixner's RT_PREEMPT patch. In October, Timesys announced a "Linux ReadyKit" for the AT91SAM9 series that includes a pre-configured kernel, drivers, cross-toolchain, and minimalist RFS (root file system) built against glibc.


Calao Systems's
AT91SAM9G20-based modules
(Click for details)
The AT91SAM9G20 is already being used in some tiny USB and QIL (quad in-line) processor modules that were recently launched by Calao Systems. The SBC35-A9G20, QIL-A9G20, and USB-A9G20 modules (pictured) offer numerous communications add-ons, including WiFi, Bluetooth, GPS, and GPM/GPRS, and come pre-installed with Linux and U-boot.
Availability
The AT91SAM9G20 is available now, with mainline Linux 2.6.27 support, says Atmel. More information on Linux distributions available for the AT91SAM9 series should be available here.
---

This article was originally published on LinuxDevices.com and has been donated to the open source community by QuinStreet Inc. Please visit LinuxToday.com for up-to-date news and articles about Linux and open source.