May 27, 2010 — by Eric Brown — from the LinuxDevices Archive — views
Acer announced an Android 2.1 smartphone called the Stream, offering a 1GHz Snapdragon, a 3.7-inch AMOLED WVGA display, and a five-megapixel camera. At the device's Chinese launch, the company also showed off a LumiRead e-reader with a 6-inch grayscale display, WiFi, 3G, and an ISBN scanner, and provided a brief glimpse of a seven-inch Android tablet.
Acer did not reveal detailed specs on the HSDPA 3G ready Acer Stream (right), but the information it did provide might just as well have described a half dozen or so other high-end Android smartphones that have been announced this year. Only a few months ago, we were excited by features like the Stream's 1GHz Qualcomm Snapdragon processor, 720p video recording, five-megapixel camera, 802.11n WiFi, GPS, Bluetooth, and an HDMI port. And we were still going gaga over 3.7-inch WVGA displays with AMOLED (Active Matrix Light Emitting Diode).
But today, it's like, "What, no 4G?"
The similarity in high-end smartphone hardware specs has been speculated as one reason why Dell is calling its new five-inch, telephony-enabled Streak a tablet instead of a smartphone. The company may have reasoned that, even with a five-inch screen, the device would get lost in the shuffle as a "phone." (Then again, it's getting buried in the deluge of Android tablets anyway.)
That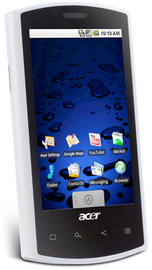 said, this follow-on to Acer's first Android phone, the Acer Liquid, as well as the recent Acer Liquid e (pictured at left), looks as though it stand up nicely with the competition. The company did not detail pricing or availability except to say the Stream will arrive in the second half of the year.
The Stream is a step up from the Liquid e, offering the faster 1GHz version of the Snapdragon processor instead of the 768MHz model. As with other 1GHz Snapdragon phones, the Stream can record HD videos up to 720p, says Acer.
Memory is boosted considerably, too. The Acer Stream moves up to 512MB of RAM, with 2GB of internal flash. In addition, the Stream is equipped with an 8GB card sitting in a slot that can handle up to 32GB, says Acer.
The Stream's 3.7-inch touchscreen, which is said to offer 1.67 million colors and 2000:1 contrast, is an upgrade to the Liquid e's 3.5-inch display. The phone also offers Dolby Mobile audio, and measures only 11.2mm, or about 0.4 inches, says the company.
As with most other Android smartphone vendors, Acer is differentiating the phone by touting software features. The company appears to have added a UI layer to the Android 2.1 interface.
Features are said to include:
A History panel at the top of the Home screen is dedicated to applications history, letting users easily switch applications.
Applications can be reordered or deleted across several pages via drag and drop.
A customization page offers easy modification to features like wallpaper and sound personalization, says Acer.
The Stream offers UPnP media streaming and content sharing, as well as three types of predictive keyboards, says Acer. There is also a Nemo multimedia player, says the company.
A streaming music service called Spinlets lets users share tunes on social networking sites, says Acer. An Acer UrFooz app, meanwhile, is said to let users create an avatar that can be added to profiles and bookmarks, as well as being posted to social networks such as the integrated Facebook and Twidroid apps.
Other Acer Android phones include the mid-range BeTouch e400 and low-end BeTouch E110. There is also said to be a high-end, Formula One styled Acer Scuderia Ferrari phone in the works. (See our earlier coverage, here, for more on all these models, as well as the Liquid e.)
LumiRead e-reader keeps the gray
Acer also showed off a LumiRead e-reader, but did not offer a photo or mention the device's operating system. Linux is the likely choice, although considering Acer's close relationship with Microsoft, Windows CE could be at work here instead.
The LumiRead uses the traditional E-Ink VixPlex grayscale display, instead of the color screens favored by new e-reader capable tablets such as the iPad or Android-based Pandigital Novel. As with the Kindle, the display measures six inches diagonally, and the device offers a similar QWERTY keypad under the display.
The LumiRead features 2GB of flash memory, a microSD card slot, WiFi, and 3G connectivity, says Acer. There is even an ISBN scanner, so users can scan bar codes on books to construct a digital shopping list. A web browser is also said to be provided, as is DLNA media sharing.
Acer says it has signed agreements with Barnes & Noble, as well as with Germany-based Libri.de to offer LumiRead users access to their online bookstores. Other similar deals are said to be in the works to offer French and Italian titles.

7-inch Android tablet tipped
According to a story by Magnus Nystedt in Shufflegazine, Acer CEO Gianfranco Lanci also used the event to briefly show off a seven-inch color tablet that runs Android. There was little more information about the device except that it's planned for a fourth quarter release.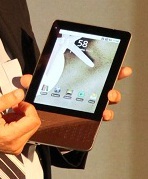 Judging from the photo supplied by the publication (right), the device appears to have a keyboard at the bottom of the screen not unlike the LumiRead. According to Nystedt, the tablet looked "pretty fast with sensitive touch."
Despite the brief encounter and lack of details, the tablet drew the most interest of all the products at the event, said Nystedt. The intended showcase was instead supposed to be Acer's Clear.Fi system, which is billed as a UPnP and DLNA-ready software console for media sharing that will be deployed across most of Acer's consumer electronics products, independent of operating system. The company also is said to have shown off new touch technology, a notebook, and an all-in-one PC.
Availability
The Acer Stream should be available in the second half of the year, says Acer. More information on the Stream should eventually appear at Acer's phone page, here.
According to Shufflegazine,here, the LumiRead should be available in the third quarter, and the Android tablet should be available in the fourth quarter.
---
This article was originally published on LinuxDevices.com and has been donated to the open source community by QuinStreet Inc. Please visit LinuxToday.com for up-to-date news and articles about Linux and open source.