Feb 16, 2010 — by Eric Brown — from the LinuxDevices Archive — 2 views
Acer announced three new Android smartphones, as well as an Android 2.1 version of its Liquid phone. Acer's BeTouch e400 and BeTouch E110 fall into the mid- and low-end range, while the Acer "Liquid e" and Formula One styled Acer Ferrari smartphone both appear to target the upper ranges of Android phones.
Like many of the new Android phones announced at the Mobile World Congress (MWC) show in Barcelona this week, Acer's BeTouch E400 and E110 aim to bring Android down to more affordable price points. As such, they're less exciting then was the Snapdragon-based Acer Liquid, the first Android phone to carry the speedy Qualcomm processor. (As you'll read later in this story, however, Acer also updated that device.)
Acer BeTouch E400
Due to ship in April, the Acer BeTouch E400 is built around a mid-range Qualcomm 7227 processor running at 600MHz. The touchscreen-only phone is equipped with a 3.2-inch HVGA resistive touchscreen, and offers 3G, WiFi, GPS, and a 3.5mm audio jack, says Acer. The company posted no photos on its website, but the phone can be seen in the image from 3g.co.uk, shown below.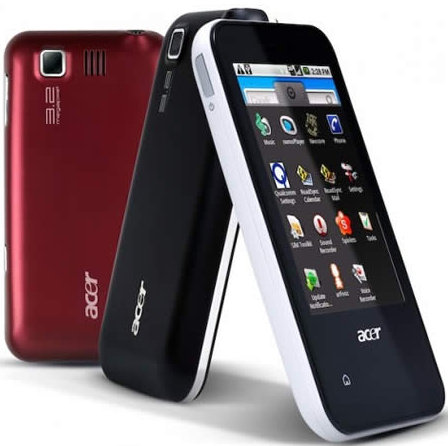 BeTouch E400
(Source: 3g.co.uk)
The BeTouch E400's 3.2-megapixel camera offers built-in flash, geo-tagging, digital zoom, scene mode, white balance, color effects, video capture, and a "macro mode," says Acer. The camera function is also said to offer one-click uploads to YouTube.
The BeTouch E400 supplies an "Acer Lighting Behavior" feature — a "smart LED lighting" technology that flashes in different colors to indicate new message arrival, missed, call, or low battery, says Acer. It also offers three changeable battery covers, and the phone itself is said to be available in soft-touch black, ceramic white, and pearl red.
Despite the fairly modest feature set, the BeTouch E400 runs the latest Android 2.1 version, and is said to offer an improved virtual keyboard layout, multi-touch support, and an enhanced predictive typing dictionary. The phone also ships with Native Microsoft Exchange Server support, and is said to offer the Documents To Go file viewer app for Microsoft Office, which arrived last year in an Android version.
Other software features are said to include pre-installed Facebook and Twidroid, as well as Android Market access. The BeTouch E400 also supplies Google Maps, complete with Latitude, Street View, Traffic, and POI search (but no Navigation app, apparently). In addition, the E400 comes preinstalled with Acer Sync, which is said to enable automatic cloud-based and WiFi synchronization of contacts and calendars with desktop PCs.
Acer BeTouch E110
Lik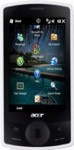 e the Sony Ericsson Xperia X10 Mini and Mini Pro models announced this week, the Acer BeTouch E110 ships in a compact form factor with fairly basic features. While pricing was not announced, PhonesLimited in the U.K. has the E110 available for pre-order at anywhere from free to 150 Pounds ($235) on O2 and Orange networks, depending on the plan, and for 243 Pounds ($381) SIM free. The online store also supplied the photo at left.
The BeTouch E100 offers basic features like a 2.8-inch touchscreen, a three-megapixel camera, 1500 mAh battery, and FM radio, according to the minimal specs posted by Acer. The company also notes the presence of a five-way navigation key.
Additional information was provided by a story by Nathan Eddy, who is covering the Mobile World Congress this week for our sister site, eWEEK. According to Eddy, the E110's display offers QVGA resolution, and the phone provides HSDPA/HSUPA and GSM/EDGE cellular service. Other features include WiFi, Bluetooth, GPS, microSD, and microUSB, says the eWEEK story. Running Android 1.5, the phone offers the Android web browser and email, as well as support for SMS, MMS, and various social networking sites, Eddy adds.
Acer itself lists E110 software as including the Nemo multimedia player, as well as access to the Acer Spinlets free streaming service. Other touted apps include pre-installed Facebook and Twidroid, as well as the Acer UrFooz social networking app. The E110 is expected to ship in March in black and dark blue color choices, says Acer.
Acer Liquid e
The high-end Acer Liquid e moves up from the Android 1.6 available with the Acer Liquid to Android 2.1. The phone continues to use the Liquid's Qualcomm Snapdragon 8250 processor, which is clocked at 768MHz — slower than some 1GHz Snapdragon models. The phone also continues to offer a 3.5-inch capacitive touchscreen, says Acer.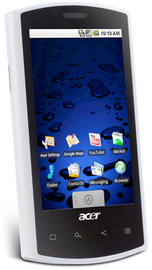 According to specs posted on Gizmodo, which supplied the photo shown at right, the Liquid e appears to offer hardware features similar to the original Liquid, including 256MB of RAM, 512MB flash, and a microSD slot. Other stated specs (see link at end), which are shown as a scan that appears to come straight from Acer, include 7.2Mbps HSDPA, WiFi, Bluetooth 2.0, GPS, and a five-megapixel camera. The Liquid e is also shown to offer a 3.5mm audio jack, mini-USB, and numerous sensors.
According to Acer, new Liquid e features, most of which appear to be linked to Android 2.1, include:
Home screens — Five home screens are now handled by default, allowing users to easily install more applications from Android Market, and the screens add new shortcuts and widgets, says Acer.
Quick Contacts — This feature lets users easily switch between the address book and social network applications.
Live wallpapers — With wallpapers, users can customize the Liquid e on the fly.
Better keyboard — The new keyboard layout offers an extended dictionary for predictive input.
Updated browser — An updated version of the Android WebKit browser supports HTML5, double-tap zooming, video tagging, and geo-location API support.
The original Liquid was announced in October, and went on sale in the U.K. via several retail sites in early December. Earlier this month, an Acer executive told BusinessWeek that the company had enjoyed stronger-than-expected sales of the Liquid, leading to shortages of the device. Acer expects to ship at least 250,000 Liquid handsets by the end of this quarter, compared with initial expectations for 150,000 to 200,000.
Acer Scuderia Ferrari
Also available in March is the first Ferrari-branded smartphone, the Android 2.1-based Acer Scuderia Ferrari. Acer has sponsored the Ferrari Maranello Formula One racing team for several years now, and now says that it will continue the arrangement for the next three.
Acer had little more to say about the Scuderia Ferrari, but Gianpiero Morbello, Acer VP, Marketing and Brand, stated "From the original concept to the finished product the new smartphone was conceived down to the finest details with the idea of giving a stronger sense of belonging to all Ferrari fans."
Acer announced its new Android phones at the MWC show in Barcelona, while also announcing new Windows Mobile 6.5.3 smartphones, the neoTouch P300 and neoTouch P400. In other embedded Windows-related news this week, as reported by our sister site, WindowsForDevices, Microsoft launched its heir to the struggling Windows Mobile, called Windows Phone 7, and announced a new version of Windows Embedded Standard.
Availability
The BeTouch E400 will ship in April, says Acer, which did not list carriers, pricing, or region. The 3g.co.uk story on the phone may be found here.
The Acer BeTouch E110 is shipping in March, and appears to be available for pre-order in the U.K. with Orange and O2, as well as in a SIM-free version at the PhonesLimited site, here. The eWEEK story on the E110 and other Acer phones should be here.
Acer did not provide pricing or availability information on the Liquid e. The Gizmodo story on the device may be found here.
The Scuderia Ferrari phone, meanwhile, will ship in March, says Acer, which may be found at its website, here.
---
This article was originally published on LinuxDevices.com and has been donated to the open source community by QuinStreet Inc. Please visit LinuxToday.com for up-to-date news and articles about Linux and open source.