Feb 16, 2010 — by Eric Brown — from the LinuxDevices Archive — 10 views
Lumigon Corp. announced three Android 2.1 phones — the T1, S1, and E1 — touted as the first smartphones to use Freescale's 1GHz i.MX51 system-on-chip. Meanwhile, the company also reported contributing to Ulysse Nardin's Chairman, an Android handset that will start at over $13,000, and Freescale announced an Android evaluation kit for the i.MX51.
Lumigon unveiled the first two of its flagship Android phones at Mobile World Congress in Barcelona, "after two years of top secret international development work." The phones appear to be the first to offer Freescale Semiconductor's ARM Cortex-A8-based i.MX51 system-on-chips (SoCs), about which we provide further details below.
The T1 should be available early in the second quarter, and the smaller S1, which offers a slider keypad, will be available toward the end of Q2, says Lumigon. Later this year, Lumigon plans to announce the E1, which is said to offer "a unique navigation system and a shape never experienced in mobile phones."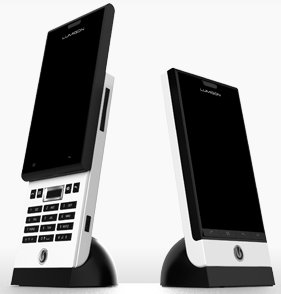 Lumigon's new i.MX51-based Android phones, the S1 (left) and T1 (right)
The Lumigon T1 and S1 phones both run the latest Android 2.1 distribution with the company's own Lumigon P-GUI layer, says Lumigon. The company does not list the size of the phones' capacitive TFT touchscreens, but says that both models offer WiFi, Bluetooth, A-GPS, and a five-megapixel autofocus camera with flash. Other features are said to include a 3.5 mm audio jack, 720P HDMI out, an accelerometer, an FM receiver, and an FM transmitter.
The phones are touted for their ability to double as universal remote controls for home appliances. Remote-control applications might include an HDMI desk-station that enables the phone to be used as a source for HDTV or a regular television, or as a browser device that can be extended with Lumigon's optional Bluetooth keyboard, says the company.
Lumigon did not say which version of the i.MX51 family was employed in its new phones, but cited a clock speed of 1GHz, suggesting use of the original 600MHz to 1GHz i.MX515. This CPU has never been promoted as a smartphone processor before, as far as we know; instead, it targeted sub-$200 netbooks with eight-hour battery life, and is also found in Freescale's new "smartbook" tablet reference design.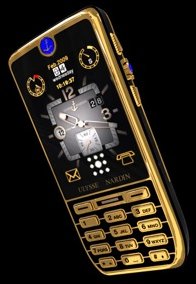 Ulysse Nardin Chairman opens up Android luxury market
Copenhagen-based Lumigon says its mobile "M1" technology and proprietary software contributed to the new Ulysse Nardin Chairman luxury phone. News of this device first appeared last March, but the presence of Android was revealed later in the year by its Swiss manufacturer, primarily known as a watchmaker Ulysse Nardin.
The Chairman, which, like the Lumigon phones, is now available for pre-order, is priced at $13,000 to upwards of $50,000 for various precious metal versions. According to the company, the Chairman (pictured at right, and below) was a collaboration with U.K.-based technology firm SCI Innovations.
The Chairman is notable in that it incorporates a self-winding rotor, borrowed from Ulysse Nardin's self-winding luxury watches, to generate kinetic power. The rotor is joined by the company's "Crown" mechanical winding mechanism to help repower the phone's battery. The Chairman is touted for offering up to eight hours talk time, and 30 days standby time, presumably, without requiring manual winding of the Crown mechanism.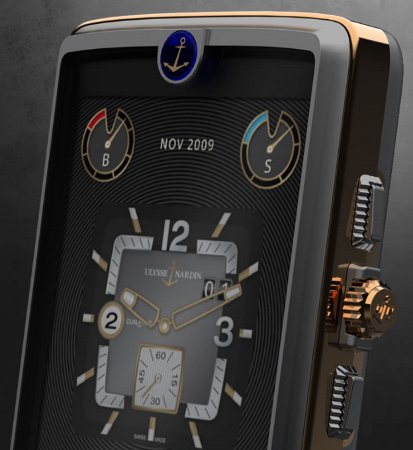 Ulysse Nardin Chairman Luxury Hybrid Smart Phone


(Click to enlarge)
According to Ulysse Nardin, the keyboard-free handset offers an i.MX processor, which is likely the Cortex-A8-based Freescale i.MX515, although it might possibly be the ARM11-based i.MX31. The phone also includes a Qualcomm 3G GSM/WCDMA baseband processor, says the Swiss firm. Other features include a 3.2-inch capacitive touchscreen, 32GB internal memory, and an eight-megapixel camera with high definition video replay capability, says the company.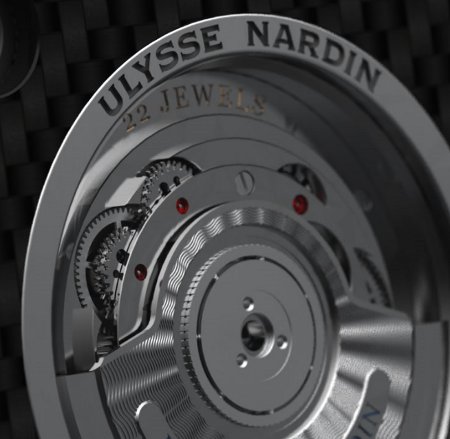 Chairman with rotor mechanism exposed


(Click to enlarge)
The Chairman is also said to offer a fingerprint reader for owner identification, as well as a phone lock. Software is said to include YouTube, Google Maps, Gmail, Google Talk, and Facebook, as well as "extensive gaming ability."
Freescale's i.MX51 EVK gains Android BSP
Freescale announced its i.MX51 evaluation kit (EVK) for Linux and Windows Embedded CE in November when it announced members of the i.MX51 family. At the time, the company, which last month joined the Open Handset Alliance that oversees Android, said it planned to offer an Android BSP in the coming months.
The new Android i.MX51 evaluation kit (EVK) appears to use the same EVK board kit that was previously offered for Linux and Windows CE (pictured below). The Android board support package (BSP) is particularly aimed at low power and cost effective mobile devices, such as smartphones, says Freescale, suggesting that it primarily targets the i.MX515.
However, the Android BSP presumably can work with all five i.MX51 flavors supported by the EVK. These include the industrial-strength i.MX512 and i.MX513, and the automotive-oriented i.MX514 and i.MX516 SoCs, all of which are clocked at 600MHz to 800MHz.

i.MX51 development kit, shown assembled with LCD and expansion boards (Click to enlarge)
The $700 hardware evaluation kit announced in November features a 5.0 x 5.0-inch development board with an i.MX51 SoC, plus interlocking LCD and expansion boards. Similar to previous i.MX "PDK" kits, the evaluation system ships with pre-loaded software images for both Linux, Windows Embedded CE, and now, Android.
Based on the latest Android kernel/release, the i.MX51 EVK runs Android with accelerated multimedia codecs and graphics, says Freescale. These are said to include ARMv7 optimizations, Video Processing Unit (VPU) acceleration, 2D graphics acceleration for UI rendering, and OpenGL/ES acceleration for 3D applications.
Included in the kit are binary images for Android on i.MX51, patches for Freescale source, and documentation such as a reference manual, user's guide and release notes. The common code base across Freescale i.MX BSPs greatly streamlines porting efforts to next generation i.MX processors, says the company.
Availability
Lumigon is taking pre-orders for the T1 and S1 phones, which will first launch in Nordic and selected European markets, says the company. The T1 is due in early Q2, and the key-pad enabled S1 will be available toward the end of Q2, says Lumigon. Later this year, Lumigon plans to "introduce" the E1. More information on Lumigon and its T1 and E1 phones may be found here.
Ulysse Nardin is taking pre-orders for the Ulysse Nardin Chairman, with prices ranging from $13,000 to $50,000, but did not say when the device is expected to ship. More information on the Chairman may be found here.
The Freescale i.MX51 EVK for Android is available now, with software BSPs stored on accompanying pre-flashed SD cards, says Freescale Semicionductor. In addition, Android OS BSP images for the i.MX51 processor can be downloaded from the Freescale website, and Android OS sources can be obtained from the Android project, here.
The Android OS is also supported on other select i.MX processors, Freescale says. More information may be found here.
---
This article was originally published on LinuxDevices.com and has been donated to the open source community by QuinStreet Inc. Please visit LinuxToday.com for up-to-date news and articles about Linux and open source.