Apr 7, 2010 — by Jonathan Angel — from the LinuxDevices Archive — 1 views
Adobe Systems announced a downloadable Release Candidate (RC) version of its Flash Player 10.1 software, citing a long list of performance enhancements and bug fixes. The software is presently available only for Windows, Macintosh, and Linux operating systems, but showcases mobile-centric features such as multi-touch and H.264 hardware acceleration.
According to Adobe Systems, Flash Player 10.1 is a browser-based runtime that leverages the power of GPUs (graphics processing units), where present, providing "accelerated video and graphics while conserving battery life and minimizing resource utilization." Mobile-ready features are said to include support for multi-touch, mobile input models, accelerometers, and multiple screen orientations.
Adobe first promised its "no holds-barred, desktop-class" implementation of Flash Player 10 for mobile devices at its annual MAX conference in 2008. Last year, the company announced Flash Player 10.1, promising betas for Palm's WebOS and Windows Mobile by the end of the year, alongside revisions targeting Linux, Macintosh, and Windows desktop computers. Flash Player 10.1 betas for Android and Symbian would follow in "early 2010," it was also announced.
As it happens, "pre-release betas" of Flash Player 10.1 were made available for desktop OSes in November 2009, and updated to Beta 3 versions in February. It's these desktop editions that were again revised today, reaching RC status. According to Adobe, the software now supports hardware decoding of H.264 video on computers using GPUs from AMD/ATI GPUs (Radeon HD and FirePro), Broadcom (Crystal HD BCM70012 and BCM70015), Intel (GMA500, 4 Series chipset, 2010 Core processors), and Nvidia (GeForce, Ion, and Quadro).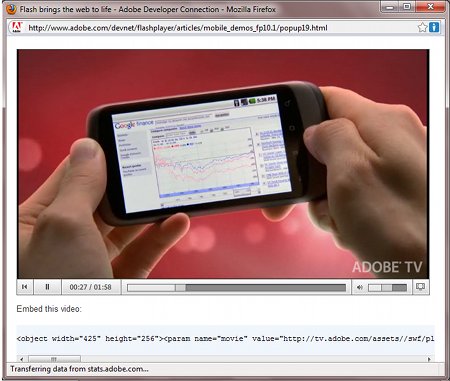 The Release Candidate of Flash Player 10.1 playing an Adobe-supplied video
(Click to enlarge)
Adobe has also demonstrated Flash Player 10.1 running on Palm WebOS-based phones, promised it for Android, and said the software will eventually be available for Windows Phone 7devices too. As far as we're aware, however, none of these mobile editions has surfaced publicly. (Flash Player 10.1 will apparently never be available for Windows Mobile 6.5 or Android versions prior to 2.0, as we review later in this story.)
The Flash Release Candidate for desktop computers fixes bugs …
According to Adobe, the RC of Flash Player 10.1 for Windows, Macintosh, or Linux computers includes general stability and performance improvements, and fixes "many issues involving video playback." Several dozen bugs that could crash the player have been stamped out, and full-screen performance has been improved, the company adds.
Some issues still remain to be solved in the RC release, however. Video clips with unusual horizontal resolutions may not be accelerated successfully by Nvidia Ion or GeForce 8400GS GPUs, Adobe says. In addition, H.264 hardware acceleration is not available under either Linux or the Mac OS, the company adds.
As it has in the past, Adobe claims that "Linux currently lacks a developed standard API that supports H.264 hardware video decoding, and Mac OS X does not expose access to the required APIs." The company adds, "We will continue to evaluate adding the feature to Linux and Mac OS in future releases."
… while hardware requirements for mobile devices get more stringent
We reported at the end of February that the upcoming Flash Player 10.1 for smartphones will bypass devices running Android versions prior to 2.0, as well as Windows Mobile 6.5.x, according to online forum postings by Antonio Flores, identified as a Flash product manager. Flores added at the time that the software will require ARM Cortex-A8 processors or faster.
We contacted Adobe Systems in an attempt to confirm Antonio Flores' employment status and obtain further details about the future of the mobile Flash Player 10.1, but never received a response. However, Flash Player 10.1 — distinct from the pared-down Flash Lite — has long been described as too demanding for some mobile devices. (Infamously, it has also been derided by Apple CEO Steve Jobs for its supposed deleterious effects on performance and power consumption, and omitted both on the iPhone and the newly shipping iPad.)
In 2008, Adobe said the mobile version would run on CPUs with ARM11 or Cortex-A8 cores. But in February, Flores posted: "We require a device with an ARM v7 (Cortex) processor. Examples include the Qualcomm Snapdragon chipsets and TI OMAP3 series."
Flores cited HTC's Hero as an example of a phone that would not work, "because it does not have the correct Android version and its chipset is not powerful enough." The Hero, first announced in June of last year, runs Android 1.6 on a 528MHz Qualcomm MSM7200A CPU.
Motorola's Droid and Google's Nexus One, both A8-based, will be the first Android devices to support Flash Player 10.1, according to postings by Flores. Motorola's Milestone, a Euro version of the Droid, will also run Flash, he added.
Meanwhile, owners of any Windows Mobile 6.5.x phones, whether or not they are packing A8-based CPUs, are going to be disappointed, Flores suggested. He wrote, "We have made the tough decision to defer support for that platform until WinMo7. This is due to the fact that WinMo6.5 does not support some of the critical APIs that we need."
Flash Player 10.1 running on Palm's WebOS-based Pre
Source: Adobe
(click to play)

Availability
Adobe's Release Candidate editions of Flash Player 10.1 for Linux, Windows, and Macintosh desktops are available from the company's website, here.
General information on the Flash platform may be found on the Adobe website, here.
Postings attributed to Antonio Flores, said to be a product manager for Flash Player, may be found on Adobe's online forums, here.
---
This article was originally published on LinuxDevices.com and has been donated to the open source community by QuinStreet Inc. Please visit LinuxToday.com for up-to-date news and articles about Linux and open source.