Dec 21, 2009 — by LinuxDevices Staff — from the LinuxDevices Archive — 56 views
Broadcom Corp. announced a video processor intended to provide 1080p HD video playback for Atom devices based on Intel's new "Pine Trail" chipset. The BCM70015 provides "near-flawless playback" with low power consumption and CPU utilization, the company claims.
While wildly popular in netbooks and other devices, Intel's Atom platform has been widely criticized for its inability to provide users with competent HD video playback. The chipmaker refreshed its Atom lineup this morning with the N450, D410, and D510, whose "Pine Trail" chipset brings the CPU's memory controller and graphics core on-die. (For our detailed coverage, see here).
As it announced the new Atoms, Intel made claims about reduced space and power consumption, but did not cite any upgrades to video playback. The GMA 3150 graphics controller included in the new CPUs is reportedly similar to Intel's previous GMA 3100, adding only slightly higher clock speeds and support for Open GL 1.5 to the previous mix of capabilities. Thus, for 1080p video playback — or even smooth operation at 720p, perhaps — add-on video hardware is still necessary.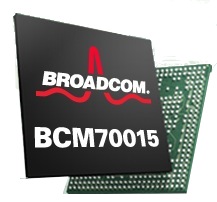 Accordingly, Broadcom says it is stepping into the breach, "leveraging its proven set-top box (STB) and consumer media player technologies to provide one of the industry's best HD media playback experiences on low cost netbooks." The company's BCM70015 (left) is said to be a single-chip video processor that provides HD and SD video playback of standard codecs (H.264/AVC, MPEG-2, VC-1, WMV9, MPEG-4, DivX, Xvid and AVS) "with no frame drops or jitter, even under a heavy CPU load."
Broadcom claims an Atom netbook equipped with just standard Intel chips can play a 1080p video clip only in stuttery slow motion; meanwhile, it's said, CPU utilization jumps to over 90 percent, rendering a system incapable of doing anything else. With the BCM70015, on the other hand, video playback is smooth, while CPU utilization is only around 20 percent, the company adds.
According to Broadcom, the BCM70015 is supplied with support that apparently allows acceleration to kick in with media played by Adobe Flash Player v10.1 or Windows Media Player v12. "Support for other third-party media players including both commercial and open source" is also promised.
In its announcement and product page for the BCM70015, Broadcom provided no information on the chip's size or power consumption. However, according to reports that circulated earlier in the year, the device comes in a 144-pin FBGA (flat ball grid array) package with die size of 10 x 10 millimeters, and may add as little as a Watt to the power budget of systems using it.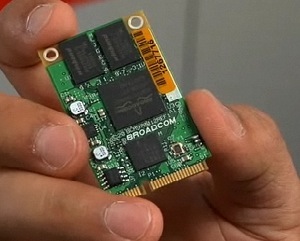 Broadcom's BCM70015 on a PCI Express Mini Card module
Broadcom says the BCM70015 is "optimized for motherboard designs" but is also available in the form of a PCI Express Mini Card module. This module (above) will be available as an option with a refreshed version of Dell's Ubuntu Linux-ready Inspiron Mini 10, which was also announced today.
Earlier this year, Broadcom announced the BCM70010 and BCM70012, chips that are similar in intent to the BCM70015, but which were apparently intended to support Intel's earlier Atom N270 processor. The BCM70010/BCM70012 have featured in a PCI Express Mini Card module that is intended to work with HP's Mini 1000 netbook and is being sold on eBay for approximately $23.
OUR VERDICT:
Consumers should remember that adding video acceleration to an Atom device doesn't turn it into a computing powerhouse overall
Meanwhile, Nvidia — which reportedly enjoys a less cozy relationship with Intel than does Broadcom — has offered the Ion platform, also intended to support HD video playback on the earlier N270 platform by adding a GeForce 9400 GPU (graphics processing unit). An "Ion 2" that will work with Intel's new Pine Trail chipset is rumored, but hasn't been publicly discussed by Nvidia as far as we're aware.
Dan Eiref, VP and GM of Broadcom's consumer electronics line of business, stated, "Netbooks have grown in popularity in part because they are easily transportable. Broadcom's low power and low cost Crystal HD technology will allow netbook owners, for the first time, to use their netbooks as portable multimedia playback devices on which they can experience HD video anytime, anywhere."
Brian Pitstick, GM of Dell's mobile products group, stated, "People on the move have declared the Inspiron Mini a favorite companion device that enables Web surfing, email, listening to music and sharing user-generated content in real time, wherever they are. Now they can add rich, high definition entertainment experiences, including smooth HD video playback, powered by Broadcom Crystal HD technology."
Availability
Broadcom did not cite pricing or availability for its BCM70015. As noted above, however, the chip will be available as an option for Dell's newly revised Inspiron Mini 10.
A video demonstration of the BCM70015 is available on Broadcom's YouTube page, here.
---
This article was originally published on LinuxDevices.com and has been donated to the open source community by QuinStreet Inc. Please visit LinuxToday.com for up-to-date news and articles about Linux and open source.