Dec 6, 2011 — by LinuxDevices Staff — from the LinuxDevices Archive — 3 views
Advanced Micro Devices (AMD) is reportedly backing the Android-x86 open source project, which on Nov. 30 posted early Android 4.0 code for x86 processors, starting with AMD Brazos chips. Meanwhile, Intel — which signed a separate pact with Google to develop authorized Android-on-Atom ports, including an Android 4.0 release it now says is ready — is reportedly spurning the effort.
As we reported Dec. 1, the open source project Android-x86 announced the availability of the first x86-ready Android 4.0 code on Nov. 30. Still a work-in-progress, the release is missing support for sound, camera, Ethernet, and Intel hardware acceleration, wrote Huang in his announcement.

An ISO is downloadable for a tablet running one of AMD's Brazos processors. Specifically, the image targets the Windows 7-based WindPad 110W tablet (pictured), which runs on an AMD dual-core, 1GHz Z-01 Z-Series processor.
As it turned out, this was no random selection as a target platform. AMD is backing the project with money, equipment, and people.
Developer Chih-Wei Huang told the Register that AMD had donated two tablets and has a couple of engineers helping with the project, which is not officially authorized by Google. Huang was quoted as saying he had contacted Intel about the Android-x86 project, but had gotten only negative responses.
"AMD provides great support to us, including devices donation and engineer's support," Huang wrote in a thread on the project's forum. "On the other hand, Intel still refuses to provide any help to this project. They closed all contact windows I've ever tried."
Intel announces Android 4.0 code is ready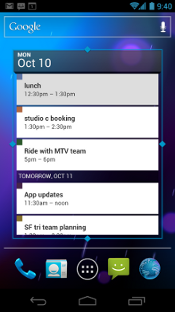 Back in September, Intel announced its own joint efforts with Google to port Android fully to the x86 platform, with an initial focus on the Intel Atom. On Dec. 2, Alec Gefrides, manager of Intel's Google Program Office, was quoted by IDG News as saying its own official x86 port for Android 4.0 (pictured) was now ready. The build is said to be running on the upcoming "Medfield" version of the Intel Atom processor.
"We'll see products next year on Gingerbread, Ice Cream Sandwich and Honeycomb," Gefrides was quoted as saying, referring to Android versions 2.3, 4.0, and 3.x.
Intel reportedly has little interest in bringing Android to the PC space. In a Dec. 2 interview with EE Times, Intel's Gefrides said that Intel and Google are focusing on running Android on x86-based smartphones and tablets, not PCs.
"If you pull the x86 version of Android down from the AOSP [Google's official Android Open Source Project] and compile it, it will run on any x86 device," Gefrides was quoted as saying. "But that's not the intent, neither ours nor Google's. Our focus is to get phones and tablets on our Atom product line up and running on Android. That's what we've been focused on, that's what we've been working with Google on."
As EE Times explains, all parties officially using and experimenting with a variant of Android sign an agreement with Google that promises to contribute everything back to the Google's open source project to avoid fragmentation. Intel is signatory, but AMD is not. Huang's non-authorized version has not been submitted to Google for integration into the wider Android open source effort, according to the story.
"What's been happening [in Huang's case] is he bought an off-the-shelf notebook, downloaded Android off the Android open source project, and then tried to compile it," Intel's Gefrides was quoted as saying. "Of course it runs on x86, because it's all the same architecture but it doesn't have all the driver support for a PC."
Availability
The unauthorized Android-x86 code is available for free download now, including Android 2.2-r2, Android 2.3-RC1. Android 3.2-RC2, and the early-stage Android 4.0 developers release, are available on the Android-x86 project download page. Huang's announcement of the Android 4.0 ics-x86 branch may be found here.
Jeffrey Burt is a writer for eWEEK. Eric Brown also contributed to this report.
---
This article was originally published on LinuxDevices.com and has been donated to the open source community by QuinStreet Inc. Please visit LinuxToday.com for up-to-date news and articles about Linux and open source.