Dec 1, 2011 — by Eric Brown — from the LinuxDevices Archive — 1 views
[Updated, 10:48 a.m.] — As favorable reviews and promises of device support pile up for Android 4.0 ("Ice Cream Sandwich"), it has received an early CyanogenMod9 port to the Samsung-built Google Nexus One and Nexus S phones. Meanwhile, ZiiLabs released a video of Android 4.0 running on its new Jaguar tablet reference platform, and Embedox posted another of ICS running on Variscite's OMAP4460-based VAR-SOM-OM44 module.

Since Google announced Android 4.0 along with its paired Samsung Galaxy Nexus phone (pictured) in late October, the reviews for both have been highly favorable. It appears that Google and Samsung have made sure their products are fully baked, at least compared to the rushed Android 3.0 on Motorola Xoom release earlier this year. And now that Google has released the source code for Ice Cream Sandwich (ICS), even open source advocates have been largely appeased.
Android 4.0 sports a revamped user interface, a faster browser, an improved camera interface, plus facial recognition and text-to-speech features. More importantly, it unifies the forked Android 2.x smartphone and Android 3.x tablet platforms, thereby decreasing fragmentation.
One of the few notable complaints, as mentioned in this favorable Pocket-Lint review, is the lack of Adobe Flash support out of the gate. However, Adobe recently promised it will release one last ICS-compatible version of the Flash mobile player by the end of the year, before it shutters Flash development, giving way to the new HTML5 era.
Verizon is expected to announce the availability of the Galaxy Nexus Dec. 8. Meanwhile, most major Android mobile device manufacturers have vowed ICS support on selected models. A Nov. 30 InformationWeek story compiles the latest list of smartphones due to receive the ICS upgrade.

The first Android 4.0 tablet, meanwhile, will be the quad-core Tegra 3-based Asus Eee Pad Transformer Prime (pictured). Over the last 24 hours, numerous reviews — almost unanimously favorable — reviews have appeared on the web. Engadget, for example, calls the Transformer Prime, which offers a detachable keyboard, "the best Android tablet on the market." PCWorld dubs the world's first quad-core tablet "one of the best tablet values today."
While much of this praise is due to the quad-core performance and sleek design, Android 4.0 is cited as a major advance by most of the reviews. (Initial shipments of the Prime, however, feature Android 3.2.1, with an ICS upgrade expected in January.)
Meanwhile, ICS is showing up on development boards and reference platforms. The ZiiLabs Jaguar and Variscite VAR-SOM-OM44 Android 4.0 demos described below follow a demo released two weeks ago showing ICS running on PandaBoard.org's PandaBoard development board. This community-supported single board computer (SBC) is based on a Texas Instruments OMAP4430 processor.
Android 4.0 for x86 code released
As we heard from Intel in September, starting in 2012, Android 2.x will be coming to the x86 platform. Now we discover that Android 4.0 is already on its way.
According to a Nov. 30 announcement by developer Chih-Wei Huang on a Google Groups page, the Android 4.0.1 code branch for x86 devices is now available. Still a work-in-progress, the release is missing support for sound, camera, Ethernet, and Intel hardware acceleration, writes Huang. An ISO is said to be available for a tablet running one of AMD's Brazos processors. More information may be found at the Android-x86 project site.
CyanogenMod offers early Nexus phones an alpha ICS build

It may take a while before Android 4.0 shows up on consumer products beyond the Galaxy Nexus — a process slowed down by the inevitable "need" to apply compatible UI skins. Fortunately, the folks at the CyanogenMod project are once again jumping into action on a CyanogenMod 9 Alpha 11 ROM build for ICS, as announced on Google+.
The early build linked to above is designed for the Samsung-built Nexus S (pictured above, right) which Google used to showcase Android 2.3. Meanwhile, XDA-developers has posted what appears to be a similar CyanogenMod ICS build designed for the earlier, HTC-built Nexus One (pictured below), The roughly-hewn ROM build still lacks hardware acceleration, not to mention trackball, camera, and USB mass storage support, say the developers.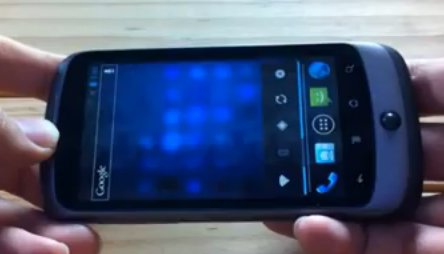 Nexus One running CyanogenMod9 ICS build
Source: "nanyong149"
This also appears to be the same release demonstrated on a Nexus One in the
YouTube
video shown below. Posted by "nanyong149," the video was covered in a
Nov. 30 GigaOM report
.
CM9 ICS build demonstrated on YouTube


Source: "nanyong149"
(Click to play)
ZiiLabs Jaguar
ZiiLabs announced its Jaguar tablet reference platform in September, following an earlier announcement of the underlying Cortex-A9-based, ZMS-20 system on chip (SoC) that drives it. ZiiLabs, a subsidiary of Creative Technology, has now released a video demo of Android 4.0 running on the Jaguar tablet (see below).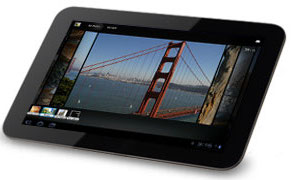 ZiiLabs Jaguar
ZiiLabs has released a number of ARM-based SoCs and reference platforms in recent years imbued with its homegrown StemCell multimedia coprocessing technology. The Jaguar reference platform is available in seven and 10.1-inch models, and is also available in a more advanced, 10.1-inch Jaguar3 model that incorporates ZiiLabs' quad-core, Cortex-A9-based
ZMS-40
SoC, clocked to 1.5GHz.
ZiiLab's YouTube demo showing ICS instead runs on the standard, seven-inch Jaguar tablet, which is equipped with the dual-core 1.5GHz ZMS-20. In addition to its dual ARM cores, the processor has 48 StemCell coprocessors for multimedia acceleration and other functions.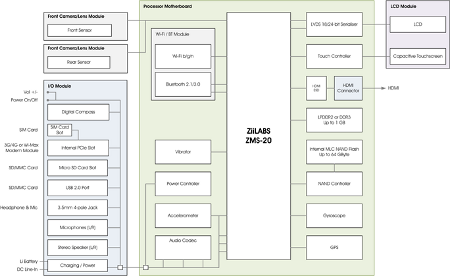 Jaguar block diagram
(Click to enlarge)
The Jaguar tablets are available in capacitive and resistive versions, with up to 1GB of LPDDR2 or DDR3 memory, up to 64GB internal storage, dual cameras, and a wide variety of wireless options. In fact, so much here is customizable, we'll leave you to sort through the various specs and resources
here
.
Despite the many options, the tablets are touted for being ready-to-go, quick-to-market reference platforms. The package includes the processor, hardware, OS, firmware, and software, as well as industrial and mechanical designs, says the company.
ZiiLabs Jaguar tablet running Android 4.0 on YouTube


Source: ZiiLabs
(Click to play)
ICS runs on Variscite VAR-SOM-OM44 module

Finally, Israeli embedded development firm Embedox has posted a YouTube video showing Android 4.0 running on Variscite's VAR-SOM-OM44 computer on module (COM), pictured at right. The module is built around the Texas Instruments (TI) OMAP4460 SoC, which offers dual Cortex-A9 cores clocked at up to 1.5GHz.
According to Embedox, this is likely the first COM to run ICS. The aforementioned PandaBoard, which has also demonstrated ICS, is a larger development board, which runs on the very similar OMAP4430 SoC.
Embedox also offers its own Embedox Linux embedded Linux development platform. The platform includes a Linux kernel, root file system, boot loader, build environment, debugging and prototyping tools, and over 200 tested packages, says the company.
VAR-SOM-OM44 running Android 4.0 on YouTube


Source: Embedox
(Click to play)


Further information

A detailed ICS review, with multiple videos and screen shots, appeared on Engadget Dec. 1. Author Brad Molen calls it "a gorgeous OS that offers great performance and — for the most part — doesn't feel like a half-baked effort."


---
This article was originally published on LinuxDevices.com and has been donated to the open source community by QuinStreet Inc. Please visit LinuxToday.com for up-to-date news and articles about Linux and open source.