Jun 15, 2006 — by LinuxDevices Staff — from the LinuxDevices Archive — 9 views
Raza Microelectronics, Inc. (RMI) has agreed to acquire AMD's MIPS RISC (reduced instruction set computer) architecture-based Alchemy processor line and business unit. AMD, meanwhile, will invest in RMI. Additionally, RMI will back AMD's recently announced "Torrenza" AMD64 ecosystem.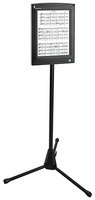 A sheet music reader powered by an Alchemy SoC
(Click image for device details)
Both AMD and RMI say they are committed to a smooth transition for current Alchemy customers. RMI plans to maintain current Alchemy SoCs (system-on-chip processors), according to Chris Keil, senior director of corporate marketing at RMI. Current Alchemy SoCs target low-power embedded, handheld, and mobile applications, and boast excellent performance-per-Watt, Keil says. For example, AMD in early 2005 released the Alchemy Au1200, a highly integrated SoC targeting the rapidly expanding portable media player (PMP) market.
Keil says that RMI is committed to investing in the Alchemy product line and roadmap. It plans to open an office in Austin, Tex., where AMD is based, and has extended offers of employment to "quite a few people" from AMD's Alchemy team, Keil said. AMD employees invited to join RMI include staff include marketing, sales, operations, engineering, and software engineering personnel, Keil said.
Additionally, AMD has invited RMI to collaborate in its Korean technology development center.
Keil declined to provide shipment volume or revenue data for the Alchemy line, noting that AMD "never broke those figures out," and that as a privately held company, RMI is not obliged to report them. Keil did note that Linux and Windows CE are the top OSes used on Alchemy chips.
Previously, RMI's product line comprised high-end multi-core MIPS64-based SoCs such as the XLR and Orion lines. Alchemy provides an entry into the low-end MIPS-based SoC market, enabling RMI to broaden its customer base by offering MIPS-based SoCs at prices ranging from $20 to $850, Keil said.
Keil summarizes, "The acquisition is synergistic to our primary business, which is MIPS-based SoCs. We've been focused on high-end and mid-range market opportunities, such as wireless base stations, networking products, and security. Now, our strategy is to move toward the low-end market, including consumer electronics, portable music players, and low-end networking equipment, in order to deliver a true end-to-end MIPS-based SoC line."
Atiq Raza, RMI's CEO and former President and COO of AMD, stated, "RMI is continuing to expand its product offerings and customer base, and the acquisition of the Alchemy product family bolsters our portfolio significantly."
Raza adds, "RMI endorses AMD64 as the innovation platform for the industry, and fully embraces the 'Torrenza' ecosystem development initiative."
Hector Ruiz, CEO of AMD, stated, "RMI is in an excellent position to leverage their MIPS technology leadership to invest in the future growth of the worldclass Alchemy processor family."


AMD's Alchemy-based PDA reference design, circa 2003
(Click image for details)
AMD gained its Alchemy line in February of 2002, when it acquired Alchemy Semiconductor, a startup focused on MIPS architecture SoC design. Two months later, AMD shipped the Au1100, a MIPS32-based SoC with integrated LCD controller. AMD later acquired the Geode line of x86-compatible embedded processors from National Semiconductor.
Given AMD's recent strong growth in the x86-based desktop and server processor markets in competition with Intel, along with its growing family of low-power x86-compatible Geode processors aimed at consumer devices and embedded applications, it comes as no surprise to see the company divest itself of the RISC architecture Alchemy processor family.
---

This article was originally published on LinuxDevices.com and has been donated to the open source community by QuinStreet Inc. Please visit LinuxToday.com for up-to-date news and articles about Linux and open source.