Jan 27, 2012 — by LinuxDevices Staff — from the LinuxDevices Archive — 4 views
America's first public "WhiteFi" network, leveraging spectrum previously occupied by analog TV channels, has been launched in North Carolina. Running at 1.5 to 3.1 MB/sec., the service will initially be used mostly for municipal functions such as surveillance cameras and transmitting water quality data, according to reports.
White space networking — sometimes also known as "WhiteFi" — relies on radio spectrum that was previously reserved for TV stations. Because available frequencies vary from location to location, the technology involves access points and clients fitted with cognitive radio equipment, which can detect interference and automatically switch frequencies when they need to.
At the end of 2008, the FCC issued a ruling permitting the use of unlicensed devices in the "white spaces" vacated when analog television signals were switched off. The catch is, any new users are not allowed to interfere with any licensed incumbents, which may still include a few TV stations and also include wireless microphones.
In Nov. 2010, therefore, the FCC approved the concept of databases that would identify incumbent users, including full- and low-power stations, that are entitled to interference protection. The databases, which will be privately owned and operated services, will tell white space devices which TV channels are vacant and may be used at their location.
According to the FCC:
unlicensed TV-band devices are required to query a database to find a list of channels that are available for their operation
devices are also required to provide their geographic location via a secure internet connection
Last September, the agency announced that the first white spaces database had become available for public testing. It was to be operated on a trial basis by Lake Mary, Florida-based Spectrum Bridge until the beginning of November, the agency added.
Apparently, that testing worked out fine, because Spectrum Bridge now says its white spaces platform — approved by the FCC on Dec. 22 — is at the heart of the U.S.A.'s first WhiteFi deployment. The network went live Jan. 26 in the North Carolina city of Wilmington, located in New Hanover County.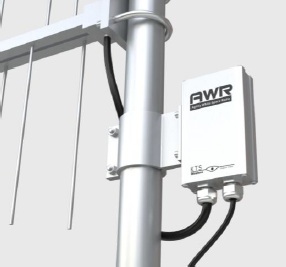 The KTS Agility White Space Radio
The network employs Agility White Space Radio transceivers (above) manufactured by KTS Wireless, which, according to Spectrum Bridge, are the first products approved for use with its TVWS (TV White Space) database plaform. The devices can support VHF frequencies from 174 to 216 MHz (TV channels 7-13), UHF frequencies from 470-698 MHz (TV channels 14-52), and unlicensed frequencies from 902 to 928 MHz, KTS says.
New Hanover County officials referred to their new network as a "Super Wi-Fi" installation, emphasizing public Internet access, according to reports by Tom's Hardware and the local Wilmington StarNews. What you won't learn from the press coverage is that Wi-Fi devices can't actually connect to the white spaces network directly; instead, WhiteFi is used as a backhaul link for separately installed 2.4/5GHz base stations.
The speed of the Wilmington network has also been impossible to determine from initial coverage, but KTS Wireless claims its Agility White Space Radios run at either 1.5MB/sec. or 3.1MB/sec. Assuming the company hasn't mixed up its bytes and its bits, that's still unimpressive compared to the speed of a Wi-Fi Internet connection; but the upside of the lower frequencies/longer wavelengths used by WhiteFi is much greater range.
In addition to connecting the Wi-Fi access points mentioned earlier, Wilmington's network will be employed to hook up surveillance cameras. It will also reportedly be used for the less-glamorous task of providing data services to a landfill site.
Jason Thompson, Vice Chairman of the New Hanover County Commissioners, stated, "New Hanover County is proud to lead the nation with the first commercial installation of a white space network at our flagship park, Hugh MacRae. We will be using this new technology to extend the range of our wireless networks beyond the parks and gardens and provide enhanced services to our citizens."
Background
The FCC has been criticized in the past for its go-slow approach to testing white space networking. Meanwhile, trials got under way last year in the U.K., thanks to the Cambridge TV White Spaces Consortium, whose kick-off was announced in June.
Members of the Consortium include not only Spectrum Bridge, but also the BBC, BSkyB, BT, Cambridge Consultants, Microsoft, Nokia, Neul, and TTP. The group exploited a special multi-site license from U.K. regulator Ofcom to test white space (a.k.a. "WhiteFi") hotspots at local pubs, other leisure venues, and commercial and residential premises, according to Microsoft.
Microsoft said last year that the white space testing would involve streaming video and audio content from the BBC and BSkyB "to a range of mobile devices, including some from Nokia and Samsung." As far as we're aware, however, there are no relevant chipsets that actually fit inside phones. It appears mobile testing initially took place via relatively large equipment wired to notebook computers.
Silicon Valley startup Adaptrum has demonstrated relevant prototypes — and was mentioned in a June 27 blog posting about the tests by a Microsoft vice president — but Neul has also created devices that could also be employed. In fact, the Cambridge, U.K. company claimed in late June that its "NeulNET" system (below) was the world's first production WhiteFi System.


The NeulNET devices
(Click to enlarge)
The NeulNET products include a basestation, equipped with a GPS receiver for accurate positioning, plus a 9 x 7.1 x 1.6-inch terminal, the latter battery-operable. Both devices are equipped with Ethernet ports, for connection to a Wi-Fi access point on the one hand and a notebook computer (or other client) on the other.
Jonathan Angel can be reached at [email protected] and followed at www.twitter.com/gadgetsense.
---
This article was originally published on LinuxDevices.com and has been donated to the open source community by QuinStreet Inc. Please visit LinuxToday.com for up-to-date news and articles about Linux and open source.