Mar 28, 2011 — by LinuxDevices Staff — from the LinuxDevices Archive — views
Microsoft researchers have come up with a way to better utilize "white space" networks, which would tap into unused TV spectrum to deliver broadband services. "SpecNet" would create a network of spectrum analyzers, allowing remote detection of frequencies that could be used for transmission, according to a paper that will be presented next week.
White space networking — which has also been called WhiteFi — will rely on radio spectrum that was previously reserved for TV stations. At the end of 2008, the Federal Communications Commission issued a ruling permitting the use of unlicensed devices in these "white spaces." The catch is, any new users are not allowed to interfere with any licensed incumbents, which include not only TV stations but also wireless microphones.
Last November, therefore, the FCC approved the concept of databases that would identify incumbent users, including full- and low-power stations, that are entitled to interference protection. The databases, which will be privately owned and operated services, would tell white space devices which TV channels are vacant and may be used at their location.
Subsequently, as we reported in January, Google asked to become one of the white space database administrators. Its proposal to the FCC said it would "cooperate … to develop a process for databases to provide to one another, on a daily basis, information about registered cable TV headends, TV translator station receive sites, operating sites of wireless microphones and other low power auxiliary stations, and fixed white space devices."
Unfortunately, however, "there exists no infrastructure today for measuring real-time spectrum occupancy across vast geographical regions," according to the abstract of a paper due to be presented next week at the USENIX Symposium on Networked Systems Design and Implementation in Cambridge, Mass. According to six researchers — one from the Indian Institute of Science and five from Microsoft Research India — white spaces are heavily under-utilized as a result.
The spectrum analyzers necessary to measure when and where frequencies are available cost from $10,000 to $40,000 apiece. Given that this is such a major hurdle, the paper, "SpecNet: Spectrum Sensing Sans Frontières," proposes a network that would be used to connect multiple analyzers over a wide area.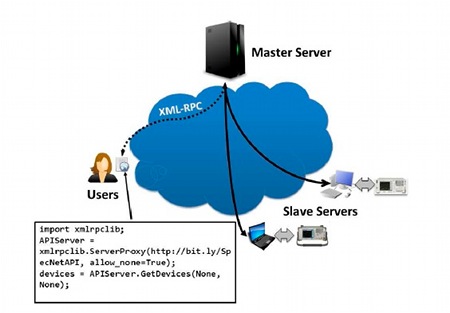 SpecNet architecture
(Click to enlarge)
Participating owners of analyzers would register and connect their instruments to the SpecNet server. They'd also volunteer to specify time periods when SpecNet users could use their equipment remotely to conduct experiments, the paper adds.
According to the authors, SpecNet would provide its users with a rich API implemented as XML remote procedure calls. They add that the API would support three classes of users: sophisticated users who need full access to the low-level APIs of the spectrum analyzer; policy users mainly interested in historical measurement data; and high-level users who would be shielded from technical details.


Core APIs supported by SpecNet
(Click to enlarge)
For example, the paper notes, a government user interested in spectrum occupancy data would need only specify the part of the spectrum (e.g., 500-800 MHz), the geographical boundary (e.g., specified by a center and radius of a circular region), the time interval (e.g., between 12:00 – 16:00 hrs today) and the minimum signal strength of the transmitter that needs to be detected (say -95 dBm). Behind the scenes, it's said, SpecNet would determine the group of relevant spectrum analyzers and their respective settings that will help satisfy the measurement request, execute the task on these spectrum analyzers, and deliver the results to the user.
The authors concede that many owners of spectrum analyzers may be reluctant to share expensive time on their instruments with SpecNet. Therefore, the bulk of their paper reviews methods to make frequency scans more efficient, and thus less time-consuming.
Also noted as a problem is the fact that spectrum analyzers are typically used in labs that may be deep inside buildings or even in basements, restricting their ability to detect transmissions from the outside. "To minimize variability due to antenna placements, SpecNet can choose to only include spectrum analyzers with unobstructed antennas," the authors say.
Further information
More information on "SpecNet: Spectrum Sensing Sans Frontières" and its authors may be found on this Microsoft Research page.
Jonathan Angel can be followed at www.twitter.com/gadgetsense.
---
This article was originally published on LinuxDevices.com and has been donated to the open source community by QuinStreet Inc. Please visit LinuxToday.com for up-to-date news and articles about Linux and open source.