Oct 19, 2011 — by Eric Brown — from the LinuxDevices Archive — 1 views
Google announced Android 4.0 ("Ice Cream Sandwich"), a version of the mobile operating system that for the first time is optimized for both smartphones and tablets. Unveiled with a preliminary software development kit — and due to appear first on the Samsung Galaxy Nexus — it sports a revamped user interface, a faster browser, an improved camera interface, plus facial recognition and text-to-speech features.
Three years after the first Android smartphone — the G1 — appeared on the scene, the Linux-based Android operating system has turned four. Android 4.0 ("Honeycomb") attempts to integrate the previously diverging 2.x smartphone platform and the newer 3.x "Honeycomb" version for tablets.
The heavily revamped OS will appear first on the simultaneously announced Samsung Galaxy Nexus smartphone (below), previously tipped as the Nexus Prime. This 4.65-inch monster runs on a 1.2GHz dual-core processor, features NFC short-range communications, and is due to ship in November with Google branding.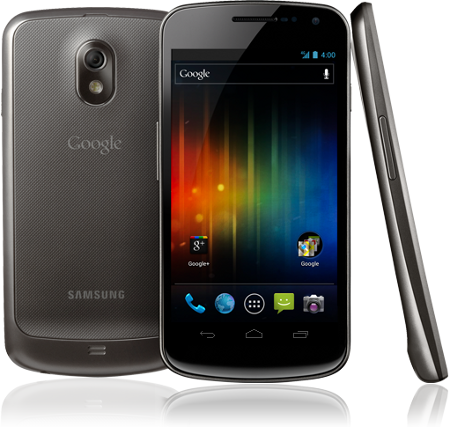 Samsung Galaxy Nexus
(Click to enlarge)
Android 4.0 "Ice Cream Sandwich" (ICS) was unveiled along with the Galaxy Nexus at an Oct.19 event in Hong Kong, and Google also released a preliminary version of the ICS software development kit (SDK). ICS highlights are said to include new social and sharing integration, network data usage control, new connectivity and camera options, and an updated set of standard apps, according to Google.
Aside from the fact that for the first time a single Android is optimized to run on smartphones, tablets, and other Android devices, Android 4.0 is most notable for its revamped, Honeycomb-influenced user interface. According to Google, "the lock screen, widgets, notifications, multi-tasking and everything in between has been rethought and refined to make Android simple, beautiful, and beyond smart."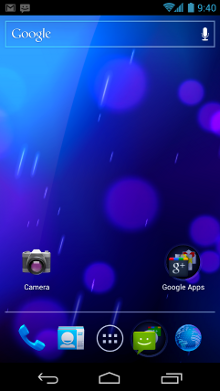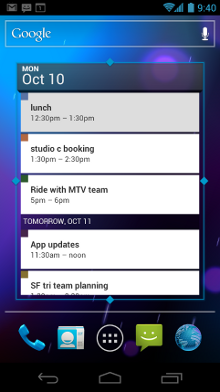 Android 4.0 homescreen (left), showing virtual buttons on bottom, as well as resizable widgets (right)
(Click on either to enlarge)
Many of the UI changes bring the best of Honeycomb — most recently upgraded in July to a seven-inch friendly
Android 3.2
— to the
Android 2.3
("Gingerbread") smartphone world. For example, notifications have been made more interactive, and widgets are now resizable (pictured above).
In several cases, elements are automatically expressed differently depending on screen size. For example, on tablets, the notifications appear in the System Bar on the bottom of the screen, but on smartphones, they roll down from the top.
In place of the hardware buttons that previously sat beneath the screen in Android 2.3 phones, new "virtual buttons" are placed in the System Bar. These software buttons point backward and forward, as well as to commonly used features, and can be dimmed by apps in order to open up more screen space.
Google has also revamped the virtual keyboard, with features such as improved error correction, as well as an in-line spellchecker (see image below, right). A new "Roboto" font is said to be optimized for HD displays. Other enhancements have been made to copy and paste and screenshot functions, and data reporting features have also been upgraded.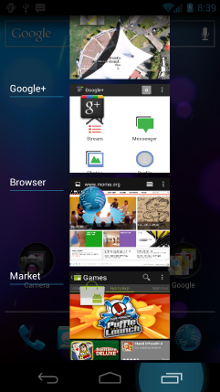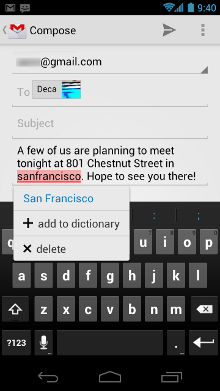 Multitasking is more manageable with new Recent Apps function (left), and the virtual keyboard now offers a built-in spellchecker (right)
(Click on either to enlarge)
Control over multitasking has been enhanced, says Google. Users can more easily see which apps are still running. The Recent Apps button (above, left) pops up to show thumbnail images of apps, and running apps can be closed with a simple swipe.
The browser is still based on WebKit, but is said to be significantly faster, and offers "a refined tab manager." It also features the ability to sync bookmarks with Google Chrome.
Google's Gmail app has also been given a makeover, letting users do offline search, and "quickly swipe through your inbox and search messages even when you're offline," says Google. A revamped Calendar app is said to let users pinch-and-zoom into appointment details. In addition, users can now respond to incoming calls via text message, "without needing to pick up the call or unlock the device," says Google.
A new "People" app improves the contacts function with embeddable high-resolution photos, as well as integration with social networking services such as Google+. The latter is now baked into the ICS build as a standard feature.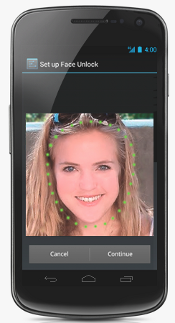 ICS has nothing to compare with Apple iOS 5's new Siri voice feature, but Voice Actions for Android has been upgraded with the ability to use voice commands to activate voice actions, rather than selecting an option via the touchscreen.
Other enhanced functions include a voice-to-text feature designed to type texts and emails. With the new voice input engine, users can speak continously for a prolonged time, pausing for intervals if needed, as well as dictate punctuation, says Google.
If the iPhone still has the edge with voice, Android 4.0 pushes the sci-fi envelope with new facial recognition features. These include a Face Unlock feature that lets users unlock the lockscreen by smiling at the camera (pictured at left).
Android 2.3 added near field communication (NFC) short-range wireless support to the OS, but that capability has largely been limited to the Samsung Galaxy Nexus and Nexus 4G. This fall, however, we can expect more NFC-imbued devices, and they'll be supported with a new Android 4.0 peer-to-peer function (similar to an NFC-based app unveiled in July by PayPal).
On NFC-enabled phones like the Galaxy Nexus and Nexus 4G, the new "Android Beam" feature lets Android 4.0 users share content via a NFC connection. Users can share contacts, URLs, apps, maps, directions, and videos by holding two NFC enabled Android phones close to each other and clicking, says the company.
Like Apple's iOS 5, Android 4.0 boasts improved camera firmware, with features including gridlines for aligning shots. In addition, users can now access the camera from the lockscreen. A new panoramic mode, similar to features already available on some Android smartphones, lets users piece together separate images into one.
Android 4.0 SDK
Development-oriented features mentioned in Google's SDK announcement include a unified UI toolkit that offers a single set of UI components, styles, and capabilities for phones, tablets, and other devices. In addition to APIs for previously mentioned novelties — including the new social and calendar APIs, text-to-speech, and Android Beam — the SDK offers new support for Wi-Fi Direct and Bluetooth Health Device Profile support, says Google.
Other features include improved app management in the launcher, new image and video effects, precise camera metering, and support for new media codecs and containers, says Google. Hardware-accelerated 2D drawing is now available, as well as stylus input support, and improved mouse support.
In addition, accessibility APIs have been added, as well as keychain and VPN APIs for managing credentials and connections, says Google. Sadly for some, there's also a new administrator policy for disabling the camera.
Galaxy Nexus demo on YouTube showing Android 4.0 goodies


Source: Google
(Click to play)
Availability
Android 4.0 is available now to Android OEMs, and the SDK is available for download.
More information may be found in this Google Blog announcement by Google's Andy Rubin, as well as on this Android 4.0 platform highlights page, and this Galaxy Nexus and ICS overview page. More on the SDK may be found in this ICS SDK announcement, and on this Android 4.0 SDK download page.
---
This article was originally published on LinuxDevices.com and has been donated to the open source community by QuinStreet Inc. Please visit LinuxToday.com for up-to-date news and articles about Linux and open source.