Oct 5, 2011 — by LinuxDevices Staff — from the LinuxDevices Archive — views
Hoping to steal some attention from Apple's iPhone 4S, Samsung flashed the side of its Android Ice Cream Sandwich-equipped Nexus Prime — expected to be unveiled next week — in a YouTube video. Meanwhile, it filed preliminary injunction motions in Paris, France and Milan, Italy, hoping to block iPhone sales in those countries due to claimed WCDMA patent infringements.
There's nothing like the launch of a major, potentially big-selling product to get the competitive juices flowing. Just hours after Apple unveiled its iPhone 4S, Samsung Mobile released a brief video teasing its forthcoming Android-based Nexus Prime smartphone, which the company is expected to unveil alongside Google at CTIA Oct. 11.
In the 29-second YouTube clip, shown farther below, Samsung compares things that go better together, such as cookies and milk and newspapers and coffee, before noting that "something big is coming" at its Samsung Unpacked event next week in San Diego. At the end of the teaser video, Samsung shows a side view of the alleged Nexus Prime, which is clearly contoured like the earlier Samsung Nexus S, and appears to have a larger display (see image below).


Samsung Nexus Prime teaser from YouTube video, showing contour of phone
Source: Samsung
The "something big" reference is an allusion to the screen size of the Nexus Prime, which reportedly offers a 4.65-inch, Super AMOLED Plus display with 1280-by-800 pixel resolution. While that's been a standard resolution on 10.1-inch Android 3.0 ("Honeycomb") tablets, it has only recently begun to show up on seven-inch tablets.
As far as we know, the only smartphones to date with such high resolution include the upcoming, 5.3-inch Samsung Note (1280 x 800) and LG's 4.5-inch, Korea-bound Optimus LTE Android smartphone (1280 x 720).
The Nexus Prime almost certainly will launch exclusively on Verizon Wireless with "Ice Cream Sandwich." This next-generation build, expected to be dubbed Android 2.4, leverages the holographic user interface from the Honeycomb branch for tablets. The phone will apparently be another "pure Google" phone with Google branding and no extra UI layers, much like the Nexus S and earlier HTC-built Nexus phones.
For an idea of how Ice Cream Sandwich (ICS) will look, Engadget recently scored some photos and a video from someone who says they bought a Samsung Nexus S found to be running ICS. Soon thereafter, the ICS build was said to have been remotely locked and wiped, but not before new multitasking, notifications, and UI functions were explored.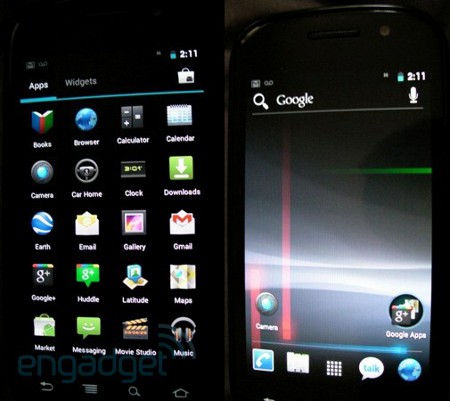 Samsung Nexus S allegedly running Ice Cream Sandwich
Source: Engadget
UI additions to ICS are said to include four shortcuts (instead of Android 2.3's two) on the bottom of the screen, as well as a new Google Apps icon. Users can also "long-press" the home button to bring up a vertical Honeycomb-style multitasking menu, according to
Engadget
. The story notes, however, that this may be a very preliminary version of ICS.
A week earlier, GSM Arena posted several tipped details on the new Nexus Prime phone itself, although no photos were supplied. The phone is said to pack a 2000mAh battery inside a super thin, 8.8 millimeter metal frame. The handset will run a 1.5GHz, dual-core, Samsung Exynos processor, and offer 1GB of RAM and 16GB internal memory, says the story. An eight-megapixel camera with 1080p recording is also said to be on tap.
Samsung Galaxy S II handsets have sold over 10 million units worldwide since April without the benefit of major U.S. sales as of yet, according to the company. Yet clearly Samsung feels it needs to do something big to blunt the hype from the iPhone 4S, which offers users a speedy A5 dual-core processor, eight-megapixel camera, iCloud and iOS 5, as well as the Siri intelligent assistant application. In addition, the 4S is a "world phone," operating on both GSM and CDMA networks.
Still, the handset is not the blockbuster iPhone 5 that was expected, and it still offers the 3.5-inch screen Apple fans have become accustomed to. Samsung and Google will clearly tout the larger screen size of the Nexus Prime, as well as the speedier processor and the fresh ICS build, as advantages.

Even without the Nexus Prime, many are holding up the Galaxy S II as a more affordable competitor to the iPhone. Sprint was the first to announce a U.S. version of the Samsung Galaxy S II with its Samsung's Galaxy S II, Epic 4G Touch (pictured), which shipped in mid-September. T-Mobile then chipped in with its own Samsung Galaxy S II model, which shipped Oct. 1.
AT&T was the last carrier to announce its version of the Galaxy S II, which went on sale Oct. 2. More details may be found in this recent eWEEK review of the AT&T model.

Nexus Prime teaser on YouTube
Source: Samsung
Click to play)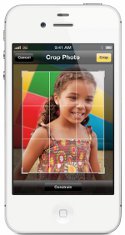 Samsung blocks Apple in France
Soon after Apple introduced its iPhone 4S world phone, Samsung Electronics announced it has filed preliminary injunction motions in Paris, France and Milan, Italy courts to block the sale of the device in those countries. The iPhone 4S (pictured) was set to launch Oct. 14 in the U.S., Australia, Canada, France, Germany, Japan, and the U.K. It will be the first iPhone to run on Sprint's 3G network.
Samsung, which is the largest maker of Android smartphones, isn't having it. The company — which was first sued by Apple for patent infringement in April after Apple said the Samsung Galaxy S handset design "slavishly copies" the iPhone — claimed the iPhone 4S infringes on two wireless communications technology patents in both France and Italy. Specifically, the technology covers Wideband Code Division Multiple Access (WCDMA) standards for 3G mobile handsets.
"The infringed technology is essential to the reliable functioning of telecom networks and devices and Samsung believes that Apple's violation as being too severe and that the iPhone 4S should be barred from sales," stated Samsung. "Apple has continued to flagrantly violate our intellectual property rights and free ride on our technology. We believe it is now necessary to take legal action to protect our innovation."
These new complaints are in addition to existing preliminary injunction requests Samsung filed versus Apple. Samsung said it will file similar preliminary injunctions to halt the iPhone 4S in other countries, as well.
The legal imbroglios between partners Apple and Samsung are increasing. In mid-September, Samsung and Apple traded Galaxy Pad-related lawsuits in France and Japan, respectively.
In one of the more serious cases, Samsung's legal counsel said the company may not launch the Galaxy Tab 10.1 Android "Honeycomb" tablet in Australia because Apple has successfully blocked it there since August. If Samsung can't began selling it in that country in time for the holiday sales rush, the product could be "commercially dead" in that country, the company's attorneys complained this week.
Interestingly, Samsung and Apple are partners. Samsung currently makes the A5 processor that powers the iPad 2 and new iPhone 4S, as well as display technology for both Apple gadgets and other devices.
Jefferies & Co. analyst Peter Misek, who predicted Oct. 4 Samsung would ask for injunctions preventing the launches of the new iPhone in the U.S. and Europe, said the "relationship is souring" because Samsung has emerged as Apple's top handset rival in the global market. Apple, he said, may then in turn seek to tap other OEMs for components for its mobile devices.
Samsung recently settled on a patent agreement with Microsoft, in which it will pay Microsoft unstated royalties for all its Android-powered devices.
Clint Boulton is a writer for eWEEK.
---
This article was originally published on LinuxDevices.com and has been donated to the open source community by QuinStreet Inc. Please visit LinuxToday.com for up-to-date news and articles about Linux and open source.