Dec 1, 2011 — by Eric Brown — from the LinuxDevices Archive — 7 views
HCI announced an Android-powered infotainment terminal for hospital patients, enabling users to browse the web, communicate with staff and patients, and view customized content as well as watching TV. The RoomMate Generation III devices come with 22-, 26-, 32- and 42-inch screens, plus Ethernet, serial, USB, Wi-Fi, Bluetooth, and various remote control accessories.
Most hospital infotainment terminals are built on Windows, such as the 18.5-inch, resistive-touch Arbor M1857 covered recently by our sister publication WindowsForDevices. The latest systems, such as the Linux- and Windows-compatible, 15.6-inch Advantech PIT-1503W, have broken new ground by offering capacitive multitouch screens, but HCI's Android-powered RoomMate Generation III TVs moot this debate by offering no touch controls at all.
Although the Roommate II HDTVs require remote control interaction, they do offer the advantage of size, being available in 22-, 26-, 32- and 42-inch versions. In addition to saving money on the huge touchscreens, this approach also makes it easier for patients to view content with visitors.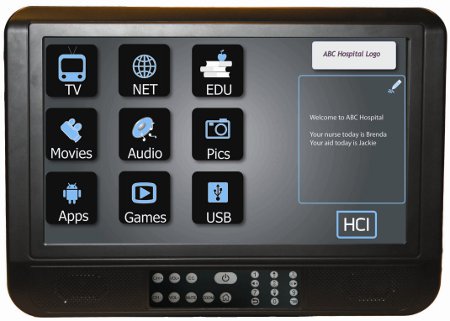 RoomMate Generation III
(Click to enlarge)
Cincinnati-based HCI, which specializes in hospital-grade televisions and accessories, has designed its latest RoomMate TVs to "entertain and educate patients, visitors, and staff " in hospitals and healthcare facilities. HCI makes no mention of the processor or Android version used in the TVs, but judging from the image, it's a highly customized version of Android.
Unlike the company's earlier RoomMate TVs, the Gen. III version lets patients and visitors browse the Internet and download Android apps. It also permits watching cable TV or calling up video (MPEG-2 and H.264 formats are both supported), music, and images on demand, says HCI.
The televisions also provide a whiteboard application designed to share messages between staff and patients via Wi-Fi, says the company. No details were offered on input options for this feature, however.
HCI's MediaCare 2 server software
The ToomMate Generation III TVs are compatible with the company's MediaCare2 media server application, which lets staff send messages and assign educational videos to specific patients, with information on treatment, medications, and discharge instructions. A log of content assigned and viewed is recorded and can be included with the patient's file, says the company. In addition to supporting MediaCare2, the TVs can communicate with any UPnP-compliant media server, says the company.
Full specs on the HD LCD displays are available from a data sheet link at the end of the story. Highlights include digital progressive scan capability, and resolution starting at 1366 x 768 pixels (WXGA) with the smallest 22-inch TV. The TVs offer wide viewing angles, ranging from 170/160 degrees for the 22-inch model to 178/178 for the other three models, according to the company
The RoomMate III TVs offer a wide range of A/V inputs, including HDMI, as well as 10/100 Ethernet, USB, and RS232 ports, says HCI. The TVs also support Bluetooth and the aforementioned 802.11a/b/g/n Wi-Fi. A 160GB hard disk drive is said to be optional.
USB flash cloning and pillow speakers
The Roommate III TVs ship with USB flash clone and remote clone support, thereby easing the copying of TV settings and locally stored files between TVs when patients change rooms, says HCI. Options are said to include wall, table, and ceiling mounts, DVD players, and pillow speakers.
Running on a 120VAC 50/60Hz power supply, the TVs range from 120-Watt maximum consumption for the 22-inch model up to 270 Watts for the 42-inch version, says the company. Audio output power is said to range from 8 Watts to 20 Watts respectively.
A variety of IR remote control devices and a remote keyboard are provided to mouse around the screen. These are augmented with a front-panel keypad that allows staff and visitors "easy access to TV controls without disturbing the patient," according to HCI.
Unlike some RoomMate TVs, there are no anti-microbial claims made here. However patient safety is given a nod by giving the TVs rounded corners. For a truly hands-free approach, however, remote control capability is also provided from afar via MediaCare2, says the company.
Stated Rick Pratt, CEO of HCI, "I am so proud of our HCI team — we have scored another 'first in the world'."
Presumably, Pratt is talking about Android-based hospital PCs. Indeed, this is the first such device we've seen, although Android is making its way in the world of IPTV systems in general. These are led by Sony's Internet TVs, which run Google TV.
Availability
No pricing or availability was cited for the RoomMate Generation III televisions. More information may be found on this RoomMate III product page.
---
This article was originally published on LinuxDevices.com and has been donated to the open source community by QuinStreet Inc. Please visit LinuxToday.com for up-to-date news and articles about Linux and open source.