Jan 10, 2011 — by LinuxDevices Staff — from the LinuxDevices Archive — views
Smartphones running Android surpassed Apple iOS in the U.S., grabbing 26 percent compared to Apple's 25 percent share, according to ComScore. Meanwhile, Google reports strong AdMob ad-viewing numbers from Android and iOS, and Forrester Research projects that Apple's iPad will lead Android in a 2011 tablet market that should hit 24.1 million.
ComScore found that Android now places in the No. 2 slot in U.S. smartphone subscriber share, behind market leader RIM's BlackBerry OS, which slipped to 33.5 percent from 35.8 percent through October.
BlackBerry, whose share was 37.6 percent in August, continues to see declining share at the hands of Android and iOS. Microsoft's Windows platform share also dropped 1.8 percent to 9 percent through November, as Windows Phone 7 devices try to gain traction.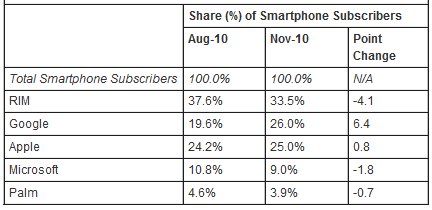 U.S. smartphone subscriber share, 3-mo. ending Nov. 2010 vs. previous 3-mo. period
Source: ComScore
While Apple grew share to 25 percent from 24.6 percent through October, it may have the greatest cause for concern here. Android's share had yet to crack 19.6 percent through August, while iOS commanded 24.2 percent share at that time.
ComScore's new numbers show Android gained 6.4 percentage points of share since the end of the summer, while iOS grew less than 1 percent, no doubt on the strength of a strong iPhone 4 offering.
While Apple was absent from the 2011 Consumer Electronics Show, Google's Android operating system drew strong interest, thanks to 4G smartphone announcements from Motorola Mobility and others. For example, HTC, LG, Motorola, and Samsung all announced they will ship devices powered by Verizon Wireless' speedy new 4G LTE broadband network later this year.
Android's swift rise and iPhone's modest growth make an the iPhone launch on Verizon Wireless all the more crucial for Apple. Such a launch is expected to occur this quarter, or even this week, according to some reports.
ComScore also broke down the total U.S. mobile device market by vendor, finding that Samsung enjoyed 24.5 percent of U.S. mobile subscribers. LG was said to have ranked second with 20.9 percent share, followed by Motorola at 17.0 percent, RIM at 8.8 percent, and Nokia at 7.2 percent.
Overall, 61.5 million people in the U.S. owned smartphones during the three months ending in November, up 10 percent from the prior three-month period, says ComScore.
AdMob sees Android ad boom
In other Android-related market research news, Google Jan. 6 said that its AdMob network is currently receiving more than two billion ad requests per day, four times the amount served over the last year. More than 100 million unique Android and iOS devices requested an ad each month. That's nearly double the requests over the last six months, following Google's purchase of AdMob in late May.
Forrester: iPad will ward off Android onslaught in 2011
If Apple's iPhone is endanger of slipping under the Android smartphone competition, its iPad appears to be in a stronger position. Last week, Forrester Research released a report projecting that the iPad will lead Android in a surging U.S. tablet PC market in which sales are expected to top 24.1 million in 2011. This upwardly revised estimate is said to be more than double the 10.3 million Forrester estimated were sold through 2010.
Forrester did not release OS share numbers, but projects that the lion's share of tablets sold in the U.S. in 2011 will be iPads, which will hold on to a majority even into 2012 despite "many would-be competitors that will be released."
Availability
More ComScore charts and findings may be found at its November 2010 Mobile Subscriber page.
More on AdMob's findings may be found at this Google blog.
The research findings on tablet sales may be found on this revised Forrester Research U.S. consumer tablet forecast page.
Clint Boulton is a writer for our sister publication eWEEK.
---
This article was originally published on LinuxDevices.com and has been donated to the open source community by QuinStreet Inc. Please visit LinuxToday.com for up-to-date news and articles about Linux and open source.