Jan 7, 2011 — by Eric Brown — from the LinuxDevices Archive — views
Verizon Wireless capped off a week of Android-based smartphone introductions with two new 4G LTE-ready, 4.3-inch models: HTC's ThunderBolt and LG's Revolution. The phones will compete on Verizon with Motorola's similarly 4.3-inch Droid Bionic, announced earlier this week, which ups the ante with a dual-core, Nvidia Tegra-2 processor.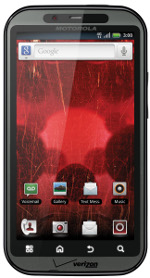 The four largest U.S. wireless carriers have all made Android smartphone announcements this week, but Verizon seems to have outdone everyone. Yesterday, the carrier followed through with two high-end 4G Android 2.2 phones from HTC and LG. (See the end of the story for links to all the major smartphone announcements at CES.)
As we reported earlier today, the carrier announced an unnamed Samsung Android phone for its 4G LTE network, although with few details. Earlier this week, Motorola and Verizon showed off the Motorola Droid Bionic (pictured at right). The Bionic was widely seen as the most cutting-edge Android phone shown at CES, along with a similar AT&T-destined Atrix 4G phone.
Both Mot phones are notable for offering a powerful, dual-core Nvidia Tegra 2 processor. As the Bionic will not appear until later this year, not much information was provided, although we have filled in more details following our HTC and LG coverage below.
HTC ThunderBolt
Tipped last week, the HTC ThunderBolt does not appear to be a breakthrough smartphone like last year's Sprint-provided Evo 4G. In fact, it offers many of the same specs as the Evo, including a 1GHz Qualcomm Snapdragon processor, 4.3-inch display, and both an eight-megapixel camera and a front-facing videocam. All these features were groundbreaking last spring when the Evo was unveiled, but are now being matched, more or less, by several other high-end phones.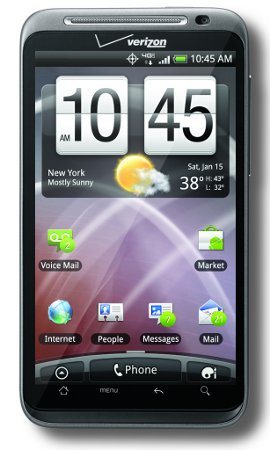 HTC ThunderBolt
(Click to enlarge)
Whereas the popular Evo 4G — and the newly announced, somewhat scaled down
HTC Evo Shift 4G
— both support Sprint's WiMAX-based 4G network, the ThunderBolt targets Verizon's LTE network, generally considered to offer equivalent (if not better) bandwidth. According to Verizon, users can expect download speeds of 5-12Mbps and upload speeds of 2-5Mbps.
The ThunderBolt's 4.3-inch screen offers WVGA (854 x 480) resolution, up slightly from the Evo's 800 x 480 pixels. The phone also ships with a generous 768 RAM, 8GB of internal memory, and a 32GB data card, says Verizon.
The eight-megapixel camera provides LED flash, and is capable of 720p video recording, and the front-facing camera offers 1.3-megapixel resolution, says Verizon.
The ThunderBolt is said to be one of the first phones to offer Skype mobile with video calling. "Rather than relying on a standalone application, a Skype mobile with video call can be made as easily as a standard voice call — with features like presence icons that indicate the availability status of friends built into the standard contacts list," says the carrier.
The ThunderBolt is equipped with 802.11b/g/n Wi-Fi, Bluetooth 2.1, GPS, and an FM radio. The phone is also said to provide a compass sensor, G-sensor, proximity sensor, and light sensor.
In addition, the phone supplies a 3.5mm audio jack, a micro-USB port, and a TI audio DSP with Dolby surround sound, says the company. DLNA support is provided, as is a kickstand and optional mobile hotspot capability for up to eight Wi-Fi devices.
The phone runs Android 2.2, and also offers the latest Sense 2.0 UI layer, says Verizon.
Stated Jason Mackenzie, president of HTC Americas, "With HTC ThunderBolt and the Verizon Wireless 4G LTE network, 4G is brought to life as people stay connected with friends, family and content faster than ever before possible."
LG Revolution
Earlier this week, LG announced a four-in

ch Android 2.2 phone called the Optimus Black (pictured at right), but no carriers were mentioned. Now LG has announced a second LG phone, this time designed for Verizon's LTE network.
The LG Revolution (pictured below, at left) runs Android 2.2 on an undisclosed processor, and supplies 16GB internal memory, as well as a microSD card slot for up to 32GB more, says Verizon. A 4.3-inch touchscreen is provided, as is Wi-Fi, Bluetooth 3.0, and an HDMI port. DLNA and DIVX support are both supplied, says the company.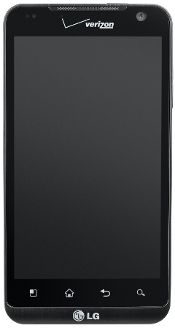 The Revolution's five-megapixel autofocus camera offers LED flash, five different camera resolutions, an image editor, various photo effects, and a macro mode "for detailed, up-close pictures, says Verizon. The camera is said to support video capture in three different resolutions.
Full specs have yet to be provided on the Revolution, but Verizon does mention the presence of a proximity sensor. An optional mobile hotspot for eight Wi-Fi devices is also said to be available.
The Android 2.2 software is augmented with Google Mobile Services, including Gmail, YouTube, Google Talk, Google Voice, and access to Android Market, says Verizon. There's also a virtual QWERTY keyboard, a full suite of messaging options, and "audio/video remote control," says the carrier.
Stated Tim O'Brien, vice president of marketing for LG Mobile, "LG Revolution marks the beginning of new technologies and products that will complement on-the-go consumers looking for high-speed connectivity in one compact device."
Motorola Droid Bionic
Announced earlier this week, the Motorola Droid Bionic would appear to slightly one-up its AT&T cousin, the Atrix 4G, but does not appear to be as close to reaching market. Like the Atrix 4G and the Korea-destined LG Optimus 2X — but no other smartphone that we know of — the Droid Bionic moves up to a dual-core 1GHz Nvidia Tegra 2 processor.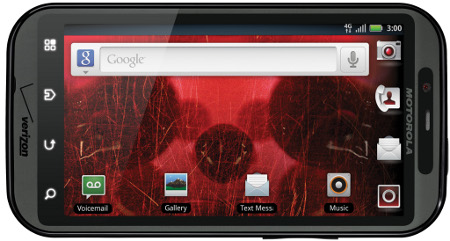 Motorola Droid Bionic


(Click to enlarge)
Motorola Mobility, as the company is now called after
this week's split-up
with the enterprise portion of the company, says the Tegra 2 gives the Droid Bionic the equivalent performance of a 2GHz phone. We're not so sure — and there are no 2GHz phones we know of to compare it with — but the Tegra 2 is likely to far outpace mere single-core Qualcomm Snapdragons, TI OMAPs, Samsung Hummingbirds, and the like.
Designed to support Verizon's 4G LTE network, the Bionic ships with 512MB RAM, says Motorola. No flash memory details were supplied, and other specs are sketchy, but the company says the phone offers a 4.3-inch qHD (960 x 540) display, with an HDMI port that can show full 1080p video on an attached HDTV. A "Mirror Mode" function is said to enable simultaneous streaming of video to the TV and on the device.
The Droid Bionic offers both a front-facing VGA camera, and a rear-facing eight-megapixel camera, says the company. Beyond that, there are few hardware details, and there was no mention of the interesting docking laptop option that Motorola is providing as an accessory for the similar Atrix 4G.
The Droid Bionic is said to offer peer-to-peer multiplayer gaming, yet Motorola is also staking out some corporate turf with the phone. The Bionic will be equipped with corporate email, remote wipe, data security, and encryption capabilities, says the company.
Other software is said to include Quickoffice for document review and editing, full calendar management, one-click access to conference calling, and a full suite of Google applications and services.
Motorola does not commit, however, to a particular Android release for the Droid Bionic, suggesting that the ship date may be farther away than many of the other phones announced at CES.
Stated Alain Mutricy, senior vice president of portfolio and device product management, Motorola Mobility, "Droid Bionic is the epitome of speed, providing consumers with instantaneous access to their personal and work content, anytime and anyplace."
Availability
Pricing or availability information was not provided for the HTC ThunderBolt, the LG Revolution, or the Motorola Droid Bionic. More information on the HTC phone may be found at HTC's ThunderBolt page and at Verizon's HTC ThunderBolt notification sign-up page.
More on the LG phone may be found at Verizon's LG Revolution announcement page.
More information on the Motorola Mobility phone may be found at the company's Droid Bionic page.
---
This article was originally published on LinuxDevices.com and has been donated to the open source community by QuinStreet Inc. Please visit LinuxToday.com for up-to-date news and articles about Linux and open source.