Nov 5, 2010 — by Eric Brown — from the LinuxDevices Archive — 1 views
The Google Instant predictive search technology has launched in an Android version. In other Android app news, Twitter and Facebook have each released updated apps, Verizon is prepping its V Cast Android Store for the Droid Incredible next week, and the U.S. Defense Department unveiled a T2 Mood Tracker app allowing veterans to monitor their emotional health, says eWEEK
Yesterday, Google released a beta mobile version of its new Google Instant predictive search technology, launching first for Android and Apple's iOS 4, says a Clint Boulton story in our sister publication, eWEEK. Google Instant guesses users' queries as they begin to type them, a process that Google claims saves the average searcher two to five seconds per search.
The company launched Instant in September for desktop computers. The new beta version of Google Instant for mobile runs on Android 2.2, as well as iPhones and iPods running iOS 4, says eWEEK. To activate the technology, users can visit Google.com in their phone's browser and tap the Google Instant "Turn on" link beneath the search box, says the story.
The mobile version was said to have required the development of a new AJAX and HTML5 process that dynamically updates the page with new results without forcing a page reload.
Facebook mobile app adds single sign-on
On Wednesday, Facebook introduced a single sign-on (SSO) feature for Android and iOS, and released version 1.4 of the Android Facebook app, according to another Clint Boulton story in eWEEK. Facebook users can now log into applications that support SSO with a single click without typing in a user name and password, says the story.
Facebook SSO is said to be available today on Android apps including Groupon, Loopt, SCVNGR, Yelp, Flixster, and Zynga Poker.
Facebook's Android 1.4 app also adds support for the Facebook Places geolocation and geotagging service. This allows Android users to "check in" to restaurants, businesses, and other locations to share their locations in real time with Facebook friends, says eWEEK.
Also new to version 1.4 is support for Facebook Groups, which lets users message small groups of friends in a private space. When enabled, members of a given group see only what's going on in the group, and can group chat with each other. The group designation can be extended to other features in Facebook, including email lists.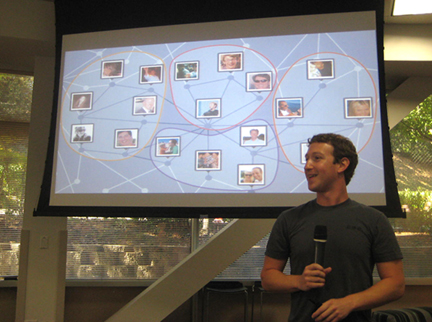 Facebook founder and CEO Mark Zuckerberg explains Facebook Groups at an Oct. 6 press conference
Another new Facebook geolocation feature — called Facebook Deals — was released only on iOS, but will roll out to Android at a later date, says the story. Facebook Deals is a location-based service (LBS) that lets mobile users identify special offers from nearby restaurants and retailers, says the story.
Twitter for Android speeds scrolling, adds "details" page
Also on Nov. 3, Twitter updated its Twitter for Android application with a speedier-scrolling timeline and a new tweet details page, says another Boulton story on eWEEK.
Twitter for Android launched in late April, letting mobile Android users tweet and share links and photos, as well as access their timeline with the home screen widget. The original version also let users view a tweet location on a map and see tweets in any application that uses Android's QuickContact bar.
The new version, which supports Android 2.1 or higher, adds a new "tweet details" feature already available on the iPhone and Windows Phone. The feature is said to make it easier to reply to tweets, retweet, or "favorite."
Other new feature include the ability pull down the screen to load new tweets, as well as "swipe to reveal" profiles, share a tweet, or reply to a tweet, says the story. In addition, users can now click the retweet icon to "quote a tweet," as well as display high-res avatar photos.
Twiiters's acquisition of Tweetie earlier this year, — along with the release of the Twitter mobile apps for BlackBerry and iOS — led to an outcry from app developers. The app developers claimed that Twitter was freezing them out of app development around the social networking platform. Twitter has helped assuage fears by open sourcing its Twitter for Android code.
Verizon preps V Cast for Android release on Incredible
Yesterday, Verizon Wireless said it will make its V Cast Apps for Android store available next week

on its HTC Droid Incredible smartphone (pictured) via a software upgrade, says another Boulton eWEEK story.
V Cast Apps will be preinstalled on the Droid Incredible, making it the first phone to enable access to Verizon's Android application store.
Launched in September, Verizon's V Cast Apps for Android is one of a handful of Android application stores arriving as alternatives to Google's much-maligned, 100,000-app Android Market. V Cast Apps currently offers about 5,000 apps, according to Verizon.
With the upgrade, Droid Incredible users will be able to purchase applications directly from their Incredible handset and bill them to a Verizon Wireless account, thereby "assuaging one of the major pain points of the Android Market," writes Boulton.
The Droid Incredible upgrade also adds Flash Player security enhancements, visual voice mail Wi-Fi improvements, and enhanced Yahoo! IMAP email support, says the story. In addition, there have been improvements to YouTube and Google Maps apps.
T2 Mood Tracker apps tracks emotional health
This week the U.S. Department of Defense (DoD) released an Android app called T2 Mood Tracker that aims to help veterans and current members of the military service keep track of their emotions and behaviors following deployment. Users can record information on therapy, medication, and daily events and environmental changes, says an story by Brian Horowitz.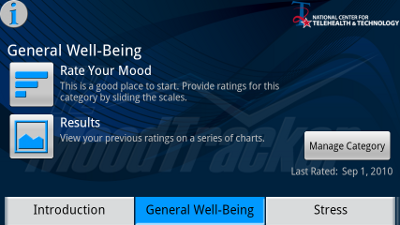 T2 Mood Tracker for Android
The app allows military personnel to monitor post-traumatic stress, brain injury, life stress, depression, and anxiety, says the story. Users can graphically track trends in emotional health and compare daily experiences with emotional reactions over time. The app also enables information sharing with therapists and physicians.
The T2 Mood Tracker was said to be created by the DoD's T2 (The National Center for Telehealth & Technology), agency, which manages the department's telehealth program. Military personnel can download the application from T2health.org, here.
---
This article was originally published on LinuxDevices.com and has been donated to the open source community by QuinStreet Inc. Please visit LinuxToday.com for up-to-date news and articles about Linux and open source.