Sep 17, 2010 — by Eric Brown — from the LinuxDevices Archive — views
Viewsonic demonstrated a 10.1-inch, Android 2.2 "G-Tablet" that's bound for U.S. sales, powered by an Nvidia Tegra 2. Meanwhile, AT&T, Sprint, T-Mobile, and Verizon Wireless say they'll offer the Android 2.2-based Samsung Galaxy Tab tablet this fall.
The G-Tablet was unveiled by ViewSonic at Pepcom's Holiday Spectacular show in New York, as reported by HotHardware. Meanwhile, Laptop also had an opportunity to take a look at the device behind closed doors this week.

ViewSonic G-Tablet


Source: Laptop
Viewsonic, which has been making Windows-based tablet computers since 2001, first dipped into the Android pond in January when it demonstrated an 8.9-inch, 1024 × 800 tablet device at a trade show in Beijing. Like the new G-Tablet, the
VTablet 101
incorporated an ARM Cortex-A9 based Nvidia Tegra 2 system-on-chip (SoC).
Then in August, ViewSonic demonstrated the ViewPad 7 and ViewPad 10, two tablet computers said to be headed for Europe. These tablets, whose screen sizes are reflected by their names, both run Android, but whereas the ViewPad 7 runs Android on a Qualcomm processor, the ViewPad 10 uses an Intel Atom and is said to dual-boot Android and Windows 7.
With its Tegra 2 foundation, the G-Tablet appears to be a slightly larger iteration of the original Vtablet 101 prototype, (which does not appear to have progressed beyond its initial demonstration).
The G-Tablet will ship in major retail outlets like Costco, Sam's Club/Wal-Mart, Radio Shack, and Sears in late October, writes Laptop's K. T. Bradford, citing an iPad-like MSRP of approximately $530. However, the story speculates that the street price could fairly quickly drop by as much as $100.
By comparison, the 10-inch Archos 101 Android tablet starts with a $399 MSRP, notes the story, although in fairness, the dual-core Cortex-A9-based Tegra 2 is likely a bit faster than the Archos 101's 1GHz Cortex-A8 SoC.
Indeed, during the hands-on evaluation, Bradford notes "speedy performance and response," with smooth 1080p video playback, Flash 10.1 support, and gameplay. The device is said to feature 1GB of RAM and 16GB of flash, expandable to 32GB via a microSD slot.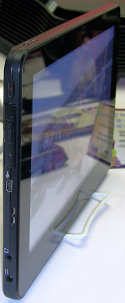 Measuring 9.96 x 6.5 x 0.5 inches, the G-Tablet features a 10.1-inch, 1024 x 600 capacitive display that is "really beautiful, though ultra glossy," writes Bradford. Meanwhile, audio quality is dubbed "pretty impressive."
The G-Tablet is also said to feature a front-facing 1.3-megapixel webcam, a USB port, and a mini-HDMI port and cable. The Laptop video (see farther below) also mentions a microphone.
The G-Tablet won't be Google certified, and will not offer Android Market, adds the story.
HotHardware's Dave Altavilla, meanwhile, fills in with other details, as well as the photo at right. The G-Tablet offers 802.11n and Bluetooth 2.1 wireless capabilities, and has a SIM slot that points to a possible future 3G upgrade, says Altavilla.
Weighing a relatively light one pound, the G-Tablet is claimed to last up to eight hours running 1080p HD video, and up to 10 hours for 720p, says the story.
Altavilla's preliminary G-Tablet conclusion: "We like."
ViewSonic also showed off a digital picture frame with on-board camera, capable of converting paper photos to digital media, along with a combination pocket camcorder and projector all-in-one device, says HotHardware. This latter "ProjectorDV," device "would make R2 proud," writes Altavilla. "It's able to record videos of Obi-Wan live on Jedi location and then re-project that video immediately at 720p via DLP technology."
Laptop

's hands-on evaluation of ViewSonic G-Tablet on YouTube
(Click to play)
Samsung tosses Tabs across America
Following the release in recent weeks of Samsung Galaxy S-based Android phones across major U.S. wireless carriers, the company is now doing the same for its recently announced Samsung Galaxy Tab. AT&T, Sprint, T-Mobile, and Verizon Wireless each announced their intention to release the seven-inch, 3G telephony-enabled Android tablet in the coming weeks or months. Neither pricing or specific availability dates were listed, however.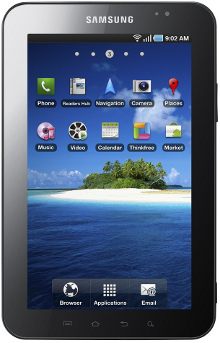 Samsung Galaxy Tab
Despite its smaller size, the Galaxy Tab has been widely expected to be a major rival to the Apple iPad, based on its feature line-up, apparently solid design, plus Samsung's marketing clout.
Now that its presence on all major U.S. carriers has been confirmed, assuming a reasonable price tag, the Galaxy Tab should have a substantial advantage over the other recently announced Android tablets. The iPad, meanwhile — which lacks telephony, Flash Player support, and other Galaxy Tab features — works only on AT&T's 3G network.
The Galaxy Tab runs Android 2.2 on a 1GHz Cortex-A8 Samsung "Hummingbird" processor, and offers a seven-inch, 1024 x 600 capacitive touchscreen. The tablet further supplies a three-megapixel camera, a front-facing videocam, 802.11n, GPS, Bluetooth 3.0, and 3G with voice telephony, says Samsung.
There was little substance to the carrier announcements, although several vendors listed some apps that would run on their version of the tablet. For example, AT&T, which recently shipped the Samsung Captivate Galaxy S clone, expects to offer the tablet in the "coming months," and will feature the AT&T Connection Manager for connecting to AT&T Wi-Fi Hot Spots.
T-Mobile USA, which recently released the Samsung Vibrant Galaxy S phone, says that the Galaxy Tab will be available "this holiday season," but did not mention add-on apps.
Sprint, which recently began selling the Samsung Epic 4G — a 4G- and keyboard-enabled version of the Galaxy S — will offer the Galaxy Tab "this fall" on its 3G network. A Sprint developer guide for the Galaxy Tab will be available on the Sprint Application Developer Web site when the device launches, says the carrier.
Verizon Wireless, which now sells the Samsung Fascinate Galaxy S spin-off, reports that the Galaxy Tab will arrive "in the coming weeks." It also lists the Tab's clock rate as 1.2GHz, which is in an error unless Verizon is somehow able to overclock the device's 1GHz Hummingbird processor.
Verizon V Casts a spell on Android Market
Verizon Wireless will offer the Galaxy Tab with a number of its in-house V Cast applications, says the carrier. Recently, Verizon caused a bit of a stir when it invited Android application submissions for its pending V Cast Apps store, putting it in direct competition with Google's Android Market, according to our sister publication, eWEEK.
In its note to Android developers, Verizon was said to have noted, "As you know, merchandising your Android app through other channels can be a challenge, this is how V Cast Apps can make a difference to you."
According to eWEEK, that statement, which addresses concerns from Android developers in how their apps are sold on Android Market, could be considered "a blatant shot across Google's bow."
Stated John Stratton, executive vice president and chief marketing officer for Verizon Wireless, "As we head into the holiday travel season, we expect customers will find the Galaxy Tab is the perfect traveling companion."
Availability
The Laptop story on the ViewSonic G-Tablet may be found here, and the HotHardware story should be here.
Both sites say the device will ship at major U.S. retailers in late October, starting at $529 MSRP.
The eWEEK story on the Verizon V Cast store announcement should be here.
---
This article was originally published on LinuxDevices.com and has been donated to the open source community by QuinStreet Inc. Please visit LinuxToday.com for up-to-date news and articles about Linux and open source.