Oct 25, 2011 — by LinuxDevices Staff — from the LinuxDevices Archive — 1 views
Android is beating Apple's iOS in app downloads by 44 percent to 31 percent, according to ABI Research. Meanwhile, Millenial Media's latest figures show Android with 56 percent of total mobile ad impressions compared to 28 percent for iOS, and a trio of tablet studies finds that while the iPad's still dominating, Android's on the rise.
Google's Android operating system vaulted over Apple's iOS platform in overall app downloads by a count of 44 percent to 31 percent, according to research released by ABI Research Oct. 24. The statistic may be surprising at first blush, considering that Apple has more than 500,000 applications in its vaunted iTunes App Store, compared to more than 300,000 for Google's official Android Market. Yet, an increasing number of Android users get their apps from third-party download sites.
"Android's open source strategy is the main factor for its success," stated Lim Shiyang, research associate. "Being a free platform has expanded the Android device installed base, which in turn has driven growth in the number of third party multi-platform and mobile operator app stores. These conditions alone explain why Android is the new leader in the mobile application market."
With Android, Google is practicing a death-by-1,000-tiny-cuts scenario versus Apple. As Google Larry Page noted in Google's third-quarter conference call Oct. 13, more than 190 million Android smartphones and tablets have been activated worldwide. With 130 million iPhones and 32 million-plus iPads shipped, Apple hasn't been a slouch either.
Still, Android devices continue to outnumber iOS devices. According to ABI's number-crunching, iPhone shipment growth in the second quarter slowed to 9 percent from 15 percent a quarter earlier, while Android smartphone shipments increased 36 percent in Q2 2011, from 20 percent in Q1. Android's installed base now exceeds iOS by a factor of 2.4-to-1 worldwide, says the research firm.
Android's app download figures may also be helped by the fact that more and more of the 300-plus Android devices available on the market are 4G enabled and incorporate dual-core processors.

While ABI made no such claims itself, it seems logical that an increase in 4G-ready phones such as Verizon's 4G LTE Motorola Droid Bionic (pictured) would result in faster downloads. Just as Google has shown that faster web search leads to more searches, it's likely that faster app downloads means consumers will download more apps onto their phones and tablets.
Global app downloads for 2011 will grow to 29 billion, compared to only nine billion in 2010, said ABI. However, it seems as though Android is still winning with quantity over quality. ABI said that while Android took the lead in mobile app downloads, Apple's app downloads per user bested Android by a ratio of 2 to 1.
"Apple's superior monetization policies attracted good developers within its ranks, thus creating a better catalog of apps and customer experience," stated ABI analyst Dan Shey.
Google's Android team continues to work to improve its Android Market experience, adding more carrier billing and better app download transparency tools to provide developers some insight into how their work is faring. It remains to be seen whether Google can match Apple's consumer app store experience. However, with the growth of third-party app stores, it's possible that Android Market is no longer quite so crucial to Android's success.
Millenial: Android keeps rising in ad impressions
Android grabbed 56 percent of total ad impressions, fully double the 28 percent impression share enjoyed by Apple's iOS, according to Millennial Media's September statistics, released Oct. 25. Millennial Media found that Android also beat iOS in application ad spending by a count of 49 percent to 41 percent, the same figure the ad network calculated in August. In November 2010, Android finally managed to tie iOS for the first time in Millenial's studies.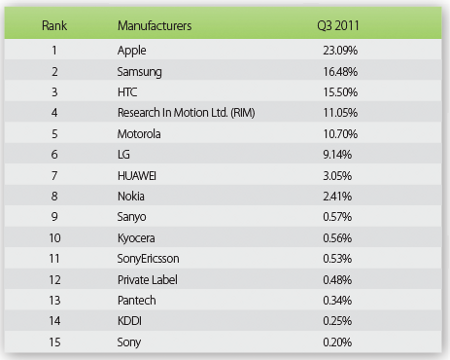 Top 15 mobile device manufacturers in percentage of mobile ad impressions, Q3 2011
Source: Millennial Media Mobile Mix
Android once again accounted for 15 of the top 20 devices on the network in the third quarter. Apple took the lead with 23.09 percent, and Samsung switched places with HTC on the Android handset OEM leaderboard for second place, by a count of 16.5 percent to 15.5 percent of total ad impressions, according to Millenial (see chart above).
Motorola was No. 3 with 10.7 percent, down from 11.3 percent in August. China's Huawei tripled its growth year-over-year, and had two Android phones in the top 15 mobile phones on Millennial.
Apple's iPhone accounted for 54 percent of the impressions on the iOS platform. The iPod Touch and iPad corralled the remaining 46 percent. The iPad accounts for 97 percent of all ads shown via media tablets, says Millenial. Ad impressions served through iPads jumped 456 percent from a year ago, proving that advertisers are increasingly pairing ads with iPad apps and content.
Millennial's fourth quarter figures should prove more interesting. The stats will include ad impressions for the new iPhone 4S, which launched Oct. 14 and sold over 4 million units its first weekend, as well as several new Android phones, such as the Motorola Droid Razr and the Samsung Galaxy Nexus, the first Android 4.0 "Ice Cream Sandwich" smartphone to hit the market.
Apple has been particularly quiet about its iAd mobile ad campaigns of late. Google CEO Larry Page, however, revealed in the company's third-quarter earnings call that Google's mobile ad business is expected to bank $2.5 billion this year. The company has also just introduced new ad formats to better monetize mobile applications.
Tablet studies: tablets eclipse netbooks
Neither the ABI or Millenial reports broke down the market on smartphones vs. tablets. However, on Oct. 20, ABI released a media tablet study estimating worldwide media tablet shipments surpassed netbook shipments in the second quarter. Tablet sales were said to have reached 13.6 million units, compared to just 7.3 million netbooks.
Netbooks had previously led the way with 8.4 million shipments in 1Q 2011, compared to just 6.4 million media tablets. Some 32 million netbooks and 60 million media tablets are expected to ship worldwide in 2011, says ABI. Netbooks still hold interest in underserved countries, added the research firm.
On Oct. 21, Strategy Analytics released a tablet study claiming more than 4.5 million Android tablets shipped in the third quarter, representing 27 percent of market shipments. However, the Android figure is for units shipped whereas the iPad's 67 percent tablet share represents units sold.
Together, the two platforms represent 94 percent of 16.7 million units sold, a 280 percent boost from the 4.4 million total in the third quarter last year. Microsoft acquired a 2 percent share, while Research in Motion's BlackBerry PlayBook grabbed a lowly 1 percent of the market, according to Strategy Analytics.
Finally, Pew Research Center released a report this week claiming the iPad represents 81 percent of the tablets owned by surveyed U.S. consumers. Some 11 percent of U.S. adults now own a tablet computer of some kind, according to a study.
Conducted in the summer and early fall of 2011, the Pew study found that 77 percent of tablet owners use their tablet every day, spending an average of about 90 minutes on them.
Clint Boulton is a writer for eWEEK.
---
This article was originally published on LinuxDevices.com and has been donated to the open source community by QuinStreet Inc. Please visit LinuxToday.com for up-to-date news and articles about Linux and open source.