Sep 7, 2011 — by Eric Brown — from the LinuxDevices Archive — views
Verizon Wireless will start selling Motorola Mobility's Droid Bionic for its 4G LTE network on Sept. 8, featuring heavyweight features and a matching $300 price. The Droid Bionic offers a dual-core 1GHz processor running Android 2.3.4, 16GB each of internal and microSD storage, a 4.3-inch, 960 x 540 pixel display, eight-megapixel and VGA cameras, and accessories including a Lapdock and an HD Station.
Billed as a "purveyor of virtuality," Motorola's Droid Bionic has been highly virtual indeed during the eight months since it was unveiled back at the CES show in early January. The phone was delayed a full quarter, reportedly so Motorola could get the 4G radio right.
In the meantime several other high-end Motorola phones have been announced and launched on Verizon, including the Atrix 4G, the Droid Charge, the Droid X2, and the Droid 3. In that same span, Motorola also introduced several other Android phones, including the Motorola Photon 4G on Sprint, and it also agreed to be acquired by Google.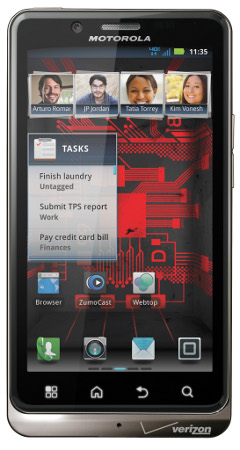 Droid Bionic
(Click to enlarge)
So what has the Bionic team been up to all those months? Although the original Bionic was set to run on an Nvidia Tegra 2 processor, the revised version uses the same Texas Instruments (TI) 1GHz dual-core
OMAP4430
Cortex-A9 processor employed by the Droid 3 slider phone. This is according to numerous reports, but not Motorola, which continues to call it simply a dual-core 1GHz processor. The processor is backed up with 1GB of RAM and 32GB of flash memory, split evenly between internal storage and a microSD card.
The recent rumors that the Bionic would move to a 4.5-inch display turned out to be false. The 4.3-inch display, however, is probably good news for most users, especially those who'd prefer to have a mobile phone first and a tiny TV set second.
Still, mobile video is a key draw here. Like the Droid Charge, the Droid Bionic supports Verizon's 4G LTE network to help keep the videos flowing. Verizon's LTE is the fastest cellular network in the U.S., delivering 5-12Mbps downloads and 2-5Mbps uploads according to the carrier.
The downside is that like the Droid Charge, the Droid Bionic is priced at the same jaw-dropping $300, with two-year contract plus data charges.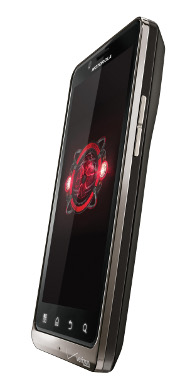 As indicated in the spec table below, the Bionic stands up well on hardware features, including the 4.3-inch qHD display with Gorilla glass, all the usual wireless radios, and aGPS. There's also an HDMI port with mirror mode and DLNA (Digital Living Network Alliance) media sharing, says Motorola. An eight-megapixel rear-facing camera with 1080p video capture is available along with a simple VGA front-facing webcam, says the company.
The phone weighs just slightly more than the 4,3-inch Droid X and Droid X2, at 5.6 ounces, and its 0.43-inch thickness makes it the thinnest of Verizon's LTE devices to date, says Motorola.
4G has a habit of bleeding batteries in a few short hours. Motorola claims almost 11 hours (650 minutes) of talk time and 200 hours of standby for the Bionic's 1735mAh battery, which would support its assertion that the device features new battery optimization features.
Indeed, an early ThisIsMyNext review published Sept. 7 listed 11 hours of battery life. That, however, was said to have included switching between Wi-Fi and 4G, and "doing a moderate amount of downloading and browsing with the occasional phone call," according to reviewer Joshua Topolsky, who calls the battery life lacking, but typical of a 4G device.
Features and specifications listed for the Droid Bionic include:
Processor — dual-core 1GHz (reported to be TI OMAP4430)
Memory — 1GB RAM; 16GB internal flash
Memory expansion — 16GB microSD card in slot that can hold up to 32GB
Display — 4.3-inch, 960 x 540 capacitive with Corning Gorilla Glass, and dual-layer anti-reflective coating
Wireless:

Verizon 3G and LTE 4G (CDMA800, CDMA1900, LTE B13 700)
802.11b/g/n
Bluetooth 2.1 + EDR
aGPS

Cameras — 8-megapixel rear-facing with LED flash and 1080p video capture; VGA front-facing cam
Other I/O:

HDMI with DLNA and mirror mode
USB 2.0 HS
3.5mm audio + EMU

Other features — E-compass; wireless charger support
Battery — 1735mAh; 650 minutes talk time; 200 hours standby
Weight –5.6 ounces (158 grams)
Dimensions — 5.0 x 2.63 x 0.43 inches (127.5 x 66.9 x 10.99mm)
Equipped with Android 2.3.4, the droid Bionic offers Adobe Flash, as well as Google apps and services including Google Maps, Google Talk, and Gmail, says Motorola. Business-oriented features are said to include Citrix GotoMeeting, Citrix Receiver for Android, device and SD card encryption, and advanced security policy support. The MotoPrint printing app is also said to be available.
Motorola used the Bionic launch to debut a new app called ZumoCast, which "lets customers bring their digital world of videos, music, pictures and documents stored on their computers to their handset via remote access." The app makes use of the same Firefox-based Webtop application used in the 11.6-inch, netbook-like Lapdock accessory (which accompanied the Atrix 4G and is once again available with the Bionic).
Bionic users can also shell out for an extra-cost HD Station, which made its debut on the Motorola Photon 4G. The HD Station lets users view Bionic content on any HDTV or monitor by connecting a separately sold HDMI cable. The device also offers a charging capability and three USB ports, and enables Bionic users to "take a conference call while editing documents and surfing the Web," according to Motorola.
Other accessories include the Verizon Wireless Mobile Hotspot, which lets users share the 4G LTE signal with up to five Wi-Fi-enabled devices. (See Availability section at end for more accessories, as well as pricing details).
Early reviews
The aforementioned ThisIsMyNext review praised the phone's performance, build quality, and LTE service. However, reviewer Topolsky balked at the high price and a few software bugs, and while the battery life was typical of 4G devices, it was listed as a demerit.
All told, the Droid Bionic received a 7.5 points out of 10, along with this conclusion: "This is not the killer handset that I think a lot of people were expecting it to be — it's a good phone on a great network that will keep you satisfied… for now."
Over at ComputerWorld, meanwhile, Ginny Mies also offered a mixed assessment. "This is one of Verizon's strongest phones available right now," she writes. "The build quality is excellent, the software is clean and intuitive, and the addition of ZumoCast is terrific."
Mies faults the long boot-up time, and calls the display quality, "a big disappointment. In the end, she concludes that "the high price makes the phone a tough sell."

Droid Bionic on YouTube
Source: Motorola
(Click to play)
Availability
The Droid Bionic by Motorola will be available in Verizon Wireless Communication Stores and at Verizonwireless.com on Sept. 8 for $300 with a new two-year customer agreement, says Verizon. Customers must subscribe to a Verizon Wireless Nationwide Talk plan beginning at $40 for 450 minutes per month and a smartphone data package starting at $30 monthly access for 2GB of data. Verizon Wireless Mobile Hotspot data plans are available beginning at $30 for 2GB.
For a limited time, customers who purchase the $300 Lapdock accessory can receive a $100 mail-in rebate when subscribing to a $50, 5GB data plan or higher, says the carrier. The HD Station, meanwhile, costs $100, and the adapter for Webtop Application will be available for $30.
A $40 Vehicle Navigation Dock accessory is said to offer maps, contacts, and navigation, hands-free calling, and music, outputting audio to car speakers via a 3.5mm audio jack. A Battery Dock accessory, which is said to charge both the Bionic's battery and an extra battery at the same speed as a wall charger, is priced at $50.
---
This article was originally published on LinuxDevices.com and has been donated to the open source community by QuinStreet Inc. Please visit LinuxToday.com for up-to-date news and articles about Linux and open source.