Feb 19, 2010 — by Eric Brown — from the LinuxDevices Archive — 1 views
Huawei announced the U8800, which it calls the first Android smartphone to run the 14Mbps HSPA+ cellular technology, and also tipped three lower-end Android phones — the U8300, U8100, and U8110 — plus a 7-inch "SmaKit S7" Android tablet. Meanwhile AT&T confirmed that it will launch the Motorola Backflip on Mar. 7.
The high-end U8800 model is notable primarily for its support of a 3.5G technology being promoted by Huawei in its new telecom equipment shown at MWC this year, called HSPA+. See farther below for more on HSPA+.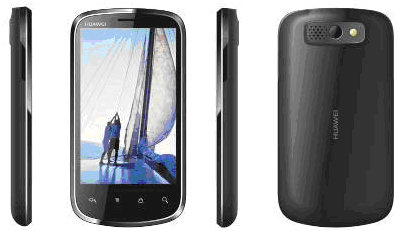 Huawei's HSPA+-enabled U8800
According to Huawei, when running on a HSPA+ network the U880 offers up to 14Mbps downloads, enabling users to download a 400MB feature-length movie within thirty seconds. Beyond that, all Huawei would say about the U8800 is that it offers Android 2.1 and features a 3.8-inch display. The U8800 will be commercially available in the third quarter, says the company.
U8300, U8100, and U8110
The U8300 is aimed at the youth market, and integrates social networking tools such as Facebook and Twitter, says Huawei. A Qwerty keypad is lodged below the almost square display, and is said to be ergonomically designed for chat. The U8300 will be available in green, yellow, and purple, says Huawei.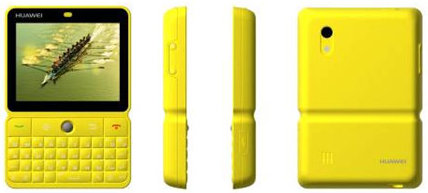 Huawei U8300
The entry-level U8100 and U8110 offer 2.8-inch QVGA touchscreens, WiFi, and Bluetooth. Both phones offer a 3.2 megapixel camera in the back and a 0.3-megapixel camera on the front for videoconferencing.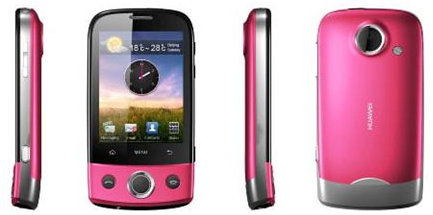 Huawei U8100
The company did not detail the difference between the two phones, but the images above and below show that the U8110 offers a more curved design than the U8100. The two phones will be launched in Europe in the second quarter, says the company.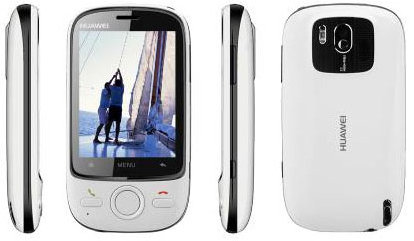 Huawei U8110
SmaKit S7
Huawei also announced a SmaKit S7 tablet with a 7-inch display and a resolution of 800 x 480. The company offered no more technical details about the Android-based tablet/MID, which it refers to as a "HID."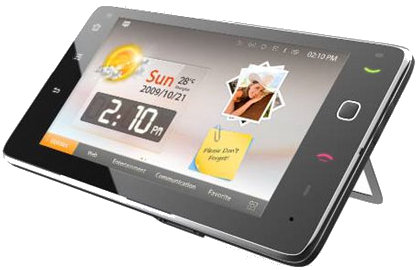 Huawei SmaKit S7
According to Huawei, the Smakit S7 can be connected to a home gateway, TV, or Android handset, supporting information sharing across screens to present the same content simultaneously. The device is said to support social networking websites and shopping from online application stores.
HSPA+
Huawei's main focus at the Mobile World Congress show was to push its new HSPA+ networking equipment, which is said to offer downlink data rates of up to 84Mbps and uplinks of 11Mbps. Apparently, this refers to equipment downloads only, as the HSPA+ enabled U8800 phone only offers 14Mbps downloads, which is still twice as fast as HSDPA/HSPA.
Huawei's HSPA+ solution is based on 3GPP (3rd Generation Partnership Project) Release 9 standards, and combines higher order modulation (HOM) schemes (64QAM), multi-input multi-output (MIMO), and dual cell transmission, says the company. To achieve the peak uplink rates of up to 11Mbps, Huawei uses an "Interference Cancellation" technology, which is said to double the speed on 3GPP Release 6, while minimizing intra-cell interference issues.
In March of last year, Huawei deployed Asia Pacific' s first 21Mbps HSPA+ commercial network, says the company. In October, Huawei announced plans to provide 28Mbps HSPA+ commercial service in Singapore, then demonstrated a 56Mbps HSPA+ commercial solution in Beijing, says the company.
Stated Kevin Tao, CEO, Huawei Device, "The customized Android smartphones reflect our long-term investment to develop high-end devices which enable operators to deliver enhanced and differentiated mobile services. The U8800 enables operators to provide tailor-made, stylish and affordable smartphones to their subscribers."

Huawei tipped its first Android smartphone a year ago at Mobile World Congress (MWC). The phone emerged in October as the T-Mobile Pulse (pictured at right). Sold in the U.K., the tri-band 3G T-Mobile Pulse is equipped with 2GB of SD memory, a 3.5-inch touchscreen, plus WiFi, GPS, and a 3.2 megapixel camera, says T-Mobile UK. Measuring 5.3 x 2.5 x 5.4 inches (135 x 63 x 136mm), the Pulse is said to provide four and a half hours of talk time, and cost 176 U.K. Pounds, or about $288.
Backflip flips to AT&T
The Motorola Backflip, one of the more unusual Android phones to appear in recent months, is headed for AT&T on Mar. 7, according to the carrier. The Backflip will be available in AT&T online and retail stores for $100 after a $100 mail-in rebate and with a two-year contract and data plan, says the company.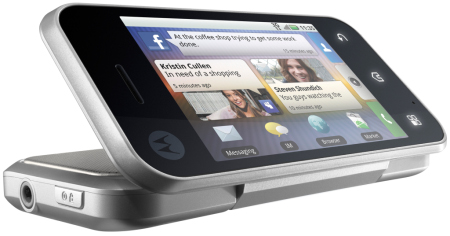 Motorola Backflip
Announced at CES in early January, the
Backflip
will be the first Android phone to be offered on a network known for its exclusive contract with Apple's iPhone. AT&T is also the last major U.S. carrier to adopt an Android phone. An AT&T appearance was
rumored
shortly after the Backflip announcement.
The Backflip is equipped with a 528MHz Qualcomm processor, and offers 2GB of memory, a 3.1-inch 480 x 320 touchscreen, WiFi, Bluetooth, aGPS, and a five-megapixel camera. The phone is notable for its reverse-flip QWERTY keyboard, as well as a "Backtrack" touchpanel on the back of the device. Offering Mot's MotoBlur UI, the Backflip was introduced with Android 1.5, but was said to be upgradeable to Android 2.x.
This fall, AT&T launched the Linux-based Garmin-Asus Nuvifone G60 smartphone, but the new Android version, the Nuvifone A50, will debut first in Europe, with no commitment so far from AT&T.
Availability
More information on the U8800 and other Huawei Android devices (but not much more) is available on the Huawei page, here. The U8800 is set for a 3Q release, and the U8100 and U8110 are scheduled for a 2Q Europe release. No details were offered on the availability of the U8300 or the SmaKit S7 tablet.
The AT&T Backflip page may be found here. An eWEEK story on AT&T's Backflip move should be here.
---
This article was originally published on LinuxDevices.com and has been donated to the open source community by QuinStreet Inc. Please visit LinuxToday.com for up-to-date news and articles about Linux and open source.