Sep 29, 2009 — by Eric Brown — from the LinuxDevices Archive — 2 views
AT&T announced it will offer the Garmin-Asus G60 Nuvifone in the U.S. next week. In other Linux smartphone news, T-Mobile announced pricing and availability for its Android-based Motorola Cliq, and Android developers are protesting Google's shutdown of an open source version of Google Apps by well-known "modder" Cyanogen, says eWEEK.
After launching its Linux-based Nuvifone G60 smartphone in Asia in late July and August, Garmin-Asus (a partnership between Garmin and Asustek) now says that AT&T will carry the phone exclusively in the U.S. starting Oct. 4, according to Roy Mark, writing in eWEEK. The Nuvifone G60 will be available in AT&T stores or online for $300, with the usual two-year service agreement and $100 mail-in-rebate. A "Nuvifone Premium Connected Services" offering, which includes traffic updates, white pages, weather, movie, local events and fuel price content is available for $6 per month after a 30-day trial, the story adds.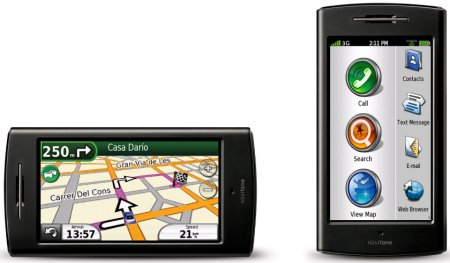 Nuvifone G60 in landscape and portrait modes
The Nuvifone G60 is approximately twice the price of some smartphones, including the Palm Pre (now only $150 after a recent price drop), but Garmin-Asus appears to be gambling that consumers will see the navigation-centric phone as a smartphone-enhanced version of the full-featured
Garmin Nuvi8xx
personal navigation device (PND), rather than just another smartphone with more modest nav features.
The Nuvifone G60 was made available in Taiwan on July 27, and in Singapore and Malaysia later in August, via various carriers and retail channels, said Garmin-Asus. The company also plans to roll out the phone in Europe at some point, and plans to field an Android phone by the end of the year, in addition to the G60 and its Windows Mobile-based Nuvifone M20.
T-Mobile to launch Cliq on Oct. 19
The Nuvifone will be going up against a growing number of Android phones being launched in the U.S. this fall, including Motorola's first Android model, the Cliq. T-Mobile announced today that it will begin selling the Cliq on Oct. 19 to existing customers, with sales to the general public starting Nov. 4. The phone has been priced at $200 with a two-year contract, according to another Roy Mark story in eWEEK.
Announced several weeks ago, the Cliq incorporates a slide-out QWERTY keyboard, and supports T-Mobile's HSDPA 3G network, with download speeds of up to 7.2Mbps. The Cliq offers WiFi, Bluetooth, GPS, and a five-megapixel camera, as well as a 3.5mm audio jack and microUSB connector. Other features are said to include accelerometers, a proximity sensor, and a light sensor.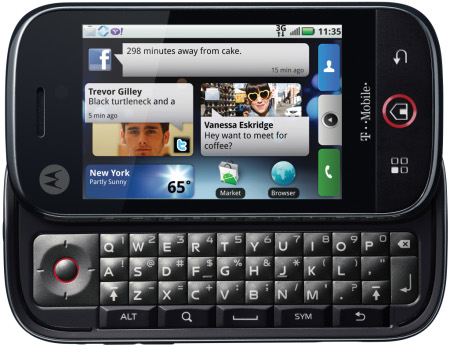 Motorola Cliq from T-Mobile, showing MotoBlur interface
The most notable aspect of the Cliq is the social-networking oriented "MotoBlur" UI stack and push-based "cloud" service provided for Cliq users. MotoBlur integrates communications ranging from email to social networking activity, streaming together and syncing updates to contacts, posts, messages, photos, and data, says Motorola.
MotoBlur can pull from sources including Facebook, Twitter, MySpace, and Gmail, as well as work and personal email, Motorola says. MotoBlur and the Cliq deliver these messages to the homescreen using a novel UI that combines thought balloon pop-up messages with the photos of the senders (see images above).
CyanogenMod struck by Google lightning
Google touts Android as a fully open source mobile operating system, but as the Android community was reminded recently, that designation does not apply to the most compelling app collection available with Android phones: Google Apps.
Some Android developers are calling Google out of touch with the spirit of open source, after the search giant filed a cease-and-desist order against a open source Android app combining several modified versions of proprietary Google Apps applications. In an eWeek story, Darryl Taft offers a sampling of comments from around the Android developer community after the Google crackdown on the CyanogenMod project and its developer, famed modder and prolific Android programmer Steve Kondik, more commonly known as "Cyanogen."
The free, after-market CyanogenMod firmware is said to bundle closed-source Google apps such as Gmail, Market, Talk, and YouTube. These apps are typically bundled with Android phones via agreements with carriers and phone vendors, but cannot be freely modified like a true Android app. CyanogenMod is already being used by some 30,000 users, but Google finally decided it was time to crack down, according to the story.
Kondik himself has blogged that he will comply with the order, and remove the offending apps from the collection, writes eWEEK. Instead, he will apparently offer a bare-bones version of CyanogenMod, which tech-savvy users may populate at their their own risk.
Kondik was said to have agreed that several of the apps are not part of the open source Android project. "I'd love for Google to hand over the keys to the kingdom and let us all have it for free, but that's not going to happen," Kondik was said to have written. "And who can blame them?"
Is Google a serial open source abuser?
Other Android developers have been far less forgiving of Google, however, and many have threatened to leave Android for other Linux smartphone pastures, including WebOS, writes Taft. Some accuse Google of exploiting open source, not fully supporting it. Writes one quoted blogger, Bob, speaking of Google, "The company is a serial abuser of the entire notion of 'open' — cynically wielding it as a weapon in business."
Google engineer Dan Morrill, meanwhile, defends the decision as one small way in which Google can make money off Android, in much the same way others are making money by selling apps, writes Taft. No doubt, however, Google Apps is bringing the company a lot more profits than most Android developers are receiving. As one Android developer points out in the story, Google Apps is almost essential to the popularity of the platform, and Android would hardly be the same without them.
Availabilty
Roy Mark's eWEEK story on AT&T's Nuvifone G60 plans may be found here, and his item on T-Mobile's Motorola Cliq launch should be here.
Darryl Taft's eWEEK story on the Google vs. CyanogenMod controversy should be here.
---
This article was originally published on LinuxDevices.com and has been donated to the open source community by QuinStreet Inc. Please visit LinuxToday.com for up-to-date news and articles about Linux and open source.