Aug 5, 2011 — by Eric Brown — from the LinuxDevices Archive — 1 views
VisionMobile released a report evaluating the relative openness of eight open source projects, and found Google's Android project to rank the lowest at 23 percent, compared to leader Eclipse, at 84 percent. One trend that emerged is that more mobile-oriented projects — like Android, Symbian, and MeeGo — tend to be less open than broad-based projects such as Mozilla, Linux, and Eclipse.
Debates over the meaning of "open source" have been raging even before Linux was born 20 years ago, back when Richard Stallman and others were hammering out their brave new licensing and governance schemes in the '80s. Now, VisionMobile has decided to quantify the issue with a free report called the Open Governance Index.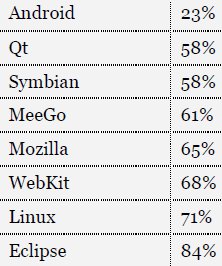 Open Governance Index (higher percentage is more open)


Source: VisionMobile
Of the eight open source projects studied, Android ranks the lowest by far in VisionMobile's openness index, with a 23 percent score. Eclipse leads the way at 84 percent, and the six others rank closely between 58 percent (Qt and Symbian) to Linux at 71 percent, with MeeGo, Mozilla (Firefox), and WebKit (the basis for the Android and Apple browsers) ranging in between (see chart above).
As the name of the study implies, VisionMobile's approach goes beyond an analysis of different open source licenses. It seems to focus primarily on governance issues such as project decision-making, transparency, accessibility, and ease of developing derivatives.
As VisionMobile describes it, "Governance determines who has influence and control over the project and platform — beyond what is legally deemed in the open source license."
Few would deny that Android and its Apache license are open source, unlike say, HP's more proprietary — though Linux-based and partially open — WebOS. In fact, as Ryan Paul points out, writing an analysis of the study in Ars Technica, VisionMobile actually weights permissive licenses such as Apache higher in openness than it does more restrictive copyleft licenses like the Linux kernel's GPL.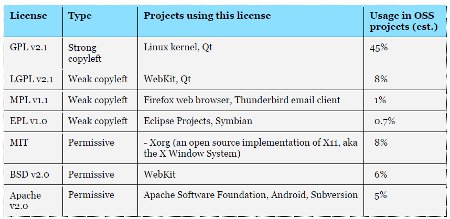 Licensing differences among projects in study
Source: VisionMobile
(Click to enlarge)
While Paul finds VisionMobile's criteria to be basically sound, he disagrees with the licensing weights, as well as a few other points, writing, "Although permissive licenses increase the flexibility of downstream code use, they aren't necessarily conducive to more open governance."
Licensing aside, however, Android is far less transparent and accessible than the other projects, says VisionMobile. For example, "very few external contributions are actually 'committed' to the Android codebase," says the study. In addition, aside from the publicly available open source code, Google maintains a private code branch, notes the study.
"The private branch is under development for the six-to-nine months prior to the release of the public code branch," says VisionMobile. "The private branch is available to two arbitrarily chosen OEMs, who work closely with Google to develop the next Google-branded experience handsets."
In addition, Google is said to tightly control derivatives. Device manufacturers must pass the Compatibility Definition Document (CDD) and Compatibility Test Suite (CTS) tests in order to use the Android trademark, Android Market, or highly valued Google Mobile Services such as Google Maps, says VisionMobile.
What's more, Android is getting less open, says the study. Google is feeling pressure to get more proprietary in order to reduce fragmentation and clamp down on problems such as malware.
When Google announced the Android project in November 2007, it hinted that its role would be as a sponsor that would lead, but not dictate to, the open source Open Handset Alliance (OHA). Today, you rarely hear about the OHA, and even here at LinuxDevices, after years of referring to the "Google-backed Android project," we have finally given up and call it "Google's Android."
Earlier this year, Google took a sharp turn toward the closed kimono with Android 3.0 "Honeycomb," refusing to publicly release most of the code. The company has shown no indication when or if it will fully release Honeycomb code.
Are mobile projects less open?
One pattern that emerges from the study is that the projects that are more mobile-specific and closely linked to commercial devices tend to be less open than the more universal projects. For example, Eclipse sets standards for integrated development environments across many desktop, enterprise, and embedded platforms. The broad-based Linux and Mozilla projects rank higher than more mobile and embedded-focused projects like Qt, Symbian, and MeeGo.
In the case of MeeGo, the Linux-based project gets high scores across the board except for its limited project roadmaps, as well as for the code commit privileges given to Nokia and Intel personnel in November 2010. These privileges are now apparently owned only by Intel, which has always been the strong hand behind the project even after it was formally shunted MeeGo over the Linux Foundation.
MeeGo, of course, is still struggling to achieve commercial product availability, let alone market share, having been dinged especially hard by Nokia's abandonment of the project. Android, however, continues to thrive.
In a concluding section called the Android Paradox, VisionMobile acknowledges Android is one of the most successful projects in the history of open source. The report wonders, "Is Android proof that open governance is not needed to warrant success in an open source project?"
One reason for Google's success is that it released Android as an open source project only after it was fairly complete, says the study. In addition, Google exerts more control over Android in part simply because none of its hardware partners have been able to keep up with its pace, suggests the study.
"Google's speed of innovation (five platform versions across 2010) outpaces any external innovation, and makes the ecosystem entirely reliant on Google," concludes VisionMobile.
---
This article was originally published on LinuxDevices.com and has been donated to the open source community by QuinStreet Inc. Please visit LinuxToday.com for up-to-date news and articles about Linux and open source.