Jan 14, 2009 — by Eric Brown — from the LinuxDevices Archive — 6 views
Qt Software (formerly Trolltech) will add an LGPL licensing option for Qt 4.5, due to ship in March. Together with a new policy of opening Qt source code repositories to the public, the more permissive license option should increase the cross-platform GUI application framework's popularity, says the company.
Additionally, Qt Software has transitioned to a new Qt Software domain, following its acquisition by Nokia last year.
The GNU LGPL ("Lesser" or "Library" General Public License) places copyleft restrictions on the licensed program itself, but does not extend these restrictions to software that links to it. That makes it less restrictive than the GNU GPL, which demands that any "derivatives" — including linked applications — be made available under the same terms. Originally written as the "Library GPL," its name was changed to "Lesser GPL" in the late 90s by author Richard M. Stallman. Nevertheless, the LGPL is commonly used for software libraries, although it is also used by some full-fledged applications, such as OpenOffice.
Additionally, Qt Software will now open up its Qt source code repositories, and encourage contributions to the codebase from both the desktop and embedded open source development communities. Furthermore, it will now "ensure that all Qt development projects can have access to the same levels of support, independent of the selected license," says the company.
Qt Software will continue continue to offer GPL 3.0 and commercial license options for release 4.5 of the cross-platform development framework, in addition to LGPL version 2.1. (Previous Qt versions will not be licensed with LGPL.) By offering the more permissive LGPL, which has been available for the GTK+ toolkit, the Nokia-owned company can greatly improve Qt's appeal to open source developers, it says.


Qt 4.4 architecture
(Click to enlarge)
Qt ("cute") is the dominant open source C++ GUI toolkit, whereas GTK is the dominant C GUI toolkit. QT has traditionally supported Linux, Windows, Mac OS, and Java VMs, although Trolltech recently completed a Windows CE/Mobile port and S60 port, as well as a 64-bit port to the native API in Mac OS X 10.5 and later.
In addition to Qt, Qt Software also sells a variety of graphical toolkits based on Qt, and aimed at enabling source code re-use between target OSes, easing the burden for ISVs that have to deliver on multiple platforms. The LGPL license will be extended to Qt Linguist, Qt Designer, Qt Assistant, and Qt Creator, but not to the separate application stack for mobile Linux devices, Qt Extended (formerly Qt for Embedded Linux, formerly Qtopia).
Nokia's Symbian, meanwhile, is in the process of transitioning to an open source Eclipse Public License. According to the Qt Software FAQ on the licensing change, the Eclipse license is compatible with LGPL, as "Symbian and S60 platforms already contain elements that are licensed under LPGL, e.g. WebKit." Webkit is also now part of Qt, as of last year's release 4.4.
Stated Sebastian Nystrom, VP, Qt Software, Nokia, "Broader use of Qt by even more leading companies will result in valuable feedback and increased contributions."
Stated Kai Oistamo, EVP, Devices, Nokia, "By moving to LGPL, opening Qt's source code repositories and encouraging more contributions, Qt users will have more of a stake in the development of Qt, which will in turn encourage wider adoption. Nokia will be able to leverage improvements in Qt across S60 on Symbian OS, Maemo, and OVI services, without rewriting the source code."
Stated Sebastian Kugler, KDE e.V. board bember, "This more permissive licensing will further lower the barrier for adoption of Qt and KDE technologies."
Stated Mark Shuttleworth, founder of the Ubuntu project, "Qt is used extensively in Kubuntu and KDE applications, and Canonical is delighted to see this breakthrough in its licensing model."
Ancient Qt licensing history
Qt's licensing played an important role in the history of Linux. Once upon a time, the best desktops for Linux — KDE, CDE, etc — were all underpinned by GUI frameworks such as Motif and Qt, which at the time were available only under commercial licenses. That led a pair of ambitious and idealistic young programmers — Miguel de Icaza and Federico Mena — to found an alternative. Using the open source but then-rudimentary GTK (GIMP toolkit, or GNU image manipulation program toolkit), the pair launched a desktop project known as… GNOME. Had Trolltech open-sourced Qt earlier, GTK and GNOME might not have evolved so quickly, and KDE would certainly be the dominant Linux desktop today. SUSE, rather than Red Hat, would probably be the top commercial distribution.
Ah, but it's silly to speculate. Presumably, the new, laxer licensing reflects Qt Software's greater financial autonomy, now that they're part of one of the world's largest companies. And, it serves Nokia's aim of pushing "Qt Everywhere" [PDF download], from mobile devices to desktops.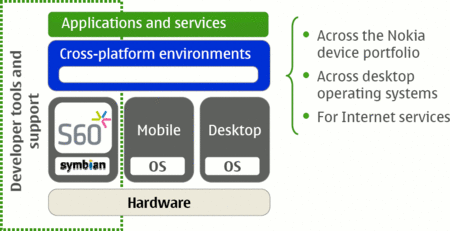 Nokia hopes to push Qt "everywhere"
(Click to enlarge)
Nokia kills WiMAX tablet
In other recent Nokia news, the company has discontinued the WiMAX Edition of its Maemo-Linux-based N810 Internet Tablet. According to industry reports, the move may have occurred due to the fact that Clearwire did not offer specific support for the N810 WiMAX Edition on its new U.S. WiMAX network. However, it may also derive from WiMAX technology's slower than expected rollout, as well as the impact of the recession. Nokia says that the move does not mean it will discontinue its future support for the broadband wireless technology.
Availability
Qt 4.5 will be available in March, says Qt Software. More information on the LPGL licensing can be found at the new Qt Software site. A story on the licensing move by our sister publication eWEEK, may be found here.
---

This article was originally published on LinuxDevices.com and has been donated to the open source community by QuinStreet Inc. Please visit LinuxToday.com for up-to-date news and articles about Linux and open source.