Aug 13, 2010 — by Eric Brown — from the LinuxDevices Archive — 1 views
Gartner reports surging global handset sales in the second quarter, with Android taking second place over Apple's iPhone in smartphone OS market share. Meanwhile, the "partial fork" of Android from the Linux kernel has been debated at LinuxCon, with some claiming it's a temporary split, while others warn about the fork's long-term impact.

Worldwide mobile device sales to end users totaled 325.6 million units in the second quarter, representing a 13.8 percent increase from 2Q 2009, according to Gartner. Smartphone sales were said to have accounted for 19 percent of those sales, an increase of 50.5 percent from the previous year's second quarter.
Smartphone sales could have been higher, noted the research firm, if not for widespread shortages of components such as AMOLED displays. Such shortages have particularly impacted sales of high-end Android phones such as the HTC Evo 4G (pictured above right).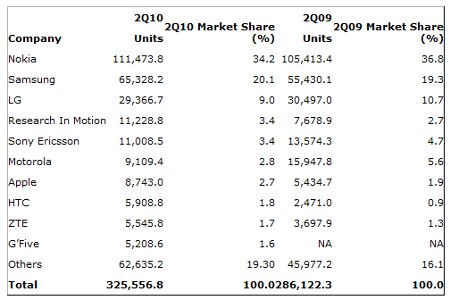 Worldwide mobile device sales to end users by vendor in 2Q10 (thousands of units)
Source: Gartner
(Click to enlarge)
Despite its display shortages, HTC was said to have launched itself into the top 10 worldwide ranking in unit sales, taking the number eight position with 139.1 percent growth year-on-year (see figure above). HTC's success was based on "the popularity of its Android portfolio," as well as a more aggressive branding strategy, says the research firm.
Echoing several other 2Q mobile research reports, Gartner's study shows Android to be the fastest growing mobile smartphone operating system (OS) in the second quarter, says Gartner. Android overtook Apple's iPhone OS to become the third-most-popular OS in the world (see figure above), said the research firm. As has been confirmed by several other reports, the Linux-based Android overtook RIM's BlackBerry OS to become the top selling smartphone OS in the U.S., adds Gartner.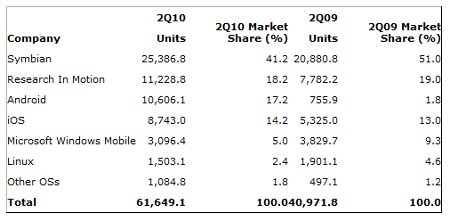 Worldwide smartphone sales to end users by operating system in 2Q10 (thousands of units)
Source: Gartner
(Click to enlarge)
In explaining Android's fast rise, Carolina Milanesi, research vice president at Gartner, states, "A non-exclusive strategy that produces products selling across many communication service providers (CSPs), and the backing of so many device manufacturers, which are bringing more attractive devices to market at several different price points, were among the factors that yielded its growth this quarter."
Android aside, mobile Linux slides
As can be seen in the figure above, the only losers compared to the same quarter last year were Microsoft Windows Mobile, and mobile Linux. Windows Mobile declined from 9.3 percent to 5 percent over the last year, while Linux almost mirrored that rate of decline, dropping from 4.6 percent to 2.4 percent since 2Q 2009, says Gartner.
Much has been written about WinMo's decline, and the possibility for resurrection this fall with Windows Phone 7, but few have noted the decline of mobile Linux. True, it hardly seems to affect Linux' robust health in other device categories, and if one includes Android in the mix, as does ABI Research, mobile Linux is actually on the road to world domination.
Still, the decline is sobering, and appears to be primarily linked to the rise of Android. Indeed, the WebOS-based Palm Pre, despite generally good reviews, is not selling as well as it did in their fast start in 2Q 2009, with many analysts pointing at Android as the chief culprit.
HP, which acquired Palm last month, has said it will offer new WebOS smartphones, but has offered no more details. Its main focus for WebOS appears to be on tablets and printers.
There has been even less momentum behind LiMo-based phones. Motorola was the first to start abandoning LiMo for Android back in 2008, and appears to have introduced its last LiMo phone last year. This year, Else Mobile cancelled its LiMo-based First Else phone, while LiMo stalwart Access, which developed the LiMo-based UI stack for the First Else, recently announced broad support for Android.

One recent Digitimes report claimed that Vodafone — the only major carrier aside from NTT DoCoMo to offer LiMo phones to date — has cancelled an upcoming LiMo-compatible "360 H1" phone, and will launch no more LiMo models. The story said that sales of Vodafone's 360 H1 (pictured) and 360 M1, both offered in Europe, have been disappointing.
The general consensus from Taiwanese smartphone manufacturers, said the story, is that the LiMo Foundation to pack it in and join the Linux Foundation.
Nokia's Maemo Linux-based N900, meanwhile, has done better, but has still had relatively modest sales compared to a typical Android phone. By next year, we should be able to see if the Maemo- and Moblin-derived MeeGo can boost the fortunes of non-Android mobile Linux distributions in the N900 and other high-end Nokia phones.
Android/Linux fork debated at LinuxCon
The decline of mobile Linux platforms — many of which, such as LiMo, are arguably more open than Android — forms part of the subtext behind the angst over the continuing absence of core Android code from the Linux kernel. The expulsion of Android code from the kernel was a subject of hot debate at OSCON last month, and also led to some heated discussions at this week's LinuxCon, according to a ZDNet report by Paula Rooney.
But first, a bit of background. In February, Novell Fellow and kernel developer Greg Kroah-Hartman announced that he had removed Google's Android driver code from the open source Linux kernel (kernel 2.6.33) on Dec. 11. The code was said to have been excised because the Linux-based Android platform has become incompatible with the project's main tree, due in part to Android's "sometimes bizarre" security model, but mostly due to lack of effort by Google, Kroah-Hartman wrote at the time.
"No one cared about the code, so it was removed," Kroah-Hartman added.

As was reported from OSCON, Linux kernel maintainer James Bottomley (pictured) revealed that the kernel.org gang has offered Google three ways to return Android into the good graces of the Linux kernel. Google has said that it has offered Android code for inclusion in the Linux 2.6.34 kernel, writes Clarke, but these failed to materialize, presumably because Google did not meet the kernel maintainers' conditions.
At LinuxCon, reports Rooney, there were debates even about how the schism between Android and Linux should be categorized. Some call it a fork, others a "partial fork," and others says it is merely a routine dismissal of a patch submission.
Rooney, however, refers to the issue as a "Hatfield-McCoy scale conflict," and says it took center stage on LinuxCon's opening Tuesday session. "Tension was evident" at a session examining lessons learned from the Android/Linux debacle, she writes.
Although the anti-Google sentiment seemed to rule the day, Google had some strong supporters, adds Rooney. These were said to include Red Hat's Matthew Garrett, a Linux kernel contributor who works on power consumption issues.
In the "Andoid/Linux: Lessons Learned" session Garrett noted that the "partial forking" of the Android code is unfortunate, but said that there are "very good technical and social reasons" why the code is not yet integrated into the kernel. He also was also said to have noted that Red Hat and many other companies have released Linux code and patches to its customers that are not contributed to the kernel.
One problem, said Garrett, is that Google's wave lock code — the crux of the schism — is unique to Android and would likely not be used by other mobile platforms, says the story.
86'd before lunch
The discussion then turned heated as a member of the audience repeatedly peppered Garrett with questions about the propriety of Google's "so called unwillingness to fix and contribute the Android code to the mainline kernel," writes Rooney. Garrett was said to have finally told the heckler to "Be quiet," then asked him to leave the room, and finally had him physically removed.
"You know it's tense when someone gets 86'd before lunch," writes Rooney.
Later in the day panelists from Google and Novell sparred over the same issue. Linux kernel luminary Ted Ts'o, who joined Google in January, noted that both Novell and Red Hat ship patches have been rejected by the Linux kernel, "but no one describes their distributions as Linux forks," writes Rooney.
Ts'o was said to have made the claim that Google is taking the heat because of the immense popularity of Android. Still, he noted that the partial fork "makes it cumbersome for third party developers and manufacturers in the Android ecosystem who have to maintain two separate driver code bases," writes Rooney.
Novell's James Bottomley went further, saying that the Android fork is evolving into a long-term problem beyond a simple patch dispute. According to Bottomley, there has still been no progress in getting Google to meet the Linux maintainers' requirements.
Bottomley was quoted as saying that there were "troubling signs that Google is not interested."
Availability
The Gartner announcement for its 2Q mobile device report may be found here.
The ZDNet story on the Android partial fork debate at LinuxCon should be here.
---
This article was originally published on LinuxDevices.com and has been donated to the open source community by QuinStreet Inc. Please visit LinuxToday.com for up-to-date news and articles about Linux and open source.