Aug 5, 2010 — by Eric Brown — from the LinuxDevices Archive — views
Google CEO Eric Schmidt announced that about 200,000 Android devices are being sold each day, says CNET. Android's ascent has also been confirmed by two more mobile phone market research reports from ABI Research and NPD Group, the latter saying that Android has eclipsed RIM in U.S. smartphone sales with a 33 percent share.
Schmidt mentioned the 200K figure at the Techonomy conference in Lake Tahoe, Calif. yesterday, writes Ina Fried in CNET. The Google CEO reportedly said the number had almost doubled from just two months ago.
"People are finally beginning to figure out how successful Android is," Schmidt was quoted as saying. "It looks like Android is not just phenomenal, but incredibly phenomenal in its growth rate."
Schmidt did not break down the numbers by device type, but the vast majority are likely to be mobile phones. Android is creeping slowly into other devices, and a deluge of tablets is on the way, but so far very few non-handset devices have shipped.
Amazingly, if it were not for the shortages that have

hampered some of the most popular Android phones this summer, Google might have been able to announce a far-higher daily figure. Earlier this week, Verizon announced that in its first week, it activated some 300,000 Motorola Droid X phones (one of which is pictured at right).
Still, the Droid X was unavailable in stores after the first day. The high-end phone was supposed to have returned to shelves yesterday, but today a Droid X page informed potential customers that the phone would not ship until Aug. 23. Meanwhile, the popular HTC Evo 4G and HTC Droid Incredible have suffered shortages due to a lack of displays.
Schmidt was said to have reminded the Techonomy audience that Google does not receive revenue from Android itself, as Apple does from its iPhone. However, because consumers are trading in their feature phones for web-browser enabled 3G smartphones, Google is apparently making good money off both platforms through web search traffic and related advertising revenue.
Search revenues projected to originate from Android devices alone are huge, Schmidt noted. "Trust me — that revenue is large enough to pay for all of Android's activities and a whole bunch more," he was quoted as saying.
Google's CEO also said that Android's success hasn't caused the company to rethink its dual-OS strategy, writes Fried. He was said to have once again noted that Google's Linux-based, cloud-oriented Chrome OS addressed a different market than Android, by principally focusing on netbooks.
Tablets appear to be the realm of Android, Meanwhile, Schmidt is said to have suggested, the first Chrome OS devices — which will appear later this year with either Intel or ARM chips — will all have keyboards.
Schmidt acknowledged that Chrome OS is a departure from what's on the market, writes Fried, and conceded that success is not likely to come overnight.
"I think it is improper to be skeptical of Android and I think it is proper to be skeptical of Chrome OS," Schmidt was quoted as saying.
NPD Group: Android surpasses RIM
In truth, it is difficult to find anyone who is skeptical of Android these days. For almost a year now, market researchers have published reports showing Android's meteoric rise in the smartphone market, especially in the U.S., and the second quarter numbers from research firms such as Nielsen and Canalys have been off the charts.
In May, NPD Group estimated that U.S. sales of Android smartphones had surpassed Apple's iPhone in the first quarter, taking the second spot behind Research in Motion (RIM) with 28 percent of the market. Now the research firm says that in the second quarter, Android eclipsed RIM, taking the lead among operating systems used in smartphones sold to U.S. consumers.
Android accounted for 33 percent of all smartphones purchased in the U.S. Q2, ahead of RIM (28 percent) and Apple (22 percent), according to the NPD Group. Despite the fact that the quarter saw the debut of the iPhone 4, Apple ticked up only one point from the 21 percent share it had in the previous quarter, says the study. RIM was said to have fallen to second place for the first time since the fourth quarter of 2007.
The Android numbers appear to jibe with the Canalys report earlier this week, which claimed that Android subscriptions have grown 886 percent worldwide in the second quarter, while unit sales in the U.S. gave Android a market-leading 34 percent share of sales.
Verizon Wireless has maintained its lead among top carriers for the last three quarters comprising 33 percent of total handsets sold in the U.S. in Q2, says NPD Group. Verizon is followed by AT&T (25 percent), Sprint (12 percent), and T-Mobile (11 percent), says the study.
NP

D Group notes only that Verizon's numbers have stayed high due to its continued buy-one-get-one (BOGO) offers on smartphones, including RIM and Android models. However, the continuing success of the Motorola Droid in particular, as well as other popular models such as HTC's Droid Incredible (pictured at left), must have contributed too.
Indeed, NPD Group lists the top five best-selling Android smartphones in the quarter as being the Motorola Droid (below right), HTC Droid Incredible, HTC Evo 4G, HTC Hero, and the HTC Droid Eris. Meanwhile, Samsung, which has prospered with Android and with smar

tphones in general, is more focused on markets outside the U.S.
It's important to note that the NPD Group study is skewed away from RIM and its BlackBerry phones by the fact that it does not include corporate/enterprise mobile phone purchases. The study also omitted consumers under the age of 18.
ABI Research: Android and iPhone take over
ABI Research announced a report today that looks at the smartphone phenomenon by evaluating mobile application downloads. According to the report, Android and Apple's iOS together account for 78 percent of all application downloads in 2010. Apple's iOS still dominates with 52 percent, versus 26 percent for Android, says the study, although the stats appear to cover Apple iPad and iPod Touch downloads as well as those for the iPhone.
According to the ABI study, Android phones represent over 160,000 activations being reported daily, although it's unclear whether that refers to an average over the entire year or a second-quarter estimate.
"The iTunes App Store's days of being the only game in town are over, although the store will continue to be the biggest player in the market," stated Bhavya Khanna, a wireless research analyst for ABI.
Khanna goes on to note that activity at Blackberry's App Store and Nokia's Ovi Store remains "sluggish, hampered by a lack of variety and fragmentation among both manufacturers' many devices."
The study also reports that revenues from mobile app sales continue to decline, with full-featured games now available from between $1 and $5, and many popular applications adopting ad-supported revenue models.
Concludes ABI: "Making money will become a difficult proposition in a market that is expected to peak in 2011, with annual sales of just under $8 billion."
ABI sees big role for mobile browsers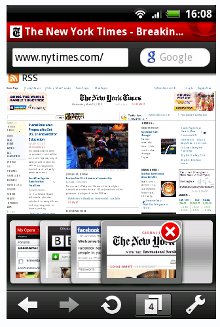 Earlier this week, as reported by our sister publication, eWEEK, ABI Research released a report projecting that by 2015, more than 60 percent of mobile handsets will include a web browser.
The browsers will take on one of two forms: full Internet browsers, like those found on many popular smartphones, or proxy-based browsers, such as Opera Mini (pictured at right), says the story.
Proxy-based browsers rely on intermediate servers to perform some operations, such as caching, error handling, and image compression. As a result, they require less memory and processing power.
Although ABI predicts a healthy window for proxy browsers, it is forecasting that the installed base of full Internet browsers will exceed the less-demanding proxy-based browers by 2012, says the story.
Availability
The CNET story on Google CEO Eric Schmidt's remarks on Android may be found here.
More information on the NPD Group report on second-quarter U.S. smartphones sales may be found here.
The ABI Research mobile consumer research service may be found here.
The eWEEK story on ABI's mobile browser report should be here.
---
This article was originally published on LinuxDevices.com and has been donated to the open source community by QuinStreet Inc. Please visit LinuxToday.com for up-to-date news and articles about Linux and open source.