Dec 9, 2011 — by LinuxDevices Staff — from the LinuxDevices Archive — 29 views
Congatec and MSC have each announced Qseven carrier boards designed for x86 and ARM COMs (computer on modules), respectively. Congatec's conga-QMCB sports SD, Mini PCI Express, and CFast slots plus an HDMI video output, among other things, while MSC's Q7-MB-EP4 has goodies including two gigabit Ethernet ports, an MMC/SD slot and an mSATA slot, plus an optional 4/5-wire resistive touchscreen controller.
Purchasers of COMs increasingly want them to come with ARM processors, not x86 — or so vendors seem to agree. Last September, for example, Kontron announced an ARM-focused module format, and Adlink said Dec. 8 it would use this to offer a range of sub-$100 COMs next year.
The Kontron/Adlink format (still un-named) will permit the creation of full-sized (82 x 80mm) or half-sized (82 x 50mm) modules, according to the company. Meanwhile, the existing Qseven format (below) bridges the size gap, measuring 70 x 70mm (2.75 x 2.75 inches)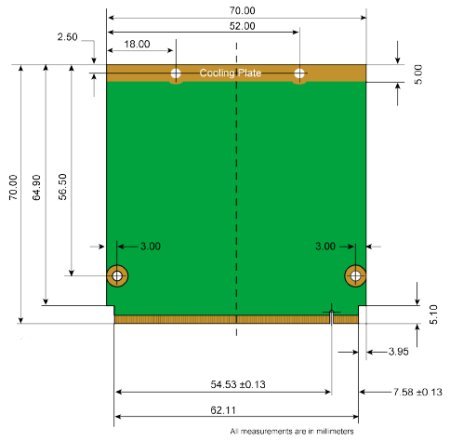 Qseven mechanical diagram
When it was originally devised, Qseven only supported x86 processors. However, the Qseven Consortium — founded by Congatec, MSC Vertriebs, and Seco, and now with many other members that do not, however, include Adlink or Kontron — added ARM support into the Qseven 1.2 spec as of September 2010. Subsequently, MSC released an Nvidia Tegra-2 based Qseven module, the MSC-Q7-NT2 (pictured below).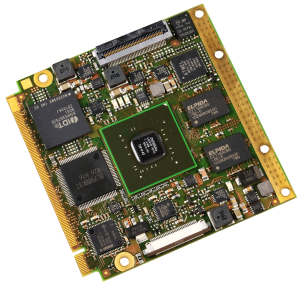 MSC's Q7-NT2
Qseven modules are, of course, entirely dependent on carrier boards to convey signals to and from the outside world. What we don't know (readers?) is whether a given Qseven carrier board could support either x86- or ARM-based Qseven modules, depending on which a purchaser wanted to plug in.
We'd suggest that in any case, one should purchase a carrier from the same vendor as one's module, to avoid any finger-pointing, head-scratching, or other awkward motions. Certainly, new product introductions from both MSC and Congatec encourage that view.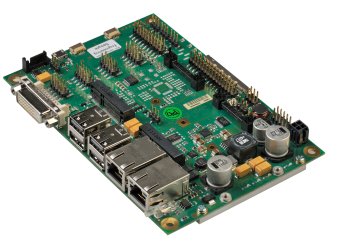 MSC's Q7-MB-EP4
MSC, for example, is pitching its new Q7-MB-EP4 baseboard as being the ideal partner for the ARM-based Q7-NT2. The Qseven module slot isn't visible in the picture above because it has been placed on the board's solder side, making it easier to thermally connect a heat spreader to a device's metal enclosure, the company says.
Measuring 5.8 x 4 inches (148 x 102mm), the Q7-MB-EP4 has real-world ports on its coastline that consist of a DVI video output, four USB 2.0 ports, and two gigabit Ethernet ports (one of the latter is driven by an Intel 82547L controller on the board; the other is linked to a controller on the Qseven module). It also includes headers for an RS232 port, CANbus, LVDS video, and an optional 4/5-wire resistive touchscreen controller, MSC says.
According to MSC, the Q7-MB-EP4 also has an MMC/SD slot and an mSATA slot. Accepting 10~28VDC power, the board works in temperatures ranging from 32 to 140 deg. F, the company adds.
Meanwhile, Congatec too has a new Qseven carrier board, this one apparently pitched at x86-based modules. According to the company's press release, it's compatible with the Conga-QAF, a Qseven module launched in October with AMD G-Series processors, and the Conga-QA6, launched in 2010 with Intel Atom E6xx CPUs.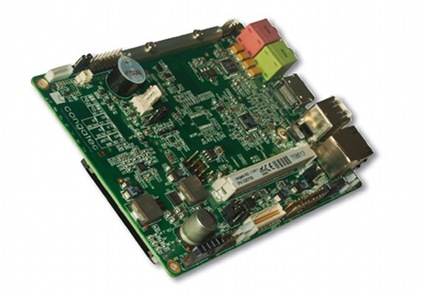 Congatec's conga-QMCB
Congatec says the conga-QMCB (above) measures just 5.7 x 3.74 inches (145 x 95mm). Naturally including room for a Qseven module, it also fits in SD, Mini PCI Express, and CFast slots, according to the company.
"Real-world" connectors are said to include two 3.5mm audio jacks, two USB 2.0 ports, a gigabit Ethernet port, and an HDMI port. The conga-QMCB also has buttons for power, reset, Wi-Fi radio on/off (requires Mini PCI Express WLAN adaptor to function), and sleep, according to Congatec, though we're not sure where these are mounted.
The conga-QMCB additionally features headers for an LVDS display, four additional USB 2.0 ports, plus CANbus and SPI, Congatec says. Rated input power is from 8 to 20 Volts, and operating range from 32 to 140 deg. F.
The ever-popular MXM connector
The new Kontron/Adlink design for ARM-based COMs looks confusingly like Qseven, since both employ an MXM (Mobile PCI Express Module) connector design that was originally designed by Nvidia for interchangeable notebook graphics cards. The latter idea didn't take off, but MXM was adopted as a module interconnect not only by the Qseven Consortium, but also by Embedian and iWave for their own mutually incompatible modules. (It has also been used in a still-different way for FeaturePak I/O modules.)
According to the Qseven Consortium, however, Qseven modules use a 230-pin MXM connector that can have two different overall heights: either 7.8mm or 5.5mm. The newer Kontron/Adlink format uses a 314-pin MXM 3.0 version that's said to offer an overall height of less than 5mm.
Further information
More information on MSC's Q7-MB-EP4 carrier board may be found on the Q7-MB-EP4 product page. More information on Congatec's conga-QMCB carrier board may be found on the conga-QMCB product page.
Jonathan Angel can be reached at [email protected] and followed at www.twitter.com/gadgetsense.
---
This article was originally published on LinuxDevices.com and has been donated to the open source community by QuinStreet Inc. Please visit LinuxToday.com for up-to-date news and articles about Linux and open source.