Jun 13, 2011 — by LinuxDevices Staff — from the LinuxDevices Archive — 2 views
Habey USA says its new Qseven module can stream two HD videos simultaneously, while using no more than 5.5 Watts. The SOM-6670 includes a choice of Intel Atom E6xx processors, 512MB of soldered-on memory, and an optional Mini-ITX baseboard, according to the company.
Intel announced its Atom E6xx last September, and there has already been a stream of embedded modules and boards based on the processor. None of the devices has exploited the E6xx's ability to work with third-party I/O controllers, likely because such devices have (as far as we're aware) not yet shipped. Instead, all current devices employ Intel's own EG20T (block diagram, here).
We're aware of at least five previous E6xx products that have adopted the 2.75 x 2.75-inch (70 x 70mm) Qseven module format: Advantech's SOM-3564, Congatec's Conga-QA6, Hectronics' H6055, MSC Vertriebs' Q7-TCTC-FD, and Portwell's PQ7-M105IT. (Once rare but obviously now becoming pretty common, Qseven modules have a 230-position "golden finger" connector originally designed for laptop graphics cards using Nvidia's MXM (Mobile PCI Express Module) format.)
Now joining their number, Habey — which actually was first to use the E6xx, in the BIS-6622 mini-PC — is emphasizing the graphics capabilities of its own Qseven module. This is interesting, because the E6xx gained a new, on-chip graphics controller called the GMA600, based on Imagination Technologies' PowerVR SGX IP and said by Intel to have twice the graphics performance of the previous GMA500 (used in the Atom Z5xx).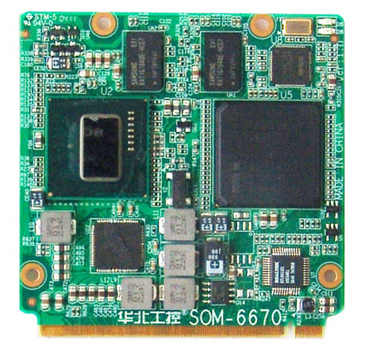 Habey's SOM-6670
Habey has posted a YouTube video — embedded later in this story — showing the SOM-6670 streaming two HD movies simultaneously. While CPU utilization reached over 90 percent, the module appears to have pulled off the feat with aplomb.
According to Habey, the SOM-6670 is available with the 600MHz E620, the 1.0GHz E640, the 1.3GHz E660, or the 1.6GHz E680. Power consumption of these CPUs ranges from 2.7 to 3.9 Watts, which, combined with the EG20T's TDP of 1.55 Watts, results in a maximum requirement of just under 5.5 Watts.
Habey says the SOM-6670 has 512MB of soldered-on memory. Like other Qseven modules, it passes all its signals to and from a baseboard (see later) via its "golden finger" connector. Expansion includes three PCI Express x1 lanes, SDIO, I2C, and LPC, while I/O includes gigabit Ethernet, six USB 2.0 ports, LVDS and SDVO video, and high definition audio, the company says.
Features and specifications listed by Habey for the SOM-6670 include:
Processor — 600MHz E620 (2.7-Watt TDP), 1.0GHz E640 (3.3-Watt TDP), 1.3GHz E660 (3.3-Watt TDP), or 1.6GHz E680 (3.3-Watt TDP).
Chipset — EG20T
Memory — 512MB of soldered-on DDR2 RAM
Expansion:

3 PCI Express x1 interfaces
LPC
I2C
SDIO

Networking — gigabit Ethernet
Other I/O:

6 x USB 2.0
1 x LVDS
1 x SDVO
2 x SATA
HD audio

Power — 5VDC input; 5 Watts typical consumption
Operating temperature — 31 to 140 deg. F (0 to 60 deg. C)
Dimensions — 2.75 x 2.75 inches (70 x 70mm)
The SOMB-073 carrier board
Habey offers a Mini-ITX carrier board for the SOM-6670, known as the SOMB-073. As pictured below, this includes a slot for the module itself as well as a Mini PCI slot that's said to provide SSD (solid state disk) support.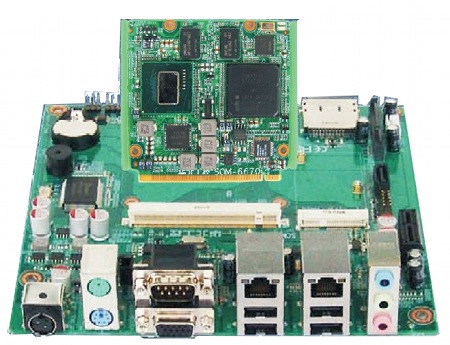 Habey's SOMB-073 carrier board
The SOMB-073's coastline includes not only a 12VDC power input, but also two PS/2 ports, a VGA output, an RS232 port, four USB 2.0 ports, and dual gigabit Ethernet jacks. Triple 3.5mm jacks provide a microphone input, line input, and line output, Habey adds.
The secondary screen shown in Habey's video was doubtless connected to the SOMB-073's onboard LVDS connector. Also on the board are an SD slot, two SATA ports, plus headers for two additional serial ports (RS232/422/485) and two additional USB 2.0 ports, according to the company.

A demonstration of the SOM-6670 playing two HD videos simultaneously
Source: Habey
(click to play)

Further information
Habey did not spell out pricing or availability, but the SOM-6670 appears to be available now. According to the company, operating systems supported are: Fedora Core 11 Linux, MeeGo 1.0, Windows Embedded Standard 7, Windows Embedded Standard 2009, Windows Embedded POS Ready 2009, Windows CE 6.0 R3, Windows 7, Windows XP, QNX Neutrino, and Wind River VxWorks.
More information on the module and carrier board may be found on the SOM-6670 product page.
---
This article was originally published on LinuxDevices.com and has been donated to the open source community by QuinStreet Inc. Please visit LinuxToday.com for up-to-date news and articles about Linux and open source.