Jul 26, 2011 — by LinuxDevices Staff — from the LinuxDevices Archive — views
ARM Holdings has reported a 27 percent increase in year-over-year revenue, an 25 percent increase in pre-tax profit, and the signing of 29 processor licensees — nine of them new. But both ARM and key licensee Texas Instruments have added a cautionary note about the rest of the year, given the shaky state of consumer confidence.
Reporting results for the second quarter of its 2011 financial year (ending June 30), ARM Holdings once again detailed increases in revenues and profits. At $190.2 million dollars, for example, revenue was up both sequentially — the corresponding first-quarter figure had been $185.5 billion — and year-over year.
According to ARM, its year-over-year revenue increase for the second quarter was 27 percent (relative to Q2 2010 revenue of $150.3 billion). Pre-tax profit was up too, to 54.2 million U.K. pounds, again handily beating the last quarter's figure (50.8 million pounds) and that of Q2 2010 (43.5 million pounds).
ARM CEO Warren East (pictured), stated, "In the first half of 2011, we have seen strong license revenues driven by an increase in design activity around ARM technology across a broad range of end applications. Major semiconductor vendors and consumer electronics companies are making long-term commitments to using ARM technology in their future product developments, underpinning growth in ARM's long-term royalty revenues."
As the statement suggests, ARM makes its money from licensing its processor IP, not from actually shipping the chips. During the second quarter, the company says, it added 29 licensees to its installed base of more than 800. Of these, nine involved Cortex-A cores, including two for the advanced Cortex-A15 and two for "Kingfisher," a smaller version the company has said it is readying for "lower-end smartphones, feature phones, and cost-sensitive digital TV applications."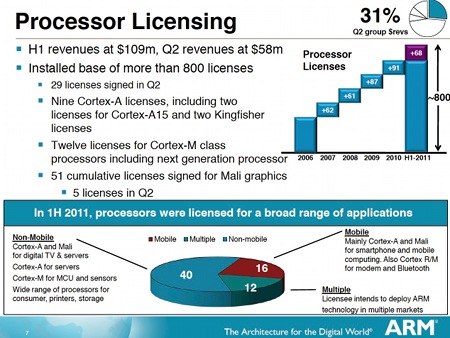 ARM added 29 licensees during the second quarter of this year
(Click to enlarge)
According to ARM, nine of the 29 licensees signed during the second quarter were adopting ARM technology for the first time, in applications such as digital TVs, microcontrollers, and near field communication (NFC) chips. The Cortex-A15 core has now been licensed to ten companies, and "will enable the next generation of scalable computing from super-smartphones and mobile computers to servers and networking infrastructure applications," the company added.
More than 1.9 billion shipped
ARM says more than 1.9 billion chips based on its technology shipped during the second quarter, the "highest ever." (During the first quarter of 2011, 1.5 billion shipped, the company reported previously.) These shipments went into the following market segments, according to ARM:
mobile — 58 percent
embedded — 22 percent
enterprise — 16 percent
home — 4 percent
Cambridge, England-based ARM's fortunes have been boosted not only by booming smartphone and tablet sales, but also by Microsoft's well-publicized announcement that it will port Windows 8 to run on ARM SoCs (systems on chip). Google, too, has announced that its Chrome OS will soon be ported, ARM noted in its earnings report.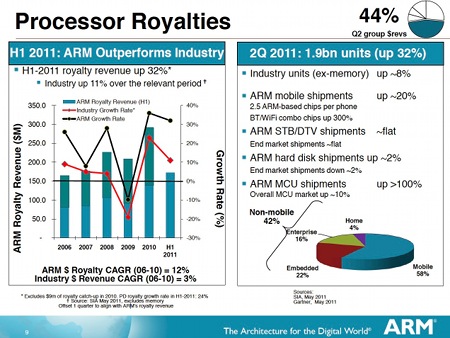 Nearly two billion ARM-based processors shipped during the second quarter of this year
(Click to enlarge)

Last December, meanwhile, ARM acknowledged its plans to move into the server market, claiming that its designs could halve the power consumption of the low-end servers increasingly being used for tasks such as virtualization and cloud computing.
Server-related developments since then have included:
Calxeda's announcement that it will ship ARM Cortex-A9 server chips later this year
Marvell's introduction of the server-targeted quad-core Armada XP
Nvidia's plans to build server CPUs
and ZT Systems' release of a power-sipping R1801e rackmount server
ARM divides its business into a processor division (PD) centered on microprocessor cores — including specific functions, such as graphics and video IP, fabric IP, and embedded software IP — and a physical IP division (PIPD), focused on building blocks for translation of a circuit design into actual silicon.
According to the company, PD licensing and PD royalties were up year over year by 59 percent (to $58.1 million) and 16 percent (to $84.4 million), respectively. (We note, however, that PD royalties fell sequentially from the last quarter's $87.9 million.) At the same time, PIPD licensing went up 19 percent year over year to $12.3 million, ARM added.
A cautionary note
ARM added to the above good tidings that it has a "healthy order backlog and a robust opportunity pipeline, which are expected to deliver strong performance in license revenues." But, it said, "relevant data for the second quarter, being the shipment period for ARM's Q3 royalties, points to a small sequential increase in industry-wide revenues." And, it cautioned, "Q4 royalties are harder to predict as continuing macroeconomic uncertainties may impact consumer confidence."
Separately, key ARM licensee Texas Instruments (TI) reported second-quarter revenue that, at $3,46 billion, was up two percent sequentially but down one percent year over year. Compared to Q4 2010, operating profit and net income were down 18 percent and 13 percent year over year, the company added.
Compared to the first quarter of its 2011 financial year, TI experienced higher revenue. However, operating profit declined because of "lower factory utilization, higher earthquake-related costs [in Japan], and higher operating expenses," the company added.
Rich Templeton, TI's chairman, president, and CEO stated, "We expect growth in the third quarter, but because of mixed macroeconomic and market signals we are prepared for a broader-than-normal range of growth possibilities. We note that production at some computing and consumer manufacturers appears lukewarm even though we're heading into the back-to-school and holiday seasons."
Further information
Links providing access to ARM Holdings' earnings release, presentation, and webcast — including the company's predictions for the rest of the year — may be found on ARM's investor relations website. More information on TI's financial results may be found on the company's website.
Jonathan Angel can be followed at www.twitter.com/gadgetsense.
---
This article was originally published on LinuxDevices.com and has been donated to the open source community by QuinStreet Inc. Please visit LinuxToday.com for up-to-date news and articles about Linux and open source.