Mar 14, 2011 — by LinuxDevices Staff — from the LinuxDevices Archive — 9 views
Early versions of Calxeda's ARM-based server chips will be reaching OEMs later this year, and systems sporting the quad-core, ARM Cortex-A9 SoCs (systems on chip) could appear on the market soon after, executives add. Meanwhile, Microsoft has told Intel and AMD they need to catch up by cramming more x86 cores onto their CPUs, and one vendor has stuffed 256 Atoms into a single server
Calxeda engineers "are still cranking on code," according to Karl Freund, the former Hewlett-Packard and IBM executive who now is the startup's vice president of marketing. The result will be processors that offer relief for companies that that need high performance and lower power costs.
"We're pretty confident in a 10-times performance-per-watt advantage [over traditional chips from Intel and Advanced Micro Devices] in the marketplace for applications that we target," Freund said in an interview with eWEEK.
Austin, Texas-based Calxeda is one of several smaller companies looking to bring ARM processor designs into the data center, currently the dominion of Intel and AMD. ARM-based chips dominate the mobile handset and tablet spaces, but now ARM and its customers want to bring the performance-per-watt capabilities to servers, particularly in such areas as cloud computing, web serving, big data and content delivery.
In an interview with Bloomberg News in December 2010, ARM CEO Warren East (right) predicted that ARM-based processors would begin eating into Intel's dominant server market share by 2014. In addition, Marvell executives in November 2010 introduced the quad-core Armada XP, which they said is the fastest ARM processor and is aimed at such environments as cloud computing and Web serving.
Nvidia officials also said in January that they are looking to ARM designs to build CPUs for everything from tablets to servers.
Richard Fichera, an analyst with Forrester Research, is high on Calxeda. In a blog post March 11, Fichera noted the 10-times performance-per-watt advantage Calxeda officials believe their chips will have over competing products when they hit the market.
"Claims of future performance against current competition are always subject to some level of skepticism, but Calxeda's performance models that they shared with us appeared to be conservative and to have factored in a generous margin for competitors Intel and AMD to improve their performance per Watt metrics," Fichera wrote. "Actual benchmark performance will probably be all over the map, considering that x86 vendors have immense accumulated experience tuning benchmarks for their platforms and the ARM community is still in early days on performance tuning."
However, Fishera added, Calxeda's technology reinforces his high expectations that ARM-based products can make an impact in the data center, and that businesses "should include ARM servers in their strategic technology plans."
Some OEMs also are keeping an eye on the developing ARM-based server push. Forrest Norrod, vice president and general manager of Dell's Data Center Solutions business, said an in interview with eWEEK that moving to such an alternative architecture carries promise and risks, but could prove to be a boon to hyperscale computing environments that need highly energy-efficient systems.
Calxeda's SoC (system on a chip), being built on ARM's Cortex-A9 design, will enable OEMs to build servers that will offer 120 quad-core ARM nodes — or 480 cores — in a 2U (3.5-inch) form factor, with an average power consumption of about five Watts per node, Freund said. Such a system, which will consume about 600 Watts, will offer the same performance as a full rack of x86-based servers that consume about 4,000 Watts, he added.
Such numbers have altered conversations with customers and end users since last year, when officials with Calxeda — then called Smooth-Stone — first began publicly talking about their plans.
"Before the response was, 'Are you crazy?'" Freund said. "Now the response is, 'When we get one?'"
He said the move from traditional x86-based systems to more highly energy-efficient servers running on ARM-based processors will prove to be a significant change in the hardware market, similar to when Unix systems started taking business away from mainframes, when x86 began to challenge Unix, and when Linux hit the scene, threatening Microsoft's Windows OS.
"It's going to be a major industry shift," he said.
Other approaches to power-saving servers
Separately from Calxeda's efforts, ZT Systems recently announced a Ubuntu Linux-based 1U rackmount server with SSD (solid state disk) storage and eight ARM Cortex-A9 COMs (computer on modules) on board. The R1801e (below) provides 16 600MHz cores while using less than 80 Watts, according to the company.


ZT Systems' R1801e
(Click to enlarge)
Incursions by ARM into the server space would clearly be a blow to Microsoft, which currently offers no server operating system for ARM CPUs. ARM servers could offer a promising new market for Canonical and its Ubuntu Server OS. (Back in 2008, Canonical and the Ubuntu community made the wise move of porting Ubuntu to ARM.)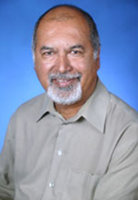 In January, meanwhile, Microsoft executive Dileep Bhandarkar delivered a keynote at the Linley Tech Data Center Conference in San Jose, Calif. "ARM's an interesting thing to look at, and if nothing else, it lights a fire under Intel and AMD, … I'm happy," Bhandarkar (right) was quoted as saying in reports by Rick Merritt of EETimes and James Niccolai of the IDG News Service. But, he was said to have added, it won't be that easy for ARM to break into the server market.
"Instruction-set architecture transitions are extremely painful," Bhandarkar reportedly claimed. "As a general rule of thumb, you have to have a sustainable improvement per dollar per watt of at least 2x — some would say 5x — but it's at least 2x … and ARM is not there."
Instead, Bhandarkar called on Intel and AMD to develop 16-core SoCs (system-on-chips), respectively based on their Atom and Bobcat cores. "There's a huge opportunity using these smaller cores to be more energy efficient," he was quoted by Merritt as saying.
"When you look at these tiny cores, another way of making them work in a very efficient way is [not to] surround them with a whole bunch of south bridges and network controllers. … Essentially, the tiny cores and systems-on-chip should go together," Bhandarkar added, according to Niccolai's report.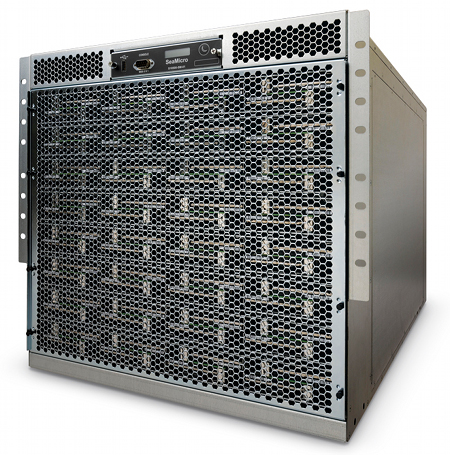 Sea Micro's SM10000-64
(Click to enlarge)
At the end of last month, Santa Clara, Calif.-based Sea Micro announced a 10U server (above) that employs 256 Intel Atom N570 processors. Touted as the "world's most energy-efficient 64-bit server," the SM10000-64 contains 64 compute cards that house four CPUs apiece and are interconnected with a 1.28TB/sec. "supercomputer style" fabric, according to the company.
According to SeaMicro, overall power consumption is under 2,500 Watts. While this makes the SM10000-64 more power-hungry than proposed ARM servers, the device can "run off-the-shelf operating systems for application compatibility, enabling drop-in adoption," and it includes an integrated top-of-rack switch, load balancer, and console server, according to the company.
Jeffrey Burt is a writer for eWEEK; Jonathan Angel contributed reporting to this story.
---
This article was originally published on LinuxDevices.com and has been donated to the open source community by QuinStreet Inc. Please visit LinuxToday.com for up-to-date news and articles about Linux and open source.