Oct 20, 2009 — by LinuxDevices Staff — from the LinuxDevices Archive — 20 views
Freescale Semiconductor and E Ink Corporation announced they will jointly develop SoCs (system on chip) products integrating the former's i.MX processor technology and the latter's Vizplex display controller. The collaboration will "spark innovation" and lower the cost of producing e-readers, according to the companies.

Amazon's market-leading Kindle and Kindle 2 (pictured), plus most other recent e-readers — such as the upcoming, Android-based Alex from Sprint Design — use electrophorescent (EPD) monochrome displays sourced from E Ink Corporation.
Electronic paper offers a bright, high-contrast, thin, lightweight display technology that remains legible under "any lighting condition" — much like newsprint. Once an image has been "printed," no power is needed to hold it, reducing energy requirements by 99 percent compared to LCDs, E Ink claims.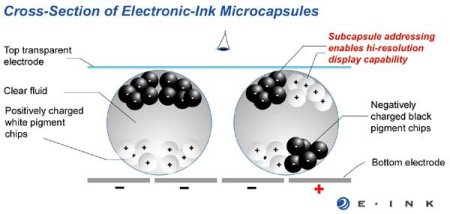 E Ink's electronic paper requires no power to hold images
Source: E Ink Corporation


While EPD displays substantially extend battery life, they are not supported directly by the ARM-based SoCs employed in e-readers. As a result, separate Vizplex display controller ICs have been required, such as the Epson S1D13522 (right) jointly developed by E Ink and Epson. (Introduced earlier this month, the 10 x 10mm S1D13522 is said to cost $20 in sample quantities, include 2MB of embedded memory, and improve on previous EPD controllers by including onboard touch/pen support.)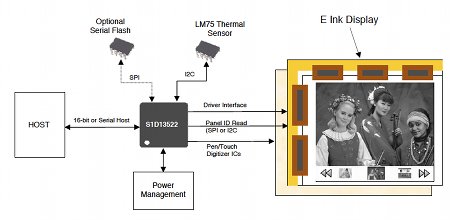 E-reader architecture using Epson's S1D13522
Source: Epson Corporation (Click to enlarge)
Now, it's said, E Ink-compatible EPD controllers will be built directly into forthcoming SoCs in Freescale's i.MX family. The partnership is "designed to lower costs and expand the ecosystem of supporting electronics," and will also "spark innovation for emerging product categories such as eNewspapers, tablet PCs, laptop secondary displays, eNotebooks and eDictionaries," the companies stated.
While neither Freescale nor E Ink quantified the expected cost reduction, Pcmag.com writer Mark Hachman quotes Freescale marketing director Glen Burchers as saying integration of an EPD controller could save 20 percent in the total BOM (bill of materials) of an e-reader. Burchers declined to specify when an integrated product will be available, Hachman adds.
Freescale's i.MX31, first introduced in 2006, is used in Amazon's Kindle 2. Other i.MX products, all compatible with Linux, include the i.MX21, i.MX27, and recently introduced i.MX25 family.
Meanwhile, Freescale is apparently not the only ARM licensee planning to integrate EPD controllers into its products. Marvell's new Armada 166E, announced yesterday as part of the chipmaker's Armada 100 series, apparently also offers an on-chip EPD controller, at least according to a chart reproduced by EDN.com. Marvell has not yet provided further specifics, however.
According to a 2009 DisplaySearch report cited by Freescale and E Ink, shipments of e-readers are expected to grow from one million units in 2008 to more than 75 million units in 2018, with a value of approximately $3.8 billion. Market drivers are said to include new eBooks on the market, international expansion of eBook availability, anticipated price declines, and the electronic distribution of newspapers and textbooks.
Sriram Peruvemba, VP of marketing for E Ink Corporation, stated, "Our aim is to provide the world's best digital reading experience. E Ink's joint development work with Freescale will enable several new markets, including eNewspapers and eTextbooks."
Availability
Neither E Ink or Freescale stated when i.MX SoCs integrating EPD controllers will be available, nor has Marvell provided availability information for its Armada 166E. However, PCMag.com's Hachman speculates that tying together the IP cores could take "a matter of months," and that products could become available during 2010.
For further information, see the PCmag.com article, here.
---
This article was originally published on LinuxDevices.com and has been donated to the open source community by QuinStreet Inc. Please visit LinuxToday.com for up-to-date news and articles about Linux and open source.