Oct 20, 2009 — by LinuxDevices Staff — from the LinuxDevices Archive — 58 views
Marvell has announced four processor families — Armada 100, Armada 500, Armada 600, and Armada 1000 — based on ARM cores. Touted as "a top to bottom solution for mobile computing and intelligent devices," the SoCs offer single or dual cores with clock speeds from 400MHz to 1.2GHz, the company says.
Because Marvell is not only an ARM processor licensee, but also an architecture licensee, it has the right to take ARM-designed cores and use it in SoCs of its own devising. This is precisely what the chipmaker has done with its newly announced Armada products, creating its own, unique Sheeva designs.
Marvell's Sheeva PJ1 architecture — used in the new, single-core Armada 100 family and dual-core Armada 1000 family — is based on the ARMv5 instruction set. The company's Sheeva PJ4 architecture — used in the Armada 500 and 600 families — is based on the ARMv7 instruction set, previously employed by processors including those using ARM's Cortex-A8 core.
Instead of employing ARM's Neon SIMD (single instruction multiple data) instruction set, the Armada products incorporate Wireless MMX2 technology, inherited from Intel when Marvell acquired the latter's XScale-based SoCs in 2006. The Armada SoCs additionally include Marvell's Qdeo video processing technologies, and the processors can also accelerate Adobe's Flash technology, the company says.
All Armada SoCs, said to be currently in the sampling stage, are manufactured using TSMC's 55nm fabrication process. The 100, 500, and 1000 series are created using a mainstream G process, whereas the 600 series is reportedly manufactured using a low-power LP process.
Armada 100/1000
Marvell says its Armada 100 series is aimed at a broad variety of target markets, including e-readers, PNDs (portable navigation devices), MIDs (mobile internet devices), IP surveillance cameras, and SBCs (single board computers). According to the company, the SoCs range from 400MHz to 1.2GHz in clock speed, have second-level caches up to 128KB, support LPDDR or DDR2 memory, offer 720p HD video decoding, and support resolutions up to WUXGA (1920 x 1200 pixels).
The 1.2GHz model in this "new" series was actually announced in January of this year as the PXA168 (right). The SoC, which includes support for Linux and Windows CE 6.0 R2 and R3, offers a 32KB first-level cache, 128KB second-level cache, and 720p video, among other features (see block diagram below).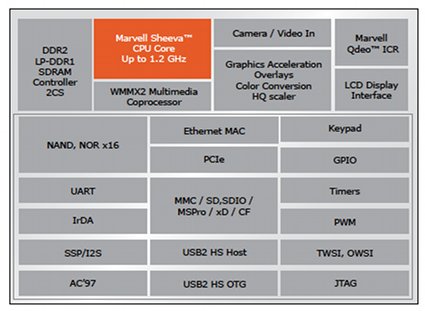 A block diagram of Marvell's PXA168
Marvell's announcement did not provide details of other models in the Armada 100 series. However, according to a feature chart (below) purportedly distributed by the company and reproduced by EDN.com, 400MHz and 800Mhz versions will also be offered. The 800MHz version drops PCI Express and is limited to D1-resolution video, but is optionally available with an EPD (electronic paper display) controller, while a 400MHz version supports only VGA-res video and has an L2 cache pared to 64KB, according to the chart.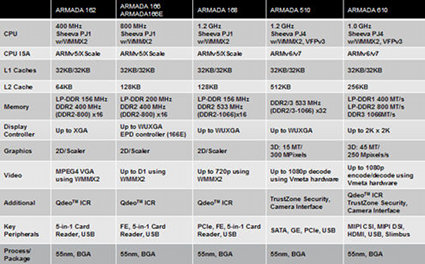 A chart comparing members of Marvell's Armada family
Source: EDN.com
(Click to enlarge)
The Armada 1000, meanwhile, includes two Sheeva PJ1 cores clocked at 1.2GHz, targeting Blu-ray players, DMAs (digital media adapters), connected digital TVs, and streaming HD set-top boxes, according to the company. The SoC supports DDR2 memory, also providing a "high performance" audio DSP, SATA, PCI Express, SDIO, USB, HDMI, and Ethernet, Marvell says.
Armada 500
The sole member of Marvell's Armada 500 series, said to be aimed at "high-end smartbooks and tablets," is the Armada 510. Featuring a Sheeva PJ4 clocked at 1.2GHz, this device offers a 32KB L1 cache and a 512KB second-level cache, plus a 3D graphics accelerator that is said to support WUXGA resolution.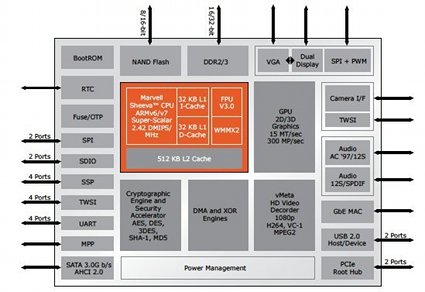 A block diagram of Marvell's Armada 510
(Click to enlarge)
According to the chart published by EDN as well as Marvell's block diagram (above), the Armada 510 supports either DDR2 or DDR3 memory (533MHz or 1066MHz), can decode 1080p video, and includes the TrustZone cryptographic engine and security accelerator. Among other features, the SoC also includes a SATA port, four serial ports, gigabit Ethernet, a camera interface, S/PDIF digital audio output, and PCI Express, Marvell says.
As another block diagram (below) offered by Marvell reveals, the company plans to offer the 88AP510 development board, which will include not only the Armada 510 itself, but also a camera module, 1GB of DDR3 memory, 4GB of flash storage, and two PCIe Mini Card slots. The board's range of real-world interfaces includes a USB 2.0 hub, an RJ45 connector, a VGA output, TV output, and an HDMI port, according to the company.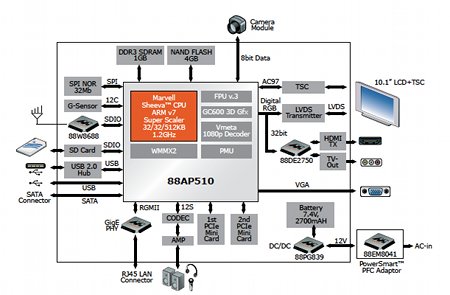 Marvell's Armada 510 development board
(Click to enlarge)

Armada 600
The inaugural member of Marvell's Armada 600 series is the Armada 610, which offers an ARMv7 core like that of the Armada 510, but clocks it down to 1GHz and features "ultra low power operation." The target market here is smartphones, MIDs, handheld multimedia devices, and point-of-sale terminals, according to Marvell.
The Armada 610 reportedly works with LPDDR1 and LPDDR2 memory as well as DDR3 RAM, with speeds ranging from 400MHz to 1066Hz. Second-level cache is pared to 256KB, but the SoC's integral 3D accelerator is said to support 1080p video and screen resolutions up to 2000 x 2000 pixels.
Further information
Weili Dai, Marvell's cofounder, as well as VP and GM of the company's consumer and computing business unit, stated, "The Armada family delivers to mobile devices what skeptics once doubted could be done: fast, PC-caliber processing, full Internet experience, rich media including HD quality video and 3D graphics — all in lightweight form factors with long battery life. There will always be a place for PCs, but the future of mobile computing — for smartbooks, e-readers, smart tablets and more — will by necessity get its DNA from smartphones, not PCs."
According to Marvell, "select customers" are already sampling Armada processors, there have been "more than 50" design wins, and devices incorporating the SoCs are expected to go on sale in early 2010. It's said the SoCs will support Linux, Ubuntu Linux, Maemo, Android, Windows CE, Windows Mobile, and China Mobile's OMS; in addition, Marvell-provided BSPs (board support packages) will support Adobe's Flash technology, Microsoft's Silverlight, and Real's RealPlayer, the company says.
More information on the Armada SoCs may be found on Marvell's website, here.
EDN.com's article on the Armada processors may be found on the publication's website, here.
---
This article was originally published on LinuxDevices.com and has been donated to the open source community by QuinStreet Inc. Please visit LinuxToday.com for up-to-date news and articles about Linux and open source.