Feb 19, 2009 — by Eric Brown — from the LinuxDevices Archive — 8 views

Embedian is shipping a Linux-ready ARM11 MXM computer-on-module (COM) and evaluation kit. The MXM-6410 COM is equipped with a Samsung S3C6410 system-on-chip (SoC) that weds a ARM1176JZF-S core clocked to 667Mhz with a multimedia co-processor that can encode and decode MPEG4/H.263/H.264 and decode VC1, says Embedian.
(Click for larger view of MXM-6410 module)
The MXM-6410 targets multimedia-enabled embedded applications, including devices that require real-time videoconferencing, says Embedian. The module is based on a Samsung S3C6410 system-on-chip (SoC) with a ARM1176JZF-S core clocked up to 667MHz. This 65nm-fabricated SoC integrates a Multi Format Codec (MFC) co-processor that is said to support real-time videoconferencing, as well as TV-out, for both NTSC and PAL modes. In addition, the module is equipped with a JPEG codec, a 2D graphics accelerator, and a 3D graphics hardware accelerator that supports OpenGL-ES 1.1 and 2.0 rendering.
The Samsung SoC is supported by 128MB each of mDDR and NAND flash memory, says Embedian. A 242-pin MXM golden finger connector provides a wide variety of interfaces on the board. These are said to include TFT LCD, dual USB host interfaces, Ethernet, four RS232 interfaces, camera, CF, IDE, AC97 Audio, IIC, PWM, TV-out, and SPI.


Embedian's original MXM-7114
(Click for details)
Embedian launched its original MXM-7114 COM in November 2007. Its most recent MXM COMs — the MXM-8310 and MXM-8110 — were released last July, based on the Marvell PXA320 chip. Shortly before, a new organization called Qseven announced its own a multi-vendor COM spec that also uses an MXM connector. Formed by European COM module vendors Congatec, MSC Vertriebs, and Seco, and with 14 members total, Qseven launched the first version of its Qseven specification, calling for four mounting holes instead of Embedian's two, and a slightly larger 70 x 70mm size instead of Embedian's 66 x 50mm format. Qseven bills its format as being mobile-device oriented and "legacy-free," offering support for new formats like SDIO, while spurning some older I/O technologies.
Specifications for the MXM-6410 are said to include:
Processor — Samsung S3C6410 with ARM1176JZF-S core clocked up to 667MHz, plus Java acceleration engine, 16KB/16KB I/D cache, and 16KB/16KB I/D TCM
System bus — 266Mhz 64/32-bit, with AXI, AHB, and APB buses
Multi Format Codec co-processor — MPEG-4/H.263/H.264 encode/decode up to [email protected]/D1; decoding of VC1 video up to [email protected]/D1; various encoding tools available
JPEG codec — Encoding YCbCr 4:2:2/RGB565; decoding YCbCr 4:4:4/4:2:2/4:2:0 or gray
2D graphic accelerator — Line/point drawing, BitBLT and color expansion /text drawing
3D graphic accelerator — 4M triangles/s @133MHz (transform); 75.8M pixels/s fill-rates @133MHz (shaded); Programmable Shader Model 3.0; 128-bit (32-bit x 4) floating-point Vertex Shader, etc.
Memory — 128MB mDDR (266Mhz 32-bit); can be ordered with 256MB
Flash — 128MB NAND
Other memory support — Interfaces for SD/SDHC, CompactFlash (CF) I/II 3.3V, and IDE (shared with CF) ATA
Networking - 1 x 10/100 Ethernet interface (Davicom DM9000B chipset), supporting IEEE 802.3u 100Base-TX and 802.3 10Base-T
USB — 2 x USB 1.1 host interface (12Mbit/s speed), with one configurable as client; 1 x USB client 2.0 interface, supporting high speed as Device (480Mbps)
Serial — 4 x RS232 interface, TTL level
Video interfaces — VGA (800×600) with TFT support; TTL interface; video post processor interface; TV Out
Audio interfaces — AC97 2.3 interface with ALSA support
Discrete I/O — 12 general-purpose digital I/Os
Security Sub-system — AES and DES/3DES accelerators with ECB and CBC support; SHA-1 Hash engine; H/W HMAC support; Random Number Generator; FIFO-Rx/Tx; DMA I/F to SDMA1
Camera interface — supports up to 4096×4096 in YCbCr 4:2:2 format; ITU-R 601/ITU-R 656 format input support
System bus interface — 16-bit or 8-bit
IIC interface — 1-ch Multi-Master IIC-Bus
SPI interface — compatible with 2-ch Serial Peripheral Interface Protocol 2.11
Pulse Width Modulation (PWM) — 2-ch 16-bit timer with PWM / 1-ch 16-bit internal timer
Interrupt request — 8 available interrupts
Touch panel interface — 10-bit CMOS ADC
Other features — Watchdog timer 16-bit; JTAG interface
Power — +5V DC power input only, with real-time clock battery
Dimensions — 2.0 x 2.6 inches (50 x 66mm); MXM format
Operating system — Linux 2.6.21 (will upgrade to 2.6.28 in a few months), Debian ARM Linux; Windows CE 6.0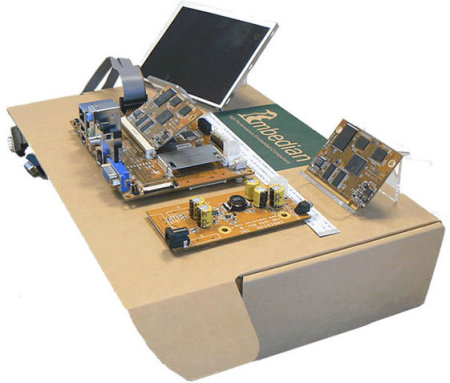 MXM-6410 Eval Kit
(Click to enlarge)
MXM-6410 Eval Kit
A separately sold MXM Computer on Module MXM-6410 Evaluation Kit (pictured above) is also available. Features are said to include:
2 x MXM-6410 modules.
Carrier board
Reference carrier board schematics and design guide
800×480 LCD panel.
LCD backlight inverter board
LCD FPC/LVDS cable
Serial Console cable
MXM connector
Power board
12V-2A power adapter
1GB CF memory card with root file system pre-installed
Email or forum technical support
Availability
The MXM-6410 is available now with Linux or Windows CE 6.0 pre-installed, and an evaluation kit (pictured above) is also available. Pricing was not disclosed. More information, and a detailed spec list, on the MXM-6410 should be available here, and more on the eval kit may be here.
---

This article was originally published on LinuxDevices.com and has been donated to the open source community by QuinStreet Inc. Please visit LinuxToday.com for up-to-date news and articles about Linux and open source.