May 13, 2008 — by LinuxDevices Staff — from the LinuxDevices Archive — views

MEN Micro has introduced a new COM (computer-on-module) standard, along with two Linux-compatible modules based on it. With resistance to extreme vibration and temperatures, ESMexpress targets harsh environments such as railways, and is available initially in PowerQUICC and Intel Atom-based versions.
MEN Micro says the new format is poised to be designated as an American National Standards Institute (ANSI) standard by the VME Industry Trade Association (VITA), and will be dubbed ANSI-VITA 59 RSE (rugged system-on-module express). The ESMexpress format is processor-architecture agnostic, says the company.
The design of the 4.9 x 3.75-inch modules had the following goals, according to the company:
Power dissipation of up to 35 watts

Cooling by both conduction and convection

An open processor architecture

Extreme resistance against shock and vibration
To achieve these goals, ESMexpress modules are screwed into a frame (below) and then optionally enclosed in an aluminum housing. The high pressure caused by the screw joints between the housing and the PCB supports the thermal connection of the components.
The format supports operating temperatures ranging from -55 to 125 deg. C, the company says, although the two initial boards support only -40 to 85 deg. C. If additional cooling is required, the housing can be connected to a heat sink or other external heat dissipation system; at the same time, the housing ensures optimal EMC (electrmagnetic compatibility) protection for the electronic parts, says MEN Micro.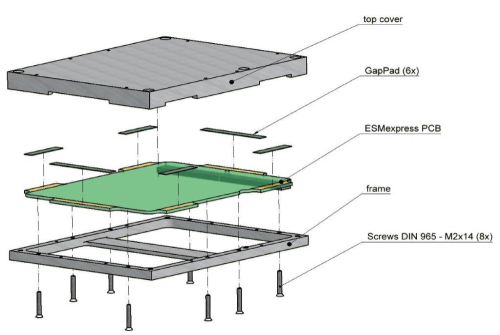 The ESMexpress modules are screwed tightly into a frame
(Click to enlarge)
The electrical signals from the module are distributed on one or two 120-pin connectors, depending on the required functionality. ESMexpress provides four single-lane PCI Express ports and one port which can be configured as one x16, one x8, two x4, or two x1 ports. Additionally possible are three gigabit Ethernet ports, eight USB, three SATA, SDVO, LVDS, HD audio, several utility signals, and a single 12V power supply. Pin assignments are fixed, in order to guarantee the interchangeability of the ESMexpress modules.
According to MEN Micro, ESMexpress can also be made compatible with COM Express, via the company's AE12 carrier adapter. This product adapts both mechanics and pinouts so that ESMexpress modules can be used on COM Express carrier boards. Similarly, future adapters could be created that adapt COM Express modules to ESMexpress carrier boards, the company says.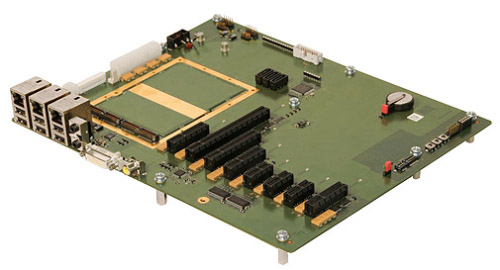 The ATX-format XCI carrier board
An initial example of a ESMexpress carrier board is MEN Micro's ATX-format XCI. As illustrated by the photo above, it includes an ESMexpress slot, eight PCI Express slots, DVI video output, HD audio, and three SATA interfaces. Three "real-world" ports for gigabit Ethernet and six ports for USB 2.0 are also included.
Two tough ESMexpress modules
An ESMexpress module can employ any processor architecture, says MEN Micro, as long as the maximum power dissipation of 35W is not exceeded. Two modules have been released initially: the Intel Atom-based XM1, and the XM50, which runs Freescale PowerQUICC III processors. Both the XM1 and the XM50 support Linux, VXWorks, and QNX, and the Atom-based XM1 also runs Windows.
Confirming the shock tolerance of the ESMexpress design, both boards are rated to withstand shocks of 15G for 11ms, bumps of 10G for 16ms, or sinusoidal vibration of up to 1G between 10 and 150Hz. Both are said to withstand temperatures between -40 to 85 deg. C (-40 to 185 deg. F), and both include a covered frame, on top of which a heat sink can be placed. The module can also be used without the frame and cover if operating temperatures are sufficiently moderate.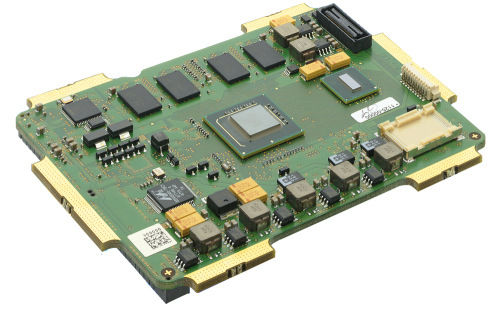 The Intel Atom-based XM1 processor module
(Click to enlarge)
The Atom-based XM1
The XM1, pictured above, includes the 1.1GHz Atom Z510 or 1.6GHz Z530 processor, along with the expected US15W SCH (system controller hub). It has up to 1GB of soldered DDR2 memory, locked to the frontside bus frequency of either 400MHz or 533MHz. The module has a full-load power consumption of just 5.7 watts, according to MEN Micro.
Interfaces on the XM1 are all relayed to the outside world via the ESMexpress connectors, and include:
1 x SATA

SDVO and LVDS graphics, with maximum resolution of 1368 x 768 pixels

8 x USB host ports, or 7 x USB host and 1 x USB client

1 x gigabit Ethernet

1 x GPIO line for LED

HD audio

One x1 PCI Express lane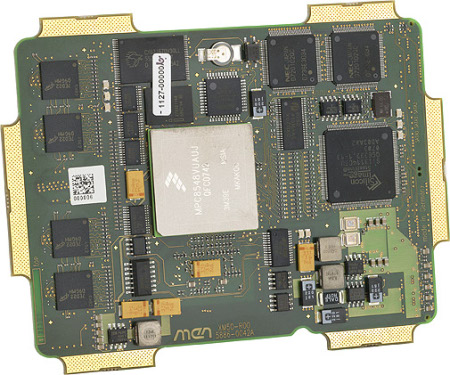 XM50 module
(Click to enlarge)
The PowerPC-based XM50
The XM50, shown above, is based on a Freescale's PowerPC-based MPC8548 (1GHz to 1.5GHz) or MPC8543 (800MHz or 1GHz) PowerQUICC III processors. The XM50 includes 2MB SRAM and 128KB FRAM, and can integrate up to 2GB of soldered ECC SDRAM main memory, while supporting other memory such as USB flash on the carrier board. The XM50 comes with MENMON support for bootstrapping operating systems, for hardware testing, or for debugging applications. The board's full load power consumption is rated at 12 watts, over twice that of the XM1.
Interfaces on the XM1 are all relayed to the outside world via the ESMexpress connectors, and include:
3 x SATA
8 x PCI Express lanes

6 x USB host ports, 1 x USB client (via UART converter)

3 x gigabit Ethernet (2 x with MPC8543/E processor)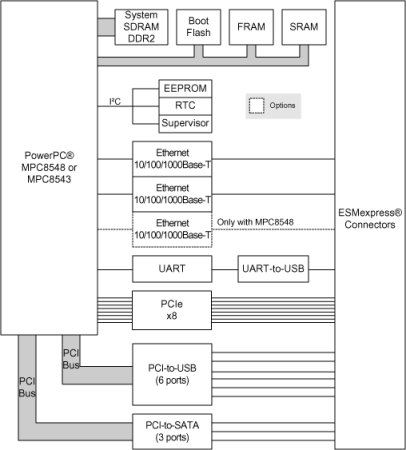 XM50 block diagram
(Click to enlarge)
Availability
Further information on the ESMexpress format or the XM1 and XM50 ESMexpress modules should be available here. Pricing for the XM1 starts at $567, according to the company.
---

This article was originally published on LinuxDevices.com and has been donated to the open source community by QuinStreet Inc. Please visit LinuxToday.com for up-to-date news and articles about Linux and open source.