Sep 13, 2006 — by LinuxDevices Staff — from the LinuxDevices Archive — 10 views

IP telephony specialist Digium is readying a significant release of the Asterisk IP PBX (private branch exchange) open-source software (OSS) that it maintains. Additionally, the company is offering telephony application developers early access to a DSP-based Linux IP telephony appliance it plans to ship early next… year.
Both Digium announcements came at the Fall VON conference this week in Boston, Mass.
Digium was founded by Asterisk originator Mark Spencer, and calls itself "the Asterisk company." It has traditionally marketed PCI-based telephony digital and analog add-in cards that connect IP PBXs based on commodity PC components and open-source software to the PSTN (public switched telephone network) and other networks. It added commercial Asterisk support to its product portfolio last summer.
Now, Digium plans to enter the IP telephony appliance market, it has announced. It says its Asterisk Appliance Developer Kit will give "ITSPs, OEMs, resellers, and integrators" what they need to build turn-key telephony platforms based on its upcoming Asterisk telephony appliance.
Additionally, Digium will release a 1.4 version of Asterisk in October, it says. The release is the first in nearly a year, and is said to include some 20 new features, including a GUI option, IPFAX support, unified messaging, and support for Jabber and other new messaging protocols.
Asterisk 1.4
Touted new features of Asterisk 1.4 include:
Generic Jitter Buffer — improves quality during network congestion
Asterisk Extension Language Version 2 — simplifies programming and dial plan configuration
T.38 — allows IP FAXes to pass through the server
Jabber/Jingle/GoogleTalk — supports compatibility with all of these networks
Increased language capabilities — offers new language capabilities in English, Spanish, and French, as well as new sounds and improved sentence structure support
Unified Messaging — integrates voicemail, email, and fax into a central mailbox where users can send, retrieve and manage all of their messages using any communication device
Whisper Paging — allows for selective, pre-programmed call interruption with controlled volume levels and muting capabilities
Additionally, Digium says Asterisk 1.4 will include "variable length DTMF support (touch-tone signaling for IVR applications), the option for programming shared line appearance, centralized RADIUS storage for call detail records, a built-in web manager interface, and a simplified, single user configuration for SOHO/SMB users," among many other new features and capabilities.
Spencer stated, "With the support of the Asterisk community, we have been able to develop an advanced platform that will make it even easier for users to migrate to VoIP, especially those in the enterprise community."
The Asterisk Appliance Developer Kit

Digium's first complete IP telephony appliance is expected to ship early next year. However, an "early pilot production" of the device is available now, as part of an Asterisk Appliance Developers Kit aimed at enabling open source developers to get started working on solutions based on the upcoming Asterisk Appliance.
The Appliance targets small- to medium-sized business (SMBs) and branch offices with 2-50 users. Physically, it has a svelte stackable footprint of just 11 x 6 inches.
Interestingly, the Appliance is based on Analog Device's Blackfin processor. Blackfin is based on the Micro Signal Architecture co-developed by Analog Devices and Intel, which incorporates both Digital Signal Processing (DSP) and microcontroller functionality in a single core. Metrowerks (now part of Freescale) ported Linux to the Blackfin in the Spring of 2003, making the chip in all likelihood the first DSP processor to run Linux. Analog Devices launched a Linux-on-Blackfin portal in 2004.
The Asterisk Appliance appears to take advantage of the Blackfin DSP's microcode programmability by implementing echo cancellation, and possibly other telephony functions, in hardware.
The Appliance's I/O includes eight analog ports (FXS, FXO), a WAN port, four LAN ports, hardware echo cancellation, and a "craft port" for debugging. Expansion is available through a CompactFlash slot suitable for voicemail storage cards or wireless radio peripherals.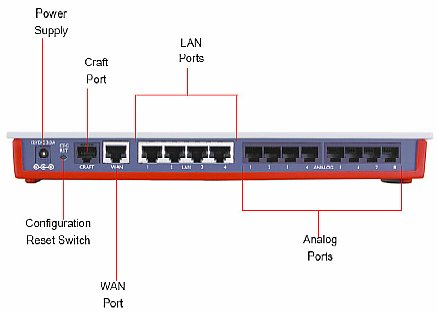 Asterisk Appliance rear-panel I/O ports
On the software side, the Appliance will include Linux-based routing software, along with a special new "Embedded Business Edition" of Asterisk. The new Edition will feature an "Asterisk GUI framework" aimed at helping users create customized, differentiated interfaces for their Asterisk-based devices and applications, Digium says.
In addition to an "early pilot production" of the Asterisk Appliance and Asterisk GUI framework, the Developer Kit includes a pair of 4-port FXO cards, multimedia add-on cards, 8 MB of flash memory, cables for all port types, an IP phone, and a CD with "all software, documentation, specifications, how-to manuals, Digium support details, and Asterisk memorabilia," Digium says.
Spencer stated, "Today's communications offerings have fallen short for companies and sites with 2-50 users. Traditional vendors lock-in users, while lower-end solutions typically lack many features."
Analyst David Yedwab, of Market Strategy and Analytics Partners, added, "This is a unique and extremely cost effective opportunity for developers, resellers, and ITSPs to create and deliver valuable applications. The entire Asterisk/Digium community will benefit from this launch, as will small enterprises who will able to take advantage of applications customized for the small location, not cut-down from large enterprise-scale solutions."
Availability
Asterisk 1.4 will be available for download on Digium's website in October.
The Asterisk Appliance Developer Kit will be available direct from Digium in October, priced at $4K. The cost includes induction into Digium's Asterisk Appliance Partner program, said to include "qualifying for special programs, pricing, and priority availability on production products built on this platform."
Additionally, the first 50 Developer Kit customers have the option to pay extra for a "Day with Mark Spencer."
The Asterisk Appliance is expected to ship "at a later date" in 2007, priced under $500 in volumes of 10,000.
---

This article was originally published on LinuxDevices.com and has been donated to the open source community by QuinStreet Inc. Please visit LinuxToday.com for up-to-date news and articles about Linux and open source.