Aug 16, 2010 — by Eric Brown — from the LinuxDevices Archive — 1 views
Asus says it will launch an Android-based "Eee Pad" EP101TC tablet in March for under $400, and will ship its previously announced Linux-based, monochrome Eee Tablet in October for $300. Meanwhile, Notion Ink's much-delayed Android-based Adam tablets are set to ship by January for $400 to $500, says the company.
Asus offered new details on a variety of upcoming tablet products, including an Android 3.0 model, as part of its second quarter earnings announcement. At the event, Jerry Shen, CEO of Asustek (Asus) said that it would ship its first Android tablet in March, says PC World.
The 10-inch Eee Pad EP101TC will feature offer an ARM processor and cost less than $400, says the story. Last month, NetbookNews claimed that Asus was shifting from Windows CE to Android on the Eee Pad EP101TC, but it now seems that the company will ship versions running both operating systems.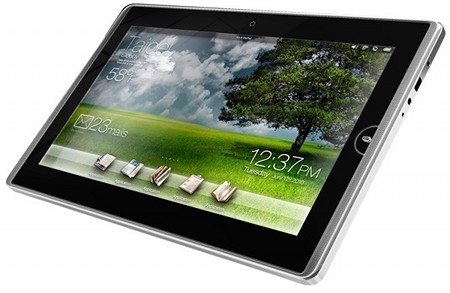 Asus EP101TC prototype running Windows Embedded Compact 7
In the first quarter, Asus will ship an ARM-based, 10-inch tablet, says the story. This appears to be the same as the Android design, but runs Windows Embedded Compact 7 (Windows CE). The Windows CE version will cost between $400 and $500, says the story.
The company will also launch a 12-inch tablet based on Windows 7 for $1,000 in December or January, Shen was quoted as saying. This EP121 device will offer an Intel Core 2 Duo processor, as well as a docking station that will let users transform it into a laptop computer.
According to an eWEEK story by Clint Boulton on the Asus tablets, Shen also told reporters that many of his company's 800 software engineers working on Android, mostly for its smartphone division, will shift to the Android tablet project.
Boulton notes that Asus will find itself in a crowded market by March. Some 70 Android-based phones have flooded the market since late 2008, "and it's no stretch to think the same success won't be duplicated for tablets," he writes.
Indeed, a second PC World story by Tony Bradley on the Asus tablets predicts that the trio of Eee Pads will be "doomed," due to arriving late and with relatively high prices. Not only will Asus miss the holiday shopping season, but the timing is particularly bad in that Apple is expected to release the next generation of its iPad in the first quarter, writes Bradley.
It appears, however, that many other high profile Android tablets will also miss the holiday shopping season and settle on a first quarter 2011 release. This is due primarily to the need to wait for Android 3.0, which adds optimizations for larger screen sizes.
Android tablets slated for a 1Q release include the enterprise-targeted Cisco Cius, as well as the rumored Motorola tablet, which is expected to be offered by Verizon.
Asus' Taiwanese rival Acer, meanwhile, was recently rumored to be launching both seven-inch and 10-inch ARM-based Android tablets.
Eee Tablet to sell for $300
Asu
s also offered updates on the Linux-based Eee Tablet, which was announced in early June. According to Shen, the Eee Tablet will ship in October for $300. The Eee Tablet (pictured), may be renamed the Eee Note, says PC World.
This e-reader focused tablet combines a monochrome display with Wacom stylus input and notepad support. As reported earlier, the Eee Tablet is claimed to offer input sensitivity of 2400 dots per inch (dpi), as well as a back-facing two-megapixel camera, and 0.1-second text file page turns.
Notion Ink's Adam to ship in January
After SlashGear posted new details on Notion Ink's upcoming Adam Android tablets, the company's Rohan Shravan made a blog announcement confirming several launch details and pricing. Notion Ink will begin manufacturing the Nvidia Tegra 2-based tablet in November, but a U.S. ship date is contingent on receiving FCC certification, which could place the launch date anywhere between November and January, writes Shravan.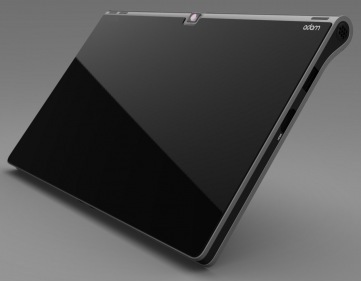 Notion Ink's latest Adam prototype
Shravan noted that the Adam will ship in models with standard LCD touchscreens, as well as other models that offer Pixel Qi touchscreens. Both will be available in Wi-Fi only and 3G models, he adds.
"I believe you will get a range of around $399 to $498 for these four," writes Shravan.
SlashGear added more details, saying that the LCD version with Wi-Fi will costs $400, and the model that adds 3G will sell for $450. The Wi-Fi only model with the Pixel Qi screen is expected to cost $450, and the 3G version will sell for $500, says the story.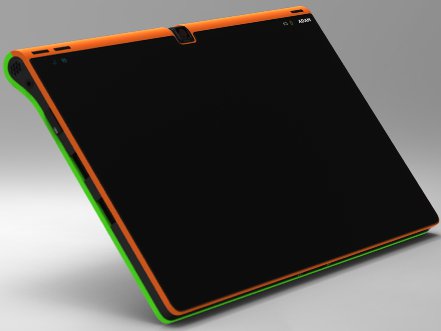 Flip side of the new Adam prototype
Compared to the Adam prototypes that wowed analysts at this year's CES show in January, the final versions will move up to 802.11n instead of 802.11b/g Wi-Fi, and will offer true GPS instead of assisted GPS (aGPS), says
SlashGear.
Other enhancements are said to include an improved camera, as well as support for debugging and OS upgrades via a mini-USB port.
In addition, the Adam will ship with a content store called Genesis, described as "a high end variant on iTunes," Genesis will include millions of ebook titles. The tablet is also said to ship with Nvidia's "Unreal Engine Support," for gaming, and will be pre-loaded with a few games titles.
When India-based Notion Ink showed off the Adam prototype in January, the company said it could ship the tablet as soon as April. Like many other upcoming Android tablets, the 10-inch (1024 x 600) touchscreen tablet is equipped with a Nvidia Tegra 250 processor, or Tegra 2, which includes eight independent processors and incorporates a dual-core version of ARM's Cortex-A9, clocked at up to 1GHz.
The Adam also offers an HDMI port, three USB ports, and accelerometers, says Notion Ink.
The Adam is notable for its Pixel Qi dual-mode display, which enables users to switch from full-color mode to a monochrome ePaper mode with the push of a button. The Pixel Qi technology is also touted for its low power consumption, fast video rate refresh, fully saturated color, low pricing, and ability to be read in both ambient light and sunlight.
Last month, Pixel Qi finally began shipping its "transflective" LCDs after numerous delays, which no doubt influenced the subsequent delay in releasing the Adam.
Availability
The Asus 2Q earnings report and tablet announcement webcast may be found here. The initial PC World story on the Eee Pad tablets may be found here, and their subsequent analysis piece should be here. The eWEEK take on the tablets should be here.
The Notion Ink blog about the availability of its Adam tablets should be here, and the earlier SlashGear story that prompted the blog entry should be here.
If you feel you've missed a tablet or two in this year's flurry of tablet announcements, use the LinuxDevices search feature, or check out this Technologizer round-up by Harry McCracken, here.
---
This article was originally published on LinuxDevices.com and has been donated to the open source community by QuinStreet Inc. Please visit LinuxToday.com for up-to-date news and articles about Linux and open source.