Aug 9, 2010 — by Eric Brown — from the LinuxDevices Archive — views
Consumer electronics retail giant Best Buy has tipped an upcoming Android-based "Rocketfish" tablet, say industry reports. Meanwhile, the rumored Android tablet from Motorola and Verizon won't ship until Feb. 2011, and other tablets waiting for Android 3.0 may also miss the holiday season, sources say.
As originally reported by CrunchGear on Friday, Best Buy's CTO Ralph Stephens tweeted the below image of a tablet adorned with Best Buy's "Rocketfish" branding. CrunchGear speculated that the Rocketfish tablet may be a version of the HP Slate, which would suggest either Windows or the Linux-based WebOS operating system (OS).The story noted, however, that Stephens, the founder of Best Buy division Geek Squad, had posted a message on Twitter in early July stating that the company was working on an Android 2.2 tablet.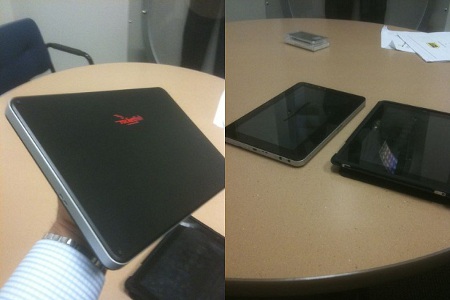 Best Buy's Rocketfish prototype
Source: Best Buy's Ralph Stephens on Twitter, via CrunchGear
Today,
Androinica
reported on another tablet peek tweet, this time from Best Buy web strategist Ben Hedrington, stating "Hint hint … be looking for a little green robot on that Best Buy tablet screen." Hedrington also adds a link back to the
CrunchGear
story, leaving no possible question as to the Rocketfish tablet's OS.
According to Androinica, the Rocketfish tablet is likely to be launched in conjunction with Best Buy's upcoming Clearwire 4G mobile data service called Best Buy Connect. In fact, one employee floated the idea of calling the tablet the Best Buy Connect, says the story. This would suggest a possible Rocketfish tablet partnership with Sprint, which is the largest shareholder of Clearwire and its WiMAX network, currently available with the HTC Evo 4G Android smartphone.
The Rocketfish label is used by Best Buy to sell cut-rate, generic versions of a variety of computer accessories, hinting that the company's tablet will be a relatively low-end device. On the other hand, any tablet with 4G would not likely be paired with cut-rate components at this early stage. What's more, the photos suggest that the tablet might sport one of the larger nine- or 10-inch touchscreens. No other details have been offered, however.
Verizon leaks: Mot tablet moves to 2011, and a "Droid Pro"
Rumors of a Motorola Android tablet to be sold by Verizon Wireless that have popped up over the last month gained further confirmation in a story by BoyGeniusReport. The Motorola tablet will indeed run Android 3.0 and offer a 10-inch screen, but won't arrive until February, says the story. The Motorola tablet will offer either 1GHz or 1.3GHz CPU, as well as a front-facing camera, says BoyGeniusReport.
The story is said to be based on a leak document from a Verizon source. Also tipped were several other Android-related products including a "Droid Pro" phone, as well as a Verizon label for the Samsung Galaxy Tab Android tablet (see below).
The Motorola tablet launch was originally targeted for a December release, but now, "Android 3.0 will probably hold up the release of that device and we should expect it around February 2011," says the story. This appears to hint at a delay for Android 3.0, which some reports have said could arrive as early as October.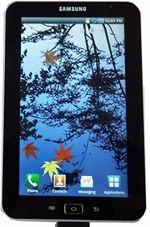 Other Verizon leaks reported by the BoyGeniusReport include:
Motorola is prepping a Droid Pro Android phone for a November launch, said to offer a 1.3GHz CPU, a four-inch screen, and global roaming capabilities. (But there's no word on the promised 2GHz Motorola Android phone.)
Motorola is working with Verizon on a "slab form-factor" phone with a touchscreen and global roaming that will run Android 2.2.
Verizon will offer a "global Android device" from both Samsung and HTC. (Hmm — this one is hard to picture, but moving right along…)
Verizon will offer Samsung's seven-inch Android tablet with front-facing camera. (This would appear to be the previously tipped Samsung Galaxy Tab tablet, pictured above, which one report has said will run Android 2.2 on an ARM Cortex-A8-based processor clocked at 1.2GHz.)
Verizon Wireless is on track to have at least 75 percent of the U.S. served by LTE 4G coverage by April 2012, and LTE pricing will remain at $60 a month for data cards.
An LTE version of the Linux-based Novatel MiFi device will arrive in January or February, and will support up to 10 simultaneous Wi-Fi users, compared to today's five-user models.
Waiting for Android 3.0
Motorola's tablet isn't the only such project that is waiting for the Android 3.0 secret sauce. While some tablets are already shipping with Android 2.1, with upgrades promised for 2.2, neither operating system is optimized for the resolutions required by screen sizes beyond the Dell Streak's five inches. As a result, Apple's iPad can enjoy several more months of tablet dominance before major Android competitors arrive.
The dilemma is explained in a story today by Kevin Kwang in ZDNet Asia, which interviews executives from Cisco and LG on why their companies are waiting for Android 3.0 to release their Android tablets. Android 2.2 ("Froyo") is limited to screen resolutions of 854 x 480 pixels and below, reducing the image quality of screens beyond five inches, the story explains. Gingerbread has been rumored to support screen resolutions up to 1280 × 760.
Neither the Cisco and LG execs stated outright that Android 3.0 would support higher screen resolutions, but Cisco's Peter Borup Jakobsen, director of collaboration architecture marketing at Cisco Systems Asia-Pacific, appeared to suggest as much in a roundabout way.

Indeed, most high-end tablet projects appear to be waiting for Android 3.0, even if that means missing the holiday shopping season. Cisco's Cius Android tablet (pictured at left), for example, is due in the first quarter. The Cius is aimed at enterprise users instead of consumers, however, so the timing works out just fine for them.
In early July, LG announced it was developing an Optimus-brand tablet for a variety of operating systems, including Android. On July 29, ComputerWorld published a report stating that LG revealed that the Android version of the tablet would ship in the fourth quarter.
Availability
The CrunchGear story on Best Buy tipping an upcoming Rocketfish tablet may be found here. The second Best Buy tweet, this time tipping Android support, may be found here, and the Androinica story reporting the Android tip should be here.
The BoyGeniusReport report on Motorola's tablet and other Verizon news may be found here.
The ZDNet Asia report on tablet makers waiting for Android 3.0 may be found here The ComputerWorld report on LG's Android tablet should be here.
---
This article was originally published on LinuxDevices.com and has been donated to the open source community by QuinStreet Inc. Please visit LinuxToday.com for up-to-date news and articles about Linux and open source.