Oct 11, 2011 — by Eric Brown — from the LinuxDevices Archive — 1 views
AT&T announced five new Android phones, led by the 4.3-inch, dual-core Motorola Atrix 2 and four-inch Samsung Captivate Glide QWERTY slider phone, both running Android 2.3 on dual-core processors. The other new AT&T Android phones include the 3.2-inch, QWERTY-enabled Samsung DoubleTime, the four-inch Pantech Pocket, and the ZTE-built AT&T Avail, which is available under the carrier's GoPhone prepaid brand.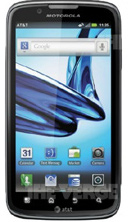 Need even more Android smartphone models to consider? We didn't think so. Yet, granted you can keep them all straight, there's always the possibility a phone with just the right mix of features is just a few clicks away.
AT&T is adding to the fun and confusion with five new Android smartphones for the holidays: the Motorola Atrix 2 (pictured at right), Samsung Captivate Glide, Samsung DoubleTime, Pantech Pocket, and AT&T Avail. All these phones are expected to appear by the end of the year, with pricing not yet listed.
If none of these devices — or the other 14 Android smartphones AT&T has announced this year — fits the bill, you'll be happy to know AT&T plans to release several more models by year's end.
Motorola Atrix 2
The Atrix 2 is a follow-up to Motorola's Atrix 4G, which was one of the first dual-core Android phones available in the U.S. when it debuted on AT&T in late February. The phone runs Android 2.3 on an unnamed dual-core, 1GHz processor, which may or may not be the same Nvidia Tegra 2 chip used on the original.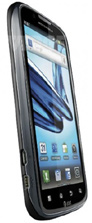 Pictured at left and above, the Atrix 2 ships with 1GB of RAM, 8GB of internal storage, and a 2GB microSD card, says AT&T. This 10GB flash total is down from the 16GB of storage provided with the earlier version.
Like the original, the Atrix 2 runs supports AT&T's 4G HSPA+ 21Mbps network, and it offers a 960 x 540 (qHD) display, says AT&T. The new version ups the screen size from four to 4.3 inches, however.
Other enhancements include an eight-megapixel camera in place of the previous five-megapixel model. The camera is said to be capable of 1080p video capture at 30 frames per second, with said videos being playbable on an HDMI-connected HDTV via mirror mode, says the carrier. A front-facing videocam is once again available, as well.
The phone is available with Motorola Lapdock 100 or HD Station accessories, both of which use Motorola's Webtop application to offer a full Firefox browser on either the Lapdock netbook or an attached HDTV, accordingly. Enterprise-focused features are said to include enhanced Microsoft Exchange options, as well as personal information management, encryption, and remote wipe apps.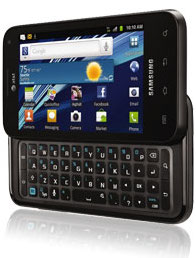 Samsung Captivate Glide
Like the Atrix 2, the Samsung Captivate Glide is a 4G HSPA+ 21Mbps smartphone that runs Android 2.3 on a 1GHz dual-core processor, in this case, the Nvidia Tegra 2. The phone is the heir to the Samsung Captivate — the name AT&T applied to its version of the Galaxy S design, running on a single-core 1GHz Samsung Hummingbird chip.
The Glide is not quite at the same level as the newly shipping AT&T version of the Samsung Galaxy S II, but it adds a side-slide QWERTY keyboard. Whereas the Galaxy II S offers a 4.3-inch Super AMOLED Plus display, the Captivate Glide settles for a four-inch, 800 x 480 Super AMOLED screen, the same specs offered on the original Captivate.
The Captivate Glide is equipped with 1GB of RAM, 1GB of internal flash, and an 8GB microSD card, says AT&T. The camera is upgraded to an eight-megapixel LED flash model with 1080p video recording. There's also a front-facing camera for video chat.
Once again, there seems to be a focus on enterprise features here, with the Captivate Glide said to offer enhanced Exchange ActiveSync support, as well as secure virtual private network access and device encryption.
Samsung DoubleTime
AT&T and Samsung have also teamed up on a low-end Android 2.2 model in the Samsung DoubleTime. The DoubleTime is said to be ideally suited for texting, multitasking, and staying connected to social networks, thanks to its "dual touch screen and full flip keyboard." The second display is not shown, but is likely a mini-display on the back of the device.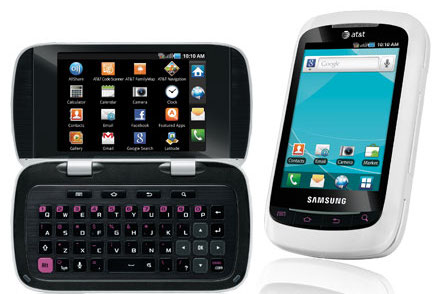 Samsung DoubleTime, open and shut
The 3.2-inch, 480 x 320 pixel phone runs on a 600MHz Qualcomm processor just like Grandpa's Android phone had back in 2009. The DoubleTime offers 260MB of RAM and a 2GB microSD card, says AT&T.
The same GSM/UMTA bands listed for the above phones are supported, but there's no support for HSPA+. The 3.2-megapixel camera features a camcorder, says the carrier. The DoubleTime is also said to offer a white and pink color scheme.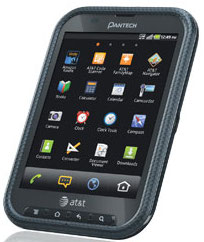 Pantech Pocket
The Pantech Pocket appears to be a counterpart to the company's 4.1-inch Pantech Breakout, available on Verizon with 4G LTE support for just $100 on contract. Aimed at users who value "social entertainment and messaging," the Pocket (pictured) offers a four-inch, 800 x 600 pixel display, as well as 4G support, although HSPA+ is not specifically mentioned.
No processor is listed for the Pantech Pocket, but the phone is said to offer 600MB of RAM, 2.5GB of included user memory, and a 2GB microSD card. A five-megapixel camera with LED flash and "HD" recording are also available, says AT&T.
The Pantech Pocket supplies Bluetooth 2.1 and Wi-Fi, which we imagine are also offered by the other phones announced by AT&T. In addition, it is touted for its thin 11.3mm (0.44-inch) profile and 4.66-ounce weight. Android Market is also said to be available.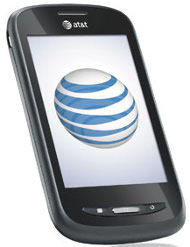 AT&T Avail
ZTE made the modest AT&T Avail, which is available via AT&T's GoPhone prepaid network. No processor is listed, but the Avail (pictured at right) offers 512MB of RAM, 512MB of internal memory, and a 2GB microSD card, according to AT&T.
A 3.5-inch capacitive touchscreen is available, along with Wi-Fi, a five-megapixel camera, and Android 2.3, says the carrier.
---
This article was originally published on LinuxDevices.com and has been donated to the open source community by QuinStreet Inc. Please visit LinuxToday.com for up-to-date news and articles about Linux and open source.