Feb 28, 2011 — by LinuxDevices Staff — from the LinuxDevices Archive — 3 views
Motorola's Atrix 4G smartphone provides a solid AT&T answer to Verizon Wireless' Droid lineup and the various Samsung Galaxy S Android handsets, says this eWEEK review. With features like a dual-core Nvidia Tegra 2 processor and HSPA+ support, the Atrix 4G is dubbed the best Android phone from AT&T yet.
The Motorola Atrix 4G is a powerful smartphone that is clearly the best Android handset to grace AT&T's lineup. The phone is scheduled to launch on AT&T Mar. 6 for $200 with a two-year agreement.
Finally! I've been testing Android phones such as Verizon Wireless' Droid phones since November 2009, and while I've played with a few Android gadgets at AT&T's stores I haven't really found one that I'd wanted to spend a lot of time testing. The Atrix 4G changes that mindset: I've been using the Android 2.2-based Atrix 4G for the last several days and found it to be a pleasure.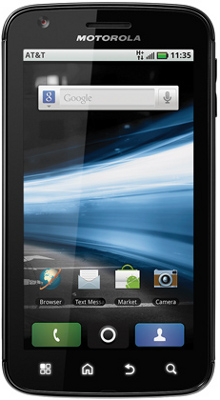 Atrix 4G
Running on a dual-core, 1GHz Nvidia Tegra 2 processor, the Atrix 4G offers 1GB of RAM, and 16GB flash storage, expandable up to 48GB. The phone also supports AT&T's HSPA+ network, which also helps to give the general impression the Atrix 4G is super-fast. The only Android device I've tested to date that was comparable was the Android 2.3-based
Samsung Nexus S
on T-Mobile.
The Atrix 4G is 4.6 inches long, 2.5 inches wide, and 0.4 inches thick, the perfect size for my hand. At 4.8 ounces, it's heavier than it looks, but not so heavy you'd fumble it in surprise. The phone's corners are rounded, much like the Samsung Galaxy S devices I've tested.
According to a recent iFixit teardown, the phone is not only well built, but is the most accessible and repairable phone the company's teardown team has ever encountered.
The four-inch screen sports another new technology from Motorola: Quarter high-definition (qHD), with a 960-by-540 resolution. While the Atrix 4G screen won't be mistaken for a Samsung Super-AMOLED display, it's close — very crisp, very bright. I could really tell the difference in screen quality holding it next to the Motorola Droid X.
Angry Birds, for example, on the Atrix 4G was gorgeous, running both faster and crisper on the screen. In fact, every app I tested appeared to zip better than on my Droid X. Apps that performed quite well include Facebook and Twitter for Android, YouTube, Google Places, Google Maps, Gmail, and Google Latitude, which is preinstalled in the app launcher.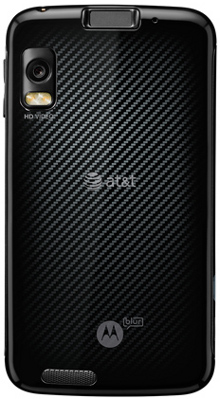 As for the OS, I'm more than comfortable with Android 2.2 ("Froyo"), which in my opinion is the first decent Android smartphone OS build. The touchscreen keyboard is something I'm very used to from my Droid X, although some reviewers have found the keys too narrow for their taste. Motorola says the Atrix 4G is getting the bump to Android 2.3 later this year, bringing a superior onscreen keyboard.
Motorola's MotoBlur UI stack, with all its Gmail, Facebook and other social network aggregation features, also rules the Atrix 4G. If you don't like Motoblur UI, don't buy this phone.
The Atrix 4G camera is a five-megapixel tool with digital zoom and LED flash. Pictures were crisp and bright. Snapping shots was actually quicker than on my Droid X, whose eight-megapixel camera suffers from some latency issues.
The front-facing VGA camera for video worked okay with the Qik for Atrix app, which I had to install from the Android Market. There is as of yet no native video chat app for the Android handsets. The only good mobile chat experience I've seen has been on my wife's iPhone 4 Facetime app.
The Atrix 4G captures video in 720p, with playback at 720p at launch, but Motorola said this will be upgraded to 1080p playback over the air later.
Call quality was fine. AT&T's network works well here in my stretch of Fairfield County, Connecticut. Battery life for Android handsets keeps getting better, and the Atrix 4G's 1930mAh model offered longer durations than my Droid X, although the X has a slightly larger 4.3-inch screen. I could play Angry Birds for hours on the Atrix 4G without dinging the battery. Not that I did, of course.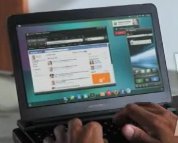 In the future, we hope to report on the Atrix 4G's unusual laptop dock accessory (pictured at left), which has been both praised and critiqued in early previews. The dock offers both its own version of Firefox and a "Webtop" app that displays the Atrix 4G's output on the larger screen.
There are some things I don't like about the Atrix 4G. The default search is Yahoo, not Google like the way it is on the Droids, or Bing like the way it is on the Samsung Fascinate or Continuum.
An odd note: While Yahoo is the default search, the voice search icon in the Yahoo browser bar offers Google Voice Search when you tap the button. So if you input text with your fingers, you get Yahoo results, but voice-powered searches are handled by Google. Moreover, Vlingo's voice search app has been pre-integrated to provide spoken search commands.
Fortunately, the Atrix 4G employs a Google search bar across the top of one of the seven customizable homescreens, so you can always tap that to search by hand or voice. In addition, AT&T has loaded the phone with its usual bloatware, including AT&T Navigator (the VZ Navigator counterpart) and AT&T Code Scanner. There is also the AT&T U-Verse Mobile Live TV app, which is probably great if you're a U-Verse subscriber. Enough said.
Also — and this may seem persnickety — I hate the power button which sits atop the phone in a sort of bezel, which means I have to put my finger in a little hole a certain way. This is cumbersome for me. I much prefer the raised button on the Droid X.
Overall, though, if you're an AT&T person and want to go with a high-end Android handset (or an Android person and want to go AT&T, as it were), the Atrix 4G should be a strong consideration.
Clint Boulton is a writer for our sister publication eWEEK.
---
This article was originally published on LinuxDevices.com and has been donated to the open source community by QuinStreet Inc. Please visit LinuxToday.com for up-to-date news and articles about Linux and open source.