Dec 18, 2008 — by LinuxDevices Staff — from the LinuxDevices Archive — 20 views

Adlink announced a Linux-friendly ETX computer-on-module (COM) using Intel's Atom N270. Targeting "truly fanless or deeply embedded systems," the "ETX-AT" offers up to 2GB of memory, 10/100 Ethernet, dual IDE/PATA channels, two SATA ports, four USB ports, plus serial, parallel, PS/2, and audio interfaces, says Adlink.
(Click here for a larger view of Adlink's ETX-AT)
Adlink's COM product line includes both ETX and COM Express modules. The company positions the former as being for those who wish to create PCI/ISA oriented designs, and the latter for those who want to create PCI/PCI Express designs.


Adlink's Express-AT is the ETX-AT's COM Express equivalent
(Click image for further information)
At the end of October, the COM Express side of the operation gained the Atom N270, via the Express-AT (right), a 4.9 x 3.7 inch module that complies with the COM Express Type 2 format. Now, thanks to this month's release of the ETX-AT, ETX fans have an equivalent product to call their own.
Like the Express-AT, the ETX-AT is touted as offering a seven-year production-life guarantee. The 4.5 x 3.7 COM complies with the ETX 3.0 standard first introduced by Kontron in 2006, which means that while it has sprouted two SATA ports, its main connector remains compatible with any ETX carrier board.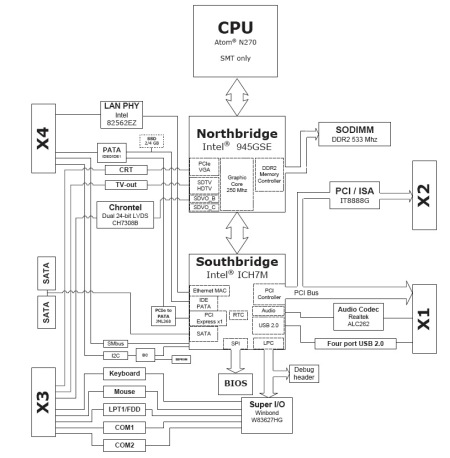 A block diagram of Adlink's ETX-AT
(Click to enlarge)
As the above block diagram indicates, the ETX-AT sports the 1.6GHz N270 CPU so often found in netbooks (and also found in Kontron's own, competing
ETX-DC
COM). Naturally, then, the module also comes with the N270's fellow travelers, the 82945GSE northbridge and ICH7 southbridge.
Adlink cites Intel's own claim of a 2.5 Watt TDP for the N270, but doesn't confess that the 945GSE and ICH7M conspire to consume an additional 6.5 Watts. In any case, fanless operation of the ETX-AT is confirmed by the company, which lists optional heat spreaders and passive heatsinks for the module.
The ETX-AT comes with a single SO-DIMM slot, which supports up to 2GB of "mainstream" DDR2 memory. Unlike some COMs, this one doesn't have a CompactFlash slot, but it may be ordered with up to 4GB of soldered-on memory, says Adlink.
The two SATA ports mentioned earlier, visible on the top left of the ETX-AT, are the only "real-world" connectors to be found on the device. As expected for this type of module, the ETX-AT's other interfaces all reach the outside world via the ETX connector itself, and thence to an available dev board or customer-designed baseboard or carrier board.
According to Adlink, the ETX-AT's interfaces include support for dual independent displays, which can be LVDS-connected flat panels, analog CRTs, or TVs. The device also has four USB ports, two IDE PATA channels, two serial ports, a parallel port, a PS/2 keyboard/mouse interface, and audio I/O.
Finally, the ETX-AT has a TPM (trusted platform module), using the Infineon SLB9635TT chip. The COM supports 32-bit, 33MHz PCI and 16-bit ISA expansion buses, thanks to a ITE8888G bridge chip, Adlink adds.
Features and specifications cited by Adlink for the ETX-AT include:
Processor — Intel Atom N270 running at 1.6GHz, 512MB second-level cache

Memory — Up to 2GB of DDR2 DRAM

Display — LVDS flat panel, CRT, or television output with shared video memory; resolutions up to 2048 x 1536 on CRT and up to 1024 x 768 on televisions

Networking — 10/100 Ethernet

Other I/O:

2 x SATA
2 x serial

4 x USB 2.0

1 x parallel, shared between floppy/LPT
Line input/output and microphone input

1 x PS/2 for keyboard and mouse
1 x IrDA

Expansion — Interface support for ISA and 32-bit 33MHz PCI
Power — 5VDC, AT or ATX modes

Dimensions — 4.5 x 3.7 inches (114 x 95mm)

Operating temperature — 0 to 60 deg. C
Henk van Bremen, a product director for Adlink's embedded division, said, "We expect many system integrators to use the ETX-AT to upgrade older generation modules used in currently running projects because of its better value, lower price and seven year warranted production lifetime."
Further information
Adlink did not provide pricing or availability information for the ETX-AT. Operating system support, on the other hand, is said to include Linux 2.6.x, Windows XP and XP Embedded, Windows Vista, Windows CE 5.0 and 6.0, and VxWorks.
More information about the ETX-AT may be found on the Adlink website, here, where registration is needed to view BSP details.
---

This article was originally published on LinuxDevices.com and has been donated to the open source community by QuinStreet Inc. Please visit LinuxToday.com for up-to-date news and articles about Linux and open source.