May 4, 2011 — by Eric Brown — from the LinuxDevices Archive — views
After completing its acquisition of Novell, Attachmate has laid off hundreds of U.S.-based employees — including members of Novell's Mono project — and re-established Nuremberg, Germany as the headquarters for the SUSE business unit, say an industry report. Meanwhile, a U.S. appeals court reversed a summary judgment that could revive Novell/Attachmate's anti-trust lawsuit against Microsoft.

Less than a week after completing its acquisition of enterprise software maker Novell, Attachmate has laid off as many as 700 to 800 of Novell's employees, according to the Utah's Daily Herald. These include an unknown number of employees on the open source Mono project, according to an InternetNews story.
The latter story also reported that the SUSE business unit, which sells the open source SUSE Linux Enterprise (pictured) and hosts the community OpenSUSE distro, was being returned from Waltham, Mass. to its original headquarters in Nuremburg, Germany.
In response to questions about layoffs, Jeff Hawn, Chairman and CEO of The Attachmate Group, released a statement to InternetNews that read: "We have re-established Nuremburg as the headquarters of our SUSE business unit and the prioritization and resourcing of certain development efforts — including Mono — will now be determined by the business unit leaders there. This change led to the release of some US based employees today."
Hawn went on to state that "all technology roadmaps remain intact."
Despite this assurance, the statement suggested the possibility that the Mono project, which makes an open source Microsoft .NET clone called Mono and a Silverlight clone called Moonlight, might be sharply reduced or shut down entirely.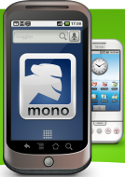 The Register speculated that at the very least the project would likely be stripped of recent sub-projects including its recently announced Mono for Android, (pictured). This Visual Studio plug-in is said to enable .NET application development for Android. A similar plug-in for iOS was previously released.
According to the report in the Daily Herald, at Novell's Provo, Utah headquarters yesterday, "hundreds of employees were packing up personal belongings and being laid off."
According to a Novell employee interviewed by the publication, many of the layoffs hit the human resources, finance, accounting, and legal departments, as well as "under-performing departments." However, there were also signs that many laid-off employees were quickly being hired by others, says the story.
SUSE splits off

Last week, Attachmate announced the completion of its $2.2 billion acquisition of Novell, which was announced in November. Attachmate also said the company was moving its headquarters back to Provo, Utah, where it was founded in 1979, according to a story in our sister publication eWEEK. In 2003, Novell moved its headquarters to the Boston suburb of Waltham, which is also losing its SUSE Linux operations to Nuremburg where SUSE was first developed.
Novell now operates as two business units under the Novell and SUSE Linux brand names, joining Attachmate and NetIQ as holdings of the Attachmate Group, eWEEK reported last week.
At that time, Attachmate CEO Hawn told eWEEK, "We underscore our commitment to it by making SUSE [Linux] a standalone business unit. The whole combination is good for us because there was a large overlap in the customer base between Attachmate/Net IQ and Novell/SUSE, and no overlap at all in the technologies."
While it appears Attachmate will strengthen SUSE Linux in the hopes of duplicating rival Red Hat's success in recent years, the Mono project may be on shakier footing. Mono has been controversial in the open source Linux community, due to Novell's cozy relationship with Microsoft and questions surrounding patents that Microsoft may claim over the technology.
Yet, Mono has also been undeniably useful. As Sean Michael Kerner of InternetNews writes, "Yes, I know, there are lots of people that don't like Mono and its Microsoft styled technology. I also know a lot of people (including me) that rely on it as a way to run .NET on Linux." He goes on to call it "an essential part of the Linux ecosystem."

Mono has also been undeniably useful to Microsoft, helping to extend its technologies while strengthening its claims that .NET and Silverlight are cross-platform products. In fact, Kerner even speculates that Microsoft might hire the laid-off Mono employees, led by open source pioneer Miguel de Icaza (pictured), the fate of whom was still unknown as this story was published.
Attachmate wins appeal on anti-trust lawsuit against Microsoft
Last year, Microsoft won a summary judgment against a 2004 anti-trust lawsuit by Novell, arguing that the latter's allegations were subject to a deal it signed with Caldera in 1996. This week, a U.S. appeals court overturned that judgement, "paving the way for Novell to take one final anti-trust stab at Redmond," according to a separate report in the Register.
Novell alleged in its original 2004 suit that Microsoft withheld technical information about Windows, and that it integrated specific technologies to exclude Novell's WordPerfect "from relevant markets." Novell also claimed that Microsoft put the squeeze on OEMs not to bundle the suite, according to the story.
As the Inquirer puts it, the new ruling by a 2:1 majority in the Fourth Circuit court in Virginia means "Microsoft might have to pay out once more to Novell for its past anti-competitive practices," suggesting the amount could add up to billions of dollars. Microsoft settled outstanding litigation with Novell related to Unix in 2006 with a payment of $350 million.
In March of this year, it was announced that the acquisition of Novell had been delayed due to questions from the U.S. Department of Justice over Attachmate's sale of 882 Novell patents to a Microsoft-led consortium of vendors. The patents, which have now apparently been approved, are widely believed to be related to WordPerfect.
If Attachmate really is releasing the Mono project to the wilds, it could be that it wanted to disentangle itself from Microsoft prior to reviving its suit against the company. Yet all this should become clear soon enough.
Thirty-year-old Attachmate, which has about 65,000 customers, is a privately held IT host connectivity and systems/security management integrator that has offices on six continents and is headquartered in Seattle. It is owned by an investment group led by Francisco Partners, Golden Gate Capital and Thoma Bravo.
---
This article was originally published on LinuxDevices.com and has been donated to the open source community by QuinStreet Inc. Please visit LinuxToday.com for up-to-date news and articles about Linux and open source.