May 19, 2010 — by Eric Brown — from the LinuxDevices Archive — 1 views
Novell announced SUSE Linux Enterprise (SLE) 11 Service Pack 1 (SP1) in server and desktop versions. SLE 11 SP1 advances the server version's virtualization capabilities with full support for KVM, also boosting high availability clustering support, while the desktop version updates audio, Bluetooth, and multi-monitor support, Novell says.
Fresh from rejecting a takeover attempt in March and winning a Linux-related patent lawsuit earlier this month (see farther below), Novell has released its first upgrade to version 11 of SUSE Linux Enterprise Desktop (SLED) and SUSE Linux Enterprise Server (SLES).
The release comes over a year after SUSE Linux 11, which bulked up on virtualization and cloud computing features while integrating both a high availability (HA) extension and the Mono project extension for .NET compatibility.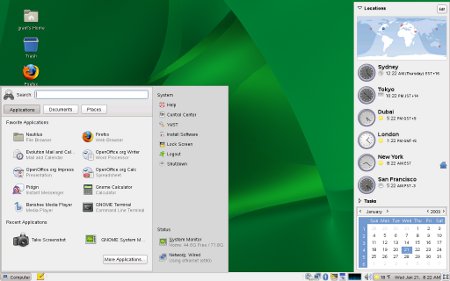 SLED 11 SP1, main screen
(Click to enlarge)
As with SLE 11, most of the action in SP1 addresses the server side, where Novell aims to keep pace with Red Hat on virtualization and cloud computing support. A particular focus for SLED 11 SP1 is HA clustering, with new support for metro area clusters, as well as simple node recovery with the "ReaR" open source disaster recovery framework, says Novell. Additional HA clustering-related enhancements are said to include new administrative tools such as a cluster simulator and web-based GUI.
"With SP1, we are adding support for clustering together clusters into metro area clusters, and we have introduced an algorithm to ensure that we offer failover in these deployments," said Kerry Kim, Novell's senior product marketing manager, SUSE Linux Enterprise, in a recent briefing with LinuxDevices. "We've also added support for storage space controls in clustering environments, and added cluster sync features."
Virtualization has also received a boost, with full support for KVM (Kernel-based Virtual Machine), instead of the previous preview version. Novell is also standing fast with the Xen hypervisor, from which Red Hat is backing away. SP1 includes the latest Xen 4.0 version, which offers significantly improved virtual input/output performance, says the company.
"There are pros and cons for both KVM and Xen," said Kim, explaining his company's dual-hypervisor strategy. "We feel we offer the broadest virtualization support in the industry. We want our customers to choose the technology that works best for them."
SP1 also offers enhanced support for Linux integration components in Microsoft's Hyper-V hypervisor. This appears to reflect last year's surprise move by Microsoft to release 20,000 lines of code under GPLv2 for three Linux device drivers designed to speed the performance of the operating system when it's run in a Hyper-V virtual machine. Developed by Microsoft's Open Source Technology Center (OSTC), the three Linux drivers enhance the performance of Linux when virtualized on Windows Server 2008 Hyper-V or Windows Server 2008 R2 Hyper-V server virtualization platforms.
Muscling up with Xeon 7500 support
SLE 11 SP1 is the first enterprise Linux distribution with an updated 2.6.32 kernel, claims Novell. The new kernel helps to leverage the RAS (row address strobe) memory protection features in the Intel Xeon 7500 (pictured below) and Intel Xeon 5600 series processors. Specific features include MCA recovery and improved MPIO hardware support, says the company.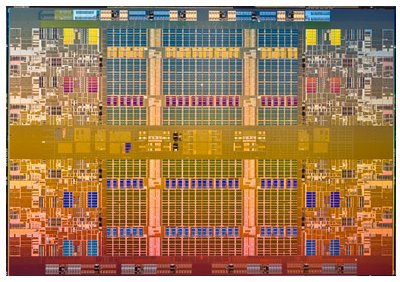 Eight-core version of Intel's Xeon 7500 "Nehalem EX"
The new release also supports the processors' floating point and cryptographic features, resulting in improved performance and security, says Novell. The release offers specific support for AES-NI cryptography, as well as Intel Rapid Storage Technology Enterprise, which has been fully implemented for robust software RAID, says Novell.
While the press release mentions only the Intel chips, Novell's Kim told us that SP1 supports similar RAS features in the new AMD Opteron 6000 "Magny-Cours" chips. Announced about the same time as the Xeon 7500, the Opteron 6000 similarly targets high performance computing (HPC) applications.
Smooth SLEDing
SUSE Linux Enterprise Desktop (SLED), which draws upon upstream innovations in the Novell-sponsored OpenSUSE community desktop distribution, has also been upgraded, bringing improved audio and Bluetooth support, including enabling a variety of headsets for usage with applications like Skype.
In addition, SLED 11 SP1 has been updated with the latest versions of the Gnome desktop, as well as Firefox, OpenOffice.org, and the Evolution mail client (pictured below, right).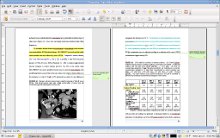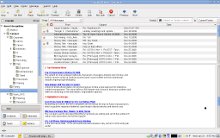 SLED 11 SP1's updated Writer app (left) and new release of Evolution mail client (right)
(Click on either to enlarge)
SLED 11 SP1 adds multiple monitor support, so, for example, users can move seamlessly from a docking station to a projector, says Novell. Other new features are said to include improved HTML5 support, a new drag-and-drop API, as well as MAPI enhancements for enhanced interoperability with Microsoft Exchange.
More flexible support and upgrade options
All the SLE 11 SP1 versions are available with more flexible support options "that will allow customers to remain on older package releases during the product's life cycle," says Novell. Customers can decide when and how to upgrade, including Long Term Service Pack Support for customers that want full technical support and fixes back-ported to earlier releases, says the company.
In addition, Novell's Partner Linux Driver Program has been improved, says Novell. Customers can now receive the latest supported hardware drivers and kernel modules from the Novell partner ecosystem "in a timely manner," says the company.
Novell fends off acquisition and lawsuit, keeps on ticking
The SP1 release is arriving after a tumultuous spring for the Linux software and services firm. In early March, Elliot Associates made a $2 billion bid to acquire Novell. By the end of that month, however, Novell's directors had rejected the offer.
On May 3, meanwhile, a jury in East Texas ruled that user-interface patent infringement claims filed against Red Hat and Novell by IP Innovation, a subsidiary of Acacia Research and Technology Licensing, were "invalid and worthless." IP Innovation originally filed the litigation against Novell and Red Hat in 2007, claiming that the companies had infringed on three patents that described technologies for sharing workloads among remotely located computers.
Stated Dr. Stefan Schimanski, head of Linux Competence and Service Center, DFS Deutsche Flugsicherung, "As an Air Traffic Control service provider, we naturally place the highest demands on the quality and reliability of the software products we use. SUSE Linux Enterprise 11 fully meets these requirements, which makes it our strategic choice for mission-critical systems."
Stated Doug Fisher, VP, Intel Software and Service Group and GM, System Software Division, "The combination of Intel Xeon processor 7500 and 5600 series and SUSE Linux Enterprise 11 Service Pack 1 provides even more opportunity for enterprise customers to run the most mission-critical workloads, replace costly legacy proprietary platforms, and deploy virtualized workloads for data center operational efficiencies."
Availability
SUSE Linux Enterprise 11 Service Pack 1 (SP1) will be generally available on June 2, says Novell. Preview DVDs are available today at BrainShare EMEA. For a limited time, qualifying customers can receive free training, migration assistance, and unlimited virtualization support. More information on the program and SP1 in general may be found here.
Novell is launching a Linux Day 2010 Tour across the U.S. featuring SUSE Linux Enterprise 11 Service Pack 1, starting in New York and California. More information on the tour may be found here.
A preview of SLE 11 SP1 in the Register, which focuses on processor support, may be found here.
---
This article was originally published on LinuxDevices.com and has been donated to the open source community by QuinStreet Inc. Please visit LinuxToday.com for up-to-date news and articles about Linux and open source.