Sep 16, 2010 — by Eric Brown — from the LinuxDevices Archive — 55 views
Avaya announced an an 11.6-inch WXGA tablet and docking station that runs Android, along with additional enterprise-focused videoconferencing products and services. Avaya Flare Experience runs on the Atom-based, tablet-like Avaya Desktop Video Device, and offers collaboration capabilities across video, voice and text, says the company.
The Android-based Avaya Flare Experience software "will soon be made available for other environments, including PCs, laptops, tablet PCs, and smartphones," says Avaya. Initially, however, it debuts on a new tablet-like Avaya Desktop Video Device with Avaya Flare Experience, which is likely to be nicknamed the more memorable "Avaya Flare."
Like the Cisco Cius, the Flare focuses on enterprise conferencing and will be among the first devices to run Android on the Intel Atom.
The Avaya Flare is part of a major push by the decade-old enterprise communications software vendor into the videoconferencing and collaboration software and services market. The new solutions range from the Avaya Flare tablet to multi-screen room videoconferencing systems.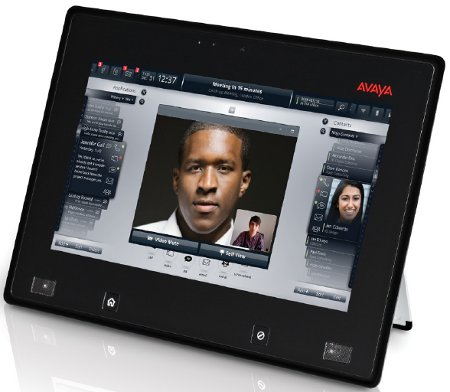 Avaya Desktop Video Device with Avaya Flare Experience
(Click to enlarge)
The products are all said to be based on a new Avaya Aura 6.0 unified communications architecture for multi-vendor, multi-location, and multi-modal communications. Announced in July, Avaya Aura 6.0 is based on the Session Initiation Protocol (SIP) IP telephony standard.
The Avaya Flare is specifically said to make use of Avaya Aura Conferencing and the Linux-based Avaya Aura Messaging software.
Avaya Desktop Video Device
The Avaya Desktop Video Device with Avaya Flare Experience can be used as a desktop conferencing computer, a portable conferencing tablet, or as a customer kiosk, says Avaya. The Avaya Flare tablet features an 11.6-inch, 1366 x 768 multitouch display, says the company.
A front-facing five-megapixel camera supports 720p video capture at 30fps, but the device lacks the secondary camera found on Cisco's Cius. HD-quality voice is supported by built-in dual microphones and stereo speakers, says the company.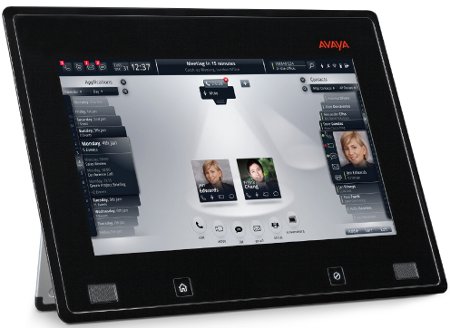 Avaya Flare
(Click to enlarge)
The Avaya Flare device enables campus-wide mobility via SIP wireline services, as well as 802.11b/g/n Wi-Fi, says Avaya. The device also features Bluetooth 2.1, a gigabit Ethernet port, and two USB 2.0 ports.
According to Avaya, the USB ports can be used for connecting an optional 3G radio, a thumb drive, a keyboard, or a SIP telephone handset. The latter is available with a cradle, supports "wideband" 7KHz audio, and offers a TDD acoustic coupler, says the company.
A lithium-polymer battery is said to offer a minimum of three hours of battery life, and a docking station is available for recharging. Upcoming versions will support remote access over VPN connections, as well as 4G access, says Avaya.
Acco

rding to a NetworkWorld report comparing the Flare's specs with the Cius (pictured at left), the Avaya Flare device runs Android 2.1 on the same CPU, a 1.6GHz Intel Atom. The story also reports that the Avaya device is equipped with 1GB RAM and 4GB flash, and offers an HDMI port, a 3.5mm headphone jack, and a micro-USB port.
The Avaya Flare device measures 13.0 x 9.25 x 0.625 inches and weighs a hefty 3.25 pounds, says NetworkWorld. Avaya plans to ship the device in the fourth quarter for about $2,000, says the story, whereas Cisco will sell its Cius for an unstated price in 1Q 2011, apparently waiting for the higher screen resolutions promised in the upcoming Android 3.0.
Avaya Flare Experience interface
The Android-based Avaya Flare Experience software integrates desktop voice and video, social media, presence, instant messaging, and audio/video/web conferencing, says Avaya. Other features are said to include a consolidated view of multiple directories, and context history.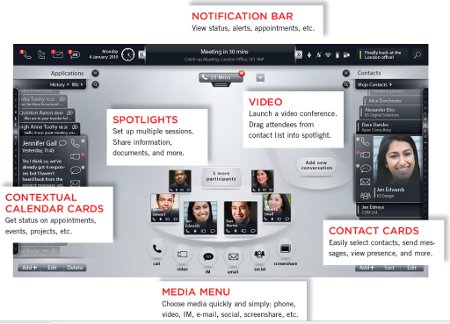 Avaya Flare Experience with scrolling contact menus on the right
(Click to enlarge)
The drag-and-drop touchscreen interface is built around a central spotlight area that highlights active communications, says Avaya. There is also a scrolling, Rolodex-like menu on the right side of the screen that is said to provide a unified view of multiple directories, including corporate, personal, Facebook, and Twitter directories.
Each contact profile shows the types of communications available for each user, as well as their availability, says the company. A pop-up keyboard appears when a user taps a text-based icon under a contact's photo.
Other touted features include the ability to separate from a call for sidebar interactions via voice, email, or IM, and then rejoin the original call again.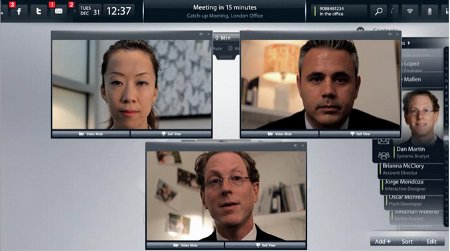 Avaya Flare with multipoint video communications
(Click to enlarge)
The Avaya Flare Experience may not be instantly recognizable as Android, but it offers some familiar Android touchpoints, including Google Maps integration, a web browser, and social networking widgets. According to
NetworkWorld,
Android Market access is available, and Avaya says that users have access to "the ever-growing set of Android-based tools," including access to the Android SDK for app development.
The Avaya Flare Experience and Avaya Desktop Video Device appear to require Avaya's Aura-based enterprise infrastructure. The company also announced a new Aura-based Avaya Collaboration Server that includes Avaya's Communications Manager, Presence Manager, Session Manager, and System Manager software. The Collaboration Server is said to support up to 50 H.323 and/or SIP endpoints at once, and is due to ship in February.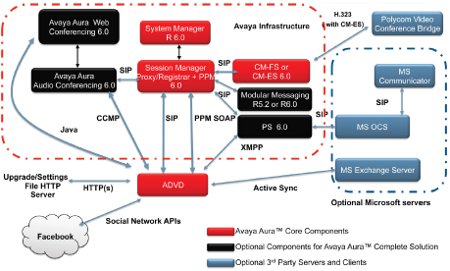 Avaya's Aura infrastructure diagram
(Click to enlarge)
The company also announced a variety of Avaya Video Conferencing Solutions, ranging from desktop video PC clients (Avaya one-X) to small group systems (Avaya 1010 and 1020) to large, multi-screen conference room systems, including the Avaya 1030, 1040, and 1050. There is also an Avaya Videoconferencing Manager 6.0 package, which includes conference scheduling, configuration, and monitoring functions accessible from Avaya Aura System Manager.
Stated Kevin Kennedy, president and CEO of Avaya, "We're delivering a more potent collaboration experience at one-third the cost using substantially less bandwidth over other solutions on the market today."
Availability
Avaya offered no details on the availability of its Avaya Desktop Video Device with Avaya Flare Experience, but accrording to NetworkWorld, the device will ship in the fourth quarter for about $2,000. More information, including brochures, videos, and flash demonstration may be found here.
Avaya is offering a live webcast of the Avaya Flare Experience today, with sign-up available here.
The NetworkWorld story on the Avaya Flare may be found here, and its spec comparison with the Cius should be here.
---
This article was originally published on LinuxDevices.com and has been donated to the open source community by QuinStreet Inc. Please visit LinuxToday.com for up-to-date news and articles about Linux and open source.