Sep 13, 2010 — by LinuxDevices Staff — from the LinuxDevices Archive — 1 views
A Google executive has stated that Android 2.2 is not optimized for tablet computers, and that in particular, Android Market will not run properly on tablets. Meanwhile, the Android 2.2 based Samsung Galaxy Tab tablet will be offered by Verizon Wireless, AT&T, and Sprint, say reports.
A Google product manager triggered a bit of controversy when he stated the simple fact that Android 2.2, the current "Froyo" build, is not optimized for the tablet form factor. Hugo Barra, director of mobile products for Google, told TechRadar that Android Market is not going to be available on devices that don't allow applications to run correctly.
"Which devices do and which don't will be unit-specific, but Froyo is not optimized for use on tablets," Barra told the publication. "If you want Android market on that platform, the apps just wouldn't run; [Froyo] is just not designed for that form factor."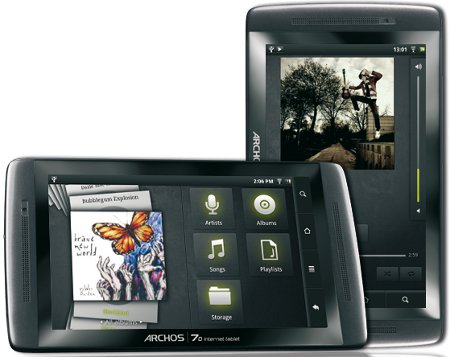 Archos' Android 2.2 tablets, such as its Archos 70, lack Android Market, but offer selected apps via the Archos' AppsLib store. Samsung, meanwhile, says that its Galaxy Tab (pictured below, right) will offer Android Market.
That is not to say Froyo won't work on tablets. Samsung, Archos, and others are setting out to prove the point. Android 2.2 is the current operating system of record for fresh-to-market tablet computers such as the as-yet-unreleased
Samsung Galaxy Tab
and the crop of
five Archos tablets
(pictured above) making their way to the U.S. market in September and October.
Samsung declined to make a statement defending its choice to use Android 2.2 for the Galaxy Tab. However, a spokesperson for the company pointed to the information about screen sizes from Google's Android developer website (see link farther below).
The Google page notes, "Applications do not need to work with the actual physical size or density of the device screen. At runtime, the platform handles the loading of the correct size or density resources, based on the generalized size or density of the current device screen, and adapts them to the actual pixel map of the screen."
In other words, applications running on Android 2.2-based tablets will work, even if they won't be perfect for the seven-inch screen of the Galaxy Tab.
Android 3.0, code-named Gingerbread, is expected to remedy this. Though a Google spokesperson declined to confirm whether that future OS build will be optimized for the tablet form factor, Gingerbread is expected to offer 1280 by 760 resolution for devices with displays of four inches or more.
Gingerbread would seem to pave the way for Android tablets. Indeed, there is an Android 3.0 tablet on Verizon's road map for early 2011.

Samsung Galaxy Tab to span three U.S. carriers, says report
Meanwhile, the Wall Street Journal reported (paywall) Sept. 10 that Verizon Wireless, AT&T and Sprint all plan to offer the Samsung Galaxy Tab (pictured) to consumers. eWEEK has previously reported that Verizon Wireless was a carrier choice for the Galaxy Tab, based on evidence spotted on the carrier's internal systems.
That major U.S. carriers would sell the Galaxy Tab makes sense. The tablet is an extension of the Samsung Galaxy S smartphone line, which contains one Android 2.1-based handset for each of the four major U.S. wireless carriers.
Availability
The TechRadar story on Barra's statements about Froyo's tablet support may be found here.
Google's Android developer website for supported screen resolutions, which shows optmized display support topping out at 5.8 inches using FWVGA (854 x 480), may be found here.
The Wall Street Journal report on U.S. carriers' plans for offering the Samsung Galaxy Tab may be found here.
Clint Boulton is a regular contributor to our sister publication, eWEEK.
---
This article was originally published on LinuxDevices.com and has been donated to the open source community by QuinStreet Inc. Please visit LinuxToday.com for up-to-date news and articles about Linux and open source.