May 27, 2010 — by Eric Brown — from the LinuxDevices Archive — 56 views
BeagleBoard.org has tipped a new version of its open-platform development board for hobbyists, sporting a faster 1GHz ARM Cortex-A8 SoC and twice the memory. The BeagleBoard-xM runs an upcoming Texas Instruments "DM3730" processor with 512MB of low-power DDR RAM, and a new on-board, four-port USB hub with 10/100 Ethernet, all in a 3.25 × 3.25-inch footprint.
The BeagleBoard-xM page was noted yesterday by Jonathan Angel, Editor-in-Chief of our sister site, WindowsForDevices, while researching a newly updated Windows CE board support package (BSP) for the BeagleBoard. As he reported, BeagleBoard.org's product page for the xM touted the new device as using a Texas Instruments (TI) DM3730 processor clocked at 1GHz.

Angel further discovered that the BeagleBoard-xM had actually been mooted months ago in a little-noticed blog entry by Jason Kridner (right), open platforms principal architect for TI's application processor group. With a slightly enlarged footprint of 3.25 x 3.25 inches, the xM includes a "yet to be announced" DM3730, plus "extra memory and extra MHz," Kridner wrote in a Jan. 14 "Annual State of the Beagle" posting.
Additional details revealed by Kridner in January include:
an onboard USB hub device, providing a 10/100 Ethernet port and four USB host ports
switching from a full-size SD/SDIO/MMC+ slot to a microSD slot on the bottom-side of the board
switching from a 10-pin header to a standard DB-9 serial cable connector in DTE configuration for direct use with a null modem cable
increasing the board size from 3.1 x 3 inches to 3.25 x 3.25 inches, while keeping the mounting holes and expansion headers at the same position relative to the mounting holes
adding a camera port compatible with sensors from Leopard Imaging
After Angel's WindowsForDevices story ran yesterday, BeagleBoard.org removed schematics (reproduced below, and still available on Flickr, here) that had referenced the DM3730 from its BeagleBoard-xM product page. Presumably, they'll be reinstated when TI has actually announced the processor!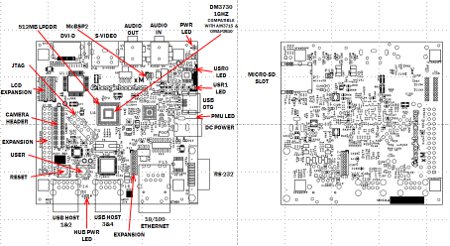 BeagleBoard-xM schematics
(Source: BeagleBoard.org)
(Click to enlarge)

Meanwhile, the project has made up for the deletion with an interesting photo of the board highlighting I/O details (see image below). The diagram refers to a system-on-chip (SoC) with 2,000 Dhrystone MIPS, compared to the 1,400 Dhrystone MIPS touted for the BeagleBoard's 720MHz OMAP3530.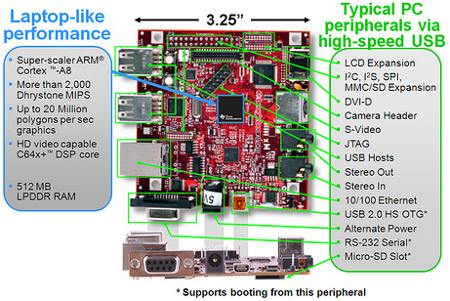 BeagleBoard-xM detail
(Source: BeagleBoard.org)
Like the current SoC, the new 1GHz replacement will offer a TI C64x+DSP video subsystem. Unlike the 720MHz OMAP3530, however, the SoC apparently supports HD video, although it is not clear whether this is full 1080p HD. Judging by the mention of OpenGL development in the list of applications farther below, the SoC also appears to maintain OMAP3530's OpenGL ES 2.0 3D graphics engine.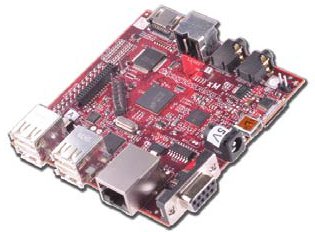 BeagleBoard-xM
(Source: BeagleBoard.org)

The list of specs for the BeagleBoard-xM, as duplicated exactly from the current, revised version of the BeagleBoard-xM page, include:
Super-scalar ARM Cortex -A8
512MB LPDDR RAM
High-speed USB 2.0 OTG port optionally powers the board
On-board four-port high-speed USB 2.0 hub with 10/100 Ethernet
DVI-D (digital computer monitors and HDTVs)
S-video (TV out)
Stereo audio out/in
High-capacity microSD slot and 4GB microSD card
JTAG
Camera port
Validation and demonstration image from the Angstrom [Linux] Distribution
Some possible applications listed for the BeagleBoard-xM include:
Web services
3-D gaming
3-D UI
Linux kernel and driver development
Boot loaders and firmware
UI framework
ARM NEON codecs
Codec plug-ins for GStreamers
OpenGL applications
OpenMAX IL applications
Ubuntu , Android , MeeGo, WinCE, QNX, Angstrom, Symbian, Debian, Gentoo, and others
Home media centers
In-vehicle entertainment
Robotics
Web kiosks
Of particular note above is the expansion of operating systems to OSes such as Ubuntu, Android, and MeeGo. Ubuntu's appearance here is likely the result of the expanded 512MB memory, compared to the 256MB found on the current BeagleBoard (pictured at left) or the original version's 128MB.
BeagleBoard background
Developed by Texas Instruments (TI) employees as a way to expand OMAP3530 development, the 3.0 x 3.0-inch BeagleBoard shipped in July 2008 for $150, distributed by Digi-Key. A BeagleBoard Revision C was released in May 2009, doubling memory to 256MB, while adding a second high-speed USB port and an LCD expansion connector.
Earlier this year, the BeagleBoard project released a faster BeagleBoard with the newer 720MHz version of the OMAP3530 (Rev. E). As with the earlier BeagleBoard, it ships with a Linux board support package (BSP).
Availability
According to BeagleBoard.org, the new BeagleBoard-xM will be announced on June 7, and will presumably be available shortly thereafter. Since the device will cost about $30 more than the current $150 BeagleBoard, the latter device will continue to be sold as well, Kridner's January posting suggested.
The BeagleBoard.org product page for the BeagleBoard-xM may be found here. Jason Kridner's "Annual State of the Beagle Report" posting introducing the device may be found here.
---
This article was originally published on LinuxDevices.com and has been donated to the open source community by QuinStreet Inc. Please visit LinuxToday.com for up-to-date news and articles about Linux and open source.