Jul 28, 2008 — by LinuxDevices Staff — from the LinuxDevices Archive — 33 views
[Updated Jul. 29] — Digi-Key is distributing a low-cost board aimed at low-volume embedded developers, hobbyists, and students. The U.S.-based distributor of single-board computers and other embedded development products says the $150, 3-inch-square Beagle Board offers an opportunity to evaluate ARM's… Cortex-A8 and TI's OMAP3 architectures.
(Click for larger view of the Beagle board, with the tiny OMAP3530 in sharp focus)
TI employees began demonstrating the Beagle board in June. Boasting an open hardware design and an open online community, the board was designed by Gerald Coley, who works in TI's marketing department. The board follows in the spiritual mold of TI's OMAP5912 Starter Kits, which have long been popular with embedded hardware hobbyists and community developers.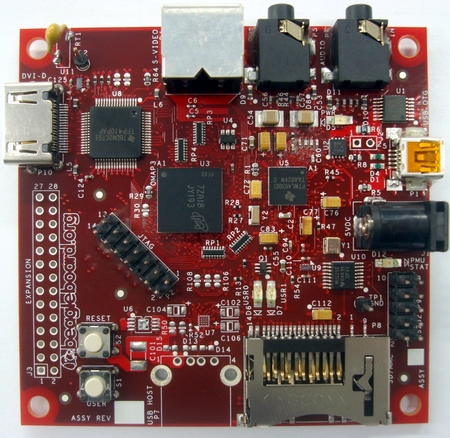 The Beagle's real-world connectors seem to include (clockwise, from left) DVI-D-only HDMI, S-video, audio I/O, USB-OTG, 5VDC power, SD/MMC/SDIO, and an optional USB host port. Note the "user" and "reset" buttons at lower right
(Click to enlarge)
The Beagle board is based on an OMAP3530, the fanciest model in TI's OMAP35xx portfolio of system-on-chip processors, and one of the first available system-on-chip (SoC) processors based on ARM's Cortex-A8 processor core. Clocked at 600MHz, the A8 core is claimed to deliver 1200 DMIPS, putting it theoretically alongside Intel's Pentium III in performance. Unlike the P-III, though, the 3530 adds a powerful Imagination SGX 2D/3D graphics processor supporting dual independent displays, and a TMS320C64x DSP core clocked at 430MHz.
Jason Kridner, principal architect for open platforms at TI, says the Beagle board offers a very user-friendly way to explore the capabilities of the A8 architecture, as well as the C64x DSP, for which a free compiler and open source codecs are available. For development on-the-go, the board can be powered by a laptop's USB port, and it comes with an "unbrickable" boot ROM, he observed. "There are four boot options supported in the OMAP ROM itself. The default is to boot from NAND flash, MC/SD, USB, then serial. But, the 'user' button boots from NAND flash last," Kridner said.
Kridner observed that the board's HDMI video port is not actually HDMI-compliant. However, he said it "works great" with low-cost HDMI-to-DVI adapters and ordinary LCD flat panel displays. "The splashscreen is 1280 x 1024, but the bottleneck is on the pixel clock, which has a 75MHz limitation. So right now we can do 720p — 1280 x 720 — at 30 frames per second," he said.
Supplier Digi-Key also offers 15-, 17-, and 19-inch USB touchscreens said to work with the board.
There's also S-video, and a USB miniAB connector for adding a USB hub to connect input devices and peripherals. Expansion is via an MMC/SD connector supporting SDIO-based WiFi and Bluetooth cards, as well as a solder-friendly expansion strip. Lots more details about the hardware can be found in our earlier coverage, here.
On the software side, Kridner said that board-specific Linux kernel support for the Beagle has already been merged into the mainline Linux/OMAP git staging tree at source.mvista.com/git. Additionally, at least one OpenEmbedded bitbake recipe is available for the board, which should help developers assemble custom distributions for it that incorporate standard filesystem elements along with third-party and user-supplied applications. The board has so far been demonstrated running full-screen video overlays on top of the Angstrom Linux distribution, Kridner said, with video decompression supplied by the FFMPEG codec collection.
Availability
TI will demonstrate the Beagle Board at the LinuxWorld Expo next week in San Francisco, in booth #1232. Digi-Key's product page for the product is currently located here. Along with the board, the distributor lists a variety of touchscreens, cables, hubs, card readers, keyboards, mice, and even a digital USB microscope, all claimed to have been "found useful to extend or develop with the BeagleBoard."
---

This article was originally published on LinuxDevices.com and has been donated to the open source community by QuinStreet Inc. Please visit LinuxToday.com for up-to-date news and articles about Linux and open source.