Oct 30, 2009 — by Eric Brown — from the LinuxDevices Archive — 20 views
RadiSys Corp. announced a fourth generation Carrier Grade Linux (CGL) platform for 4G wireless infrastructure that supports 40Gbps (40G) throughput. The RadiSys ATCA 4.0 initiative will offer an AdvancedTCA (ATCA) 40G chassis and 40G switch that are backward-compatible to its current 10G Promentum line of processing blades.
Radisys claims to have introduced the first 10Gbps CGL/ATCA platform three years ago, and now it says it will introduce the first 40Gbps equipment. The new platform is aimed at "TEMs striving to meet this demand for 3G services and laying the groundwork for 4G networks," says the company.
RadiSys ATCA 4.0 delivers four times the performance of its 10G systems in both switching and processing capabilities, claims the company. The platform will combine a 40G chassis, a 40G switch, and "other 10G and 40G assets in a pre-integrated platform," says RadiSys. The 40G chassis is said to include per-slot power and cooling capability along with 40G backplane connectivity.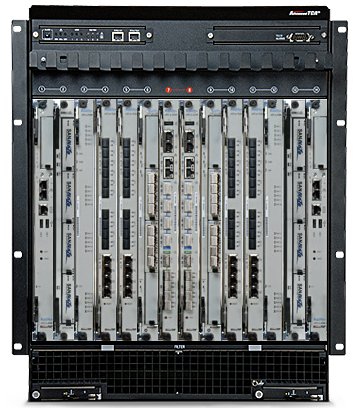 The RadiSys ATCA 4.0 40G chassis will be based on the existing 10G SYS-6010 model
The 40G switch, meanwhile, will offer switch management software and provide increased I/O density and native 40G switching to the node slots. The switch will use backward-compatible switch management software, thereby offering "consistent API access," as well as "reuse of 10G development assets," says the company. RadiSys plans to expand the switch management capabilities to include a "node router" which enables the elimination of a stand-alone router for connecting edge devices with the transport network.
RadiSys' ATCA 4.0 is said to be fully backward-compatible with the company's 10G equipment, and will offer backplane and thermal validations with the 40G switch and chassis. Software is available for Carrier Grade Linux, switch management, and middleware, says the company.
Current 10G equipment claimed to be compatible with the upcoming 40G systems includes, but is not limited to:
SYS-6010 Chassis — The SYS-6010 chassis design (pictured above) will form the basis for the upcoming 40G system. Offering two to 16 slots, the chassis offers power and cooling options designed to support a variety of ATCA processor blades, says the company.

ATCA-4500 — This seventh generation single board computer (SBC) is equipped with the single-socket Intel Xeon L5518 processor. The ATCA-4500 provides control plane and server functions for LTE wireless infrastructure, Deep Packet Inspection, IPTV, IP multimedia subsystems, and defense application, says RadiSys. The SBC offers 10Gbps fabric connectivity, eight DDR3 DIMM sockets, an AMC slot, and optional support for additional storage and network interface options.
ATCA-1200 — Pictured at right, this AMC carrier blade is billed as being "more than just a hardware AMC to ATCA adaptor blade." The ATCA 1200 includes a fully managed environment for the AMC, offering a Freescale PowerQUICC III processor, 26- or 24-port managed switch, and network timing switch for managing clock distribution to synchronous I/O interfaces.
ATCA-2210 — Claimed to be the industry's first 10G-capable ATCA switch and control module, the ATCA-2210 meets or exceeds the switching requirements for applications like Radio Network Controllers (RNC/BSC), media gateways, IMS (CSCF, application and media servers) and IPTV, says RadiSys. The device is said to offer switching, shelf management, network timing, and system management functionalities.
Background
Last year RadiSys won the ATCA Best of Show competition for Best Hardware with its Promentum ATCA-9100 Media Processing Blade, the latest in the RadiSys Promentum family of ATCA servers and blades, which started with its Sys-6000 ATCA chassis (pictured at left).
The ATCA-9100 is based on a Freescale MSC8144 digital signal processor (DSP) and a 1.3GHz Freescale PowerQUICC III MPC8548 Local Management Processor (LMP). Designed for media gateways and high density media servers in wireless, broadband, and IPTV applications, the board includes a gigabit Ethernet switch and sRIO switch, as well as power and IPMI infrastructure.
The PowerQUICC-based LMP processor is integrated with 1GB of DDR2 SDRAM and dual 128MB flash memory modules that contain redundant boot, Linux OS images, and a local flash file system. The ATCA-9100 is also said to be integrated into the RadiSys Promentum SYS-6010, which would make it compatible with the 40G system as well.
The ATCA standard encompasses a variety of specifications for carrier grade telecommunications and networking equipment, including servers, gateways, wireless network controllers, and edge and access routers. Maintained by PICMG, the specifications define server blade and backplane form-factors with an eye toward maximizing reliability, manageability, and serviceability.
Stated Anthony Ambrose, VP and GM, Communications Networks, RadiSys, "Our 4th generation 40G platform announcement reinforces our technology leadership that we delivered in our 3rd generation 10G platform."
Stated Lee Doyle, VP and GM, Network Infrastructure, IDC, "Mobility will become the number one driver of Internet usage and video services going forward and the RadiSys ATCA 4.0 platform is well positioned to provide the flexibility, scalability and performance to meet current, and future, mobile subscriber demands."
Availability
Radisys did not offer a roadmap for when the various ATCA 40G components will be made available. More information, including several videos, may be found here.
---
This article was originally published on LinuxDevices.com and has been donated to the open source community by QuinStreet Inc. Please visit LinuxToday.com for up-to-date news and articles about Linux and open source.