Nov 7, 2006 — by LinuxDevices Staff — from the LinuxDevices Archive — 11 views

One of the world's largest computer and consumer electronics manufacturers will ship a completely open, Linux-based, GPS-equipped, quad-band GSM/GPRS phone direct, worldwide, for $350 or less, in Q1, 2007. First International Computing's (FIC's) "Neo1973" or FIC-GTA001, is the first phone based on the open-source "OpenMoko" platform.
Sean Moss-Pultz, an FIC product development manager, introduced the Neo1973 — and OpenMoko — as the "Mystery Guest" at the inaugural "Open Source in Mobile" conference today in Amsterdam.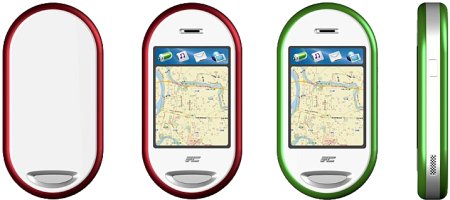 FIC Neo1973 (FIC-GTA001)
(Click to enlarge)
Moss-Pultz worked for FIC in Taiwan for two years, before founding the Neo1973 project in January. He said. "I was able to convince FIC that having an open phone makes financial sense for us. Some big company's got to stick their neck out there and say we believe in this, and we're going to do it."
Consistent with FIC's dual-OS support policy on computing products, the Neo1973 can also run Windows Mobile. In fact, the phone was co-designed by the Chinese government, for a high-volume Windows-based PHS ("Personal Handy Phone") product. FIC has the capacity to ship 100,000 of the phones per month, Moss-Pultz said, explaining its low cost.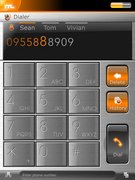 Dialer
(Click to enlarge)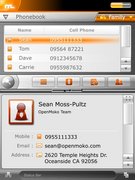 Messaging client
(Click to enlarge)
Because OpenMoko consists exclusively of open-source software, the Neo1973 will ship with a limited feature set, including a dialer (image at left), unified SyncML-enabled email/text messaging client, phonebook, (image at right), and media player, according to Moss-Pultz. However, many additional open source applications will be available through "feeds," including "certified" ones from FIC, as well as those from commercial and community sources, he adds.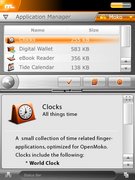 App manager
(Click to enlarge)
The Neo1973 will also ship with an "apt-get-like" software manager (pictured at right) that makes it trivial to add, remove, and update applications packaged in the OpenEmbedded package format, including "literally thousands of existing open source applications from the OpenZaurus, Familiar Linux, and Angstrom projects," according to Michael Lauer, founder of OpenEmbedded and an early OpenMoko developer.
Moss-Pultz adds, "Applications are the ringtones of the future."
FIC's approach in sponsoring the OpenMoko project resembles that taken by Nokia, which finances a "Maemo" software development community for its 770 Internet Tablet. Moss-Pultz acknowledges, "I have to give mad props to Nokia. I just think it's a shame [the 770] is not a phone."
FIC will distribute the Neo1973 direct, on a worldwide basis, leaving users to add a pre-paid or carrier-supplied "SIM" chip. Moss-Pultz said, "One reason I love GSM is that the carrier has no control over the SIM card. From the carrier's point of view, it's like adding a GSM modem PCMCIA card to your laptop."
Neo1973 Handset Hardware
The Neo1973 is based on a Samsung S3C2410 SoC (system-on-chip) application processor, powered by an ARM9 core. It will have 128MB of RAM, and 64MB of flash, along with an upgradable 64MB MicroSD card.
Typical of Chinese phone designs, the Neo1973 sports a touchscreen, rather than a keypad — in this case, an ultra-high resolution 2.8-inch VGA (640 x 480) touchscreen. "Maps look stunning on this screen," Moss-Pultz said.
The phone features an A-GPS (assisted GPS) receiver module connected to the application processor via a pair of UARTs. The commercial module has a closed design, but the API is apparently open.
Similarly, the phone's quad-band GSM/GPRS module, built by FIC, runs the proprietary Nucleus OS on a Texas Instruments baseband powered by an ARM7 core. It communicates with Linux over a serial port, using standard "AT" modem commands.
The Neo1973 will charge when connected to a PC via USB. It will also support USB network emulation, and will be capable of routing a connected PC to the Internet, via its GPRS data connection.
Moss-Pultz notes that the FIC-GTA001, or Neo1973, is merely the first model in a planned family of open Linux phones from FIC. He expects a follow-up model to offer both WiFi and Bluetooth. "By the time one ships, the next one is half done," he says.
Neo1973/OpenMoko software implementation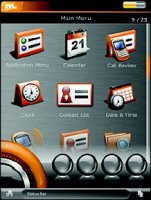 OpenMoko menu
(Click to enlarge)
The Neo1973's Linux-based operating system is based on a "2.6.17, going on 2.6.18 kernel," according to Moss-Pultz. The graphics framework is based on GTK+ 2.x, in conjunction with the Matchbox window manager. And, says Moss-Pultz, "We've written our own set of widgets that optimize the UI for smaller devices."
The OpenMoko stack currently has a footprint of 64MB, leaving an equal amount of space for user-installed applications. User apps can also be run from MicroSD cards, which can be found in capacities up to 1GB, Moss-Pultz said. "[Linux navigational device maker] TomTom Go did some really good work [on SD card support], and we're basing our work on their patch set."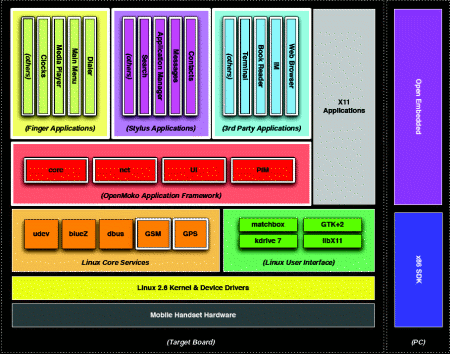 OpenMoko software architecture
(Click to enlarge)
OpenMoko will also include a kernel patch that adds GSM multiplexing capabilities to the 2.6 kernel. Harald Welte, an eearly contributor to OpenMoko who is also known as the founder of GPL-Violations.org and the
OpenEZX
project, stated, "Multiplexing conforms to TS07.10, the 3GPP's standard for serial port virtualization, and is inspired by the design Motorola developed for its 2.4-based Linux phones."
Moss-Pultz notes, "That's the big thing missing from Linux. There is no GSM multiplexing available right now. You want multiplexing so apps can simultaneously access call features — so when you're browsing the Internet, you can still get a call."
As for additional software components, Moss-Pultz admits, "Quite a lot is there, and quite a lot is not there. We're hoping to change this." In addition to a dialer, phonebook, media player, and application manager, the stack will likely include the Minimo browser, he said, and a SyncML client.
And, one early contributor is working to port gTune — a guitar tuning application — to OpenMoko. "If you have access to the microphone, and the different drivers, all is open, so it's no problem to do that kind of thing," Moss-Pultz said.
"That's the main thing I want to push with this phone — it's customizable in any way you see fit."
He adds, "Mobile phones are the PCs of the 21st century, in terms of processing power and broadband network access. It's quite a shame that today, when you buy one, the software is already out of date."
"Mystery Guest" presentation
More details about OpenMoko and the Neo1973 can be found in Moss-Pultz's "Mystery Guest" presentation from today's inaugural "Open Source in Mobile" conference in Amsterdam. Click the image below to view the complete slide presentation: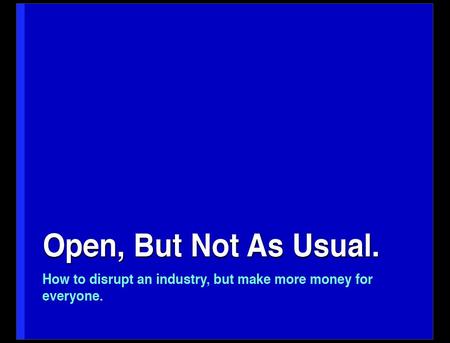 (Click to view presentation)
Availability
The first "pilot run" of 500 Neo1973s (FIC-GTA001s) will arrive in mid-December. The device will reach general availability in January, and sell direct from FIC for $350.
Moss-Pultz adds, "One goal is give back to people creating this revolution. If you're going to hack on it, I'll give you a discount — or something cool."
---

This article was originally published on LinuxDevices.com and has been donated to the open source community by QuinStreet Inc. Please visit LinuxToday.com for up-to-date news and articles about Linux and open source.