Aug 30, 2010 — by Eric Brown — from the LinuxDevices Archive — 3 views
Motorola announced three Android versions of its popular "Ming" family of flip-phones, again aimed at the Chinese market. The new low- to mid-range Ming line-up includes the Android 2.1-based XT806 for China Telecom's CDMA-2000 network, the Android 1.6-based A1680 for China Unicom's WCDMA, and the MT810 for China Mobile's TD-SCDMA, running the Android-based OPhone.
According to Motorola, more than five million Ming devices have been sold in China. Along with similar Motorola phones such as the Razr and Rokr families, both available in the U.S., the Ming drove the boom in Linux handsets in the 2005-2008 period. That winning streak now appears to have subsided under the onslaught of the Linux-based Android.

Motorola launched its first Linux-based Ming phone — the popular A1200 (pictured) — in China in 2006, and followed up with models such as the A1600 in 2008. That same year Motorola announced it was switching from Linux to Android.
Yet the Ming dynasty now lives on with Android and OPhone, complete with some familiar PDA-oriented Ming features. These include a built-in stylus, as well as the company's SoftStylus Chinese handwriting support, now in its sixth generation.
The new phones offer a new version of the Ming design, including the signature transparent flip cover. Unlike the original Ming phones, however, the devices provide full finger touch support for their 3.1 or 3.2 inch displays. All five of the phones are equipped with five-megapixel cameras, says Motorola.
XT806 for China Telecom
The most powerful of the Android-based Ming models is the XT806, which runs Android 2.1 on an unstated processor capable of 720p HD video capture and playback using H.264 and other formats. The XT806 is equipped with both 512MB of RAM and 512MB of internal flash memory, with support for SD cards up to 32GB, says Motorola.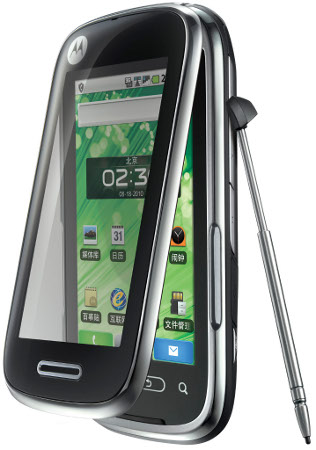 Ming XT806


(Click to enlarge)
The Ming XT806 offers a 3.2-inch 854 x 480 pixel touchscreen with 300 dpi resolution, says the company. The phone is designed for China Mobile, and offers dual-mode, dual-standby support for CDMA EVDO and GSM cellular networks, which is said to enable "seamless roaming around the world."
The XT806 offers Wi-Fi with WAPI security, plus Bluetooth and an FM radio receiver, says Motorola. A USB 2.0 port is said to be provided along with GPSOne, aGPS, and eCompass features. The phone's five-megapixel autofocus camera offers LED flash, says the company.
The 1380mAh battery supports 280 to 340 minutes of talk-time and 70 to 100 minutes on standby, says Motorola. The XT806 measures 4.3 x 2.2 x 0.7 inches (109.9 x 57 x 18.6mm) and weighs 5.68 ounces (161 grams), says the company.
In addition to providing Android 2.1, complete with Webkit browser, the XT806 supplies a Quicknotes application that supports the manipulation and integration of text, voice recording, videos, pictures, sketches, and screen snapshots, says Motorola. The company does not mention Android Market support, but instead says that the phone is supported with Motorola's SHOP4APPS site, which offers "over 800 specially selected applications."
A1680 for China Unicom
Aimed at China Unicom's WCDMA network, the Ming A1680 is equipped with a processor capable of displaying QVGA video at 15fps, says Motorola. The flip phone is equipped with 256MB RAM and 512MB flash, and offers an SD slot for up to 32GB memory cards, says the company.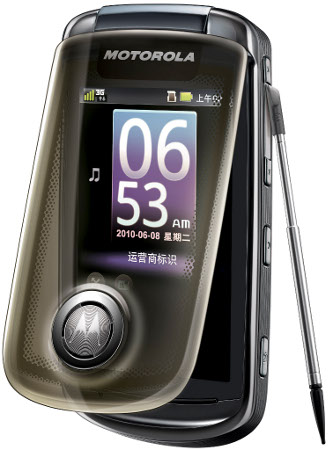 Ming A1680


(Click to enlarge)
The A1680 offers a slightly smaller 3.1-inch touchscreen, with slightly lower 800 x 480 resolution, compared to the XT806. However, it is the only phone of the three that provides AMOLED display technology for richer colors and sharper contrast, says Motorola.
The phone's five-megapixel camera is said to offer digital zoom, although there's no mention of an LED flash feature. Wi-Fi, Bluetooth, and GPS are provided, along with accelerometers and motion sensors, says the company. FM radio and a 3.5mm audio jack are also said to be available.
The 1130mAh battery is rated at 210 minutes talk-time, and 120 hours standby, says Motorola. The phone is said to be slightly smaller than the XT806 at 106.9 x 54.5 x 16.8mm, and weighs considerably less at 120 grams.
The A1680 is said to offer the older Android 1.6, as well as support for the 800-app SHOP4APPS site.
MT810 for China Mobile
The MT810 is being jointly launched with China Mobile, and uses the carrier's well-established OPhone OS 2.0 distribution, which is based on Android. An unnamed processor offers D1 (720 x 480) video capture and 720p HD video playback, says the company.
Like the A1680, the MT810 supplies 256MB RAM and 512MB flash, and offers an SD slot supporting up to 32GB of flash storage.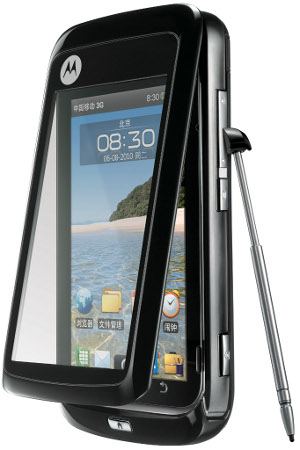 Ming MT810


(Click to enlarge)
The MT810 provides an interesting dual-touch display system. The 3.2-inch, 854 x 480 display offers a resistive touchscreen for stylus or finger input, while the transparent cover offers a second capacitive touchscreen with full finger touch functionality, says Motorola.
The phone supports China Mobile's GSM (850/900/1800/1900MHz) and TD-SCDMA (2010-2025MHz) networks, as well as the CMMB mobile television format, but it lacks Wi-Fi support, says Motorola.
The MT810 also supplies Bluetooth 2.1, aGPS and GPS, and an FM radio receiver, says the company. The five-megapixel camera provides digital zoom, autofocus, and LED flash, says Motorola.
The phone is equipped with a 1140mAh battery with seven hours talk-time and eight days standby, says the company. Dimensions are slightly smaller (108.6 x 55.5 x 16.7mm) than the XT806, and the MT810 weighs just a gram less at 160 grams.
The OPhone 2.0 stack is equipped with "a suite of pre-loaded intelligent business applications," says Motorola. It is also said to offer access to China Mobile's Mobile Market with more than 7000 OPhone applications and tens of thousands of themes.
Mot claims big lead in China's Android market
The three new Ming flip-phones "bring Motorola's portfolio of Android devices in China to a market-leading eleven," says the company. Motorola also claims to have built more than half of the Android smartphones sold in China in the first half of 2010.
Stated Bin Shen, vice president and general manager, Asia Product Management, Motorola Mobility, "With Ming and Android we're bringing together two great Motorola success stories in China. Ming has been a hit in China because it was designed especially for the way Chinese people live, work, and play with their handsets. Android has been a hit globally and in China thanks to its power and ease of use."
Availability
The three new Ming phones will be available this quarter, says Motorola, which did not reveal pricing.
More information on the Ming XT806 may be found here. More on the Ming A1680 may be found here, and more on the Ming MT810 should be here.
---
This article was originally published on LinuxDevices.com and has been donated to the open source community by QuinStreet Inc. Please visit LinuxToday.com for up-to-date news and articles about Linux and open source.