Nov 23, 2009 — by LinuxDevices Staff — from the LinuxDevices Archive — 6 views
Hackers have compiled bootable images of the code released by Google's Chrome OS project. We tested out one of the images on VirtualBox, and despite the limitations of the early code, we found a flexible, extensible web browsing environment that runs well in as little as 256MB of RAM.
Following Google's open source release of code for Chrome OS last week, several hackers compiled the code to create a bootable OS image, and have made the results available in the VMDK virtual hard drive format used by VMware. By downloading such an image, users of VMware, Parallels, VirtualBox or other compatible virtualization products can run Chrome in a virtual machine on desktop computers.
While multiple Chrome VMDKs of unknown provenance appear to be available on BitTorrent, one is also readily available from the gdgt website. Credited to gdgt engineer Jon Ursenbach, the VMDK is said to be based on Chrome OS developer preview 0.4.22.8, and to be "built from scratch (not torrented), untampered-with, as-is, and with no guarantees."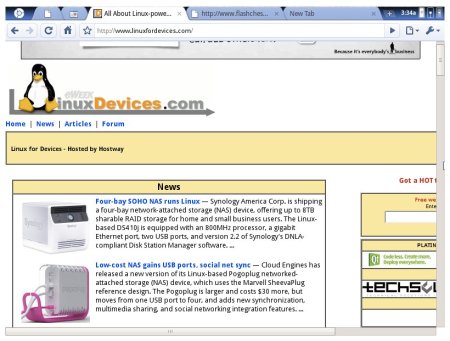 Chrome OS, by way of Virtual Box


(Click to enlarge)
We downloaded the
gdgt
VMDK, opened it with VirtualBox, and proceeded to discover an operating system that — while by no stretch of the imagination a "Windows-killer" — provides users with a flexible, extensible web browsing environment that runs well in as little as 256MB of RAM. (When we dialed the virtual machine down to 128MB, operations became sluggish.)
The Chrome VM boots within seconds to a login screen that requests a user's Google account information. Those who are concerned about a hacked image being used to harvest their passwords — or are simply Google-averse — can log in by entering the user name "chronos" and no password. With that login method, however, no operations will be possible beyond basic web browsing, as seen above.
At this stage, Chrome OS is capable of little more than web browsing, although that, after all, is the primary function of the Chrome- and Linux-based operating system. Once a Google account has been logged into, however, clicking on the leftmost tab — adorned with a Chrome logo — opens a collection of web-based apps (below left) that one can apparently add to. (On the version we tested, however, the "get more" link was inoperative.)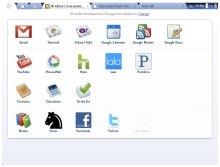 Chrome OS main screen (left) and sample, Flash-based chess game (right)

(Click on either to enlarge)
Some apps, such as the Chess program (above right) are written in Adobe Flash, which Chrome inherently supports. Given that the list of available apps is obviously linked to a user's Google account, we suspect that in future, every copy of the Chrome browser — whether it runs on the Chrome OS or another operating system — will include the apps tab pictured above. As a result, a user will have access to a common set of apps and bookmarks, no matter from what source.
Availability
The Gdgt posting announcing its VM version of Google Chrome OS may be found here, and the Gdgt download page should be here. More background on Chrome OS may be found in last week's coverage, here.
---
This article was originally published on LinuxDevices.com and has been donated to the open source community by QuinStreet Inc. Please visit LinuxToday.com for up-to-date news and articles about Linux and open source.